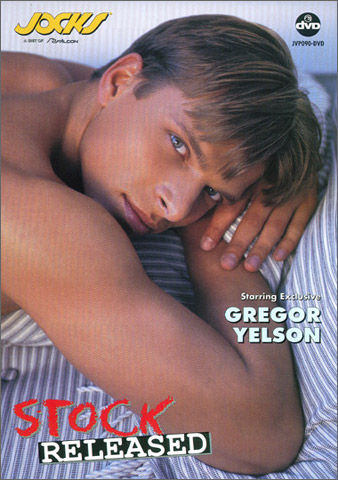 Studio: Falcon Studios / Jocks Studios
Directed by: Chi Chi LaRue
Year of Production / Release: 1999
Country of Production: U.S.A.

CAST:
Vince Bandero
Thom Barron
Lorenzo Donado
Jens Hammer
Tyler Hill
Kevin Miles
David Pierre
Marcelo Reeves
Sebastian Rio
Chris Rock
Spike
Mitchell Stevens
Karl Tenner
Ross Vincent
Travis Wade
Gregor Yelson
Thom Barron's Comments:
Great orgy scene with one guy better-looking than the other. Yummie! Also my German co-star Jens Hammer and myself together in one scene.
FROM THE FALCON WEB SITE:
There is a fine line that separates the world above from the dark underground-a line that maintains the division between the "have"s and the "have-not"s. It's either heaven or hell; ecstasy or despair. And for Casey Williams, this is something he is forced to learn. Roughly thrown into a crowded and dingy corral by Overseer Ross Vincent, this new member of the"stock" is about to learn the truth about the "dark side" of life.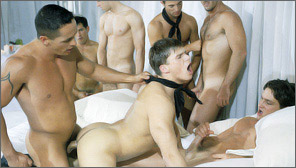 SCENE 1 – ORGY: Vince Bandero, Jens Hammer, Thom Barron, Chris Rock, David Pierre, Travis Wade, Karl Tenner, Mitchell Stevens, Lorenzo Donado, Gregor Yelson
It's an all-out sextravaganza as the four stock slaves are released into a pack of horny men. This 13 man orgy boasts some of the biggest and hottest cocks and stars in the business, and clocks in at nearly 40 minutes. Highlighted by a double penetration with David Pierre taking in the huge cocks of Travis Wade and Spike, this epic scene also has endless sucking sequences and a bevy of top-notch fuck shots led by hung tops, with a gushing round of cumshots leaving everyone soaked.
The 'stock' are summoned upstairs to serve as the entertainment and pleasure toys for the sex-starved lords. It's a no-holds-barred explosion of man-on-man sex … a flurry of fierce action as the men partner whoever they desire, plowing whatever mouth or hole they steer their dicks into, or sucking whatever massive fleshrods they find delicious. Everyone gets into the act – lords, stock, servants mesh into one immense mass of mouths, tongues, cocks, assholes, hands arms … flesh to be swallowed and savored. As Overseer, Ross Vincent supervises the action of everyone – Spike, Travis Wade, Jens Hammer, Lorenzo Donado, Vince Bandero, Karl Tenner, Gregor Yelson, Sebastian Rio, Mitchell Stevens, Thom Barron, Chris Rock, David Pierre and Tyler Hill – but Ross soon gets caught up in the fury of this sexual maelstrom and loses himself in the orgy.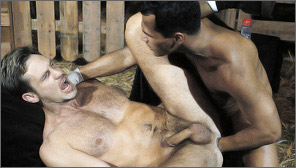 SCENE 2: Marcelo Reeves fucks / fist-fucks Ross Vincent
Stock ringmaster Ross Vincent is used to dealing out the punishment, but wakes up blindfolded with Marcelo Reeves barking orders to him. After feeding Ross his cock, Marcelo turns to his fingers fist and dick to fill Vincent's ass.
Caught off-guard, Overseer Ross Vincent is dragged to the basement dungeon by stock Marcelo Reeves. Blindfolded, Ross is made to throat Marcelo's hard cock and feel it slap his face over and over. Marcelo then moves on to Ross's ass…slapping and stretching his hole, working his tongue deep into the Ross to open him up. Then Marcelo pulls Ross back and alternates pounding between stretching Ross's ass with his fingers and slamming his cock in deep. When Ross is good and stretched, Marcelo slides his fist into Ross's ass…stretching his hole wider and wider until at last Ross shoots his load.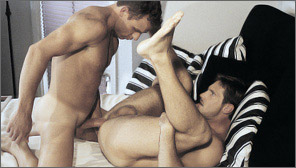 SCENE 3: Kevin Miles fucks Ross Vincent
Was it all a dream? Ross Vincent wakes up to a normal life and a beautiful boyfriend — Kevin Miles. After cleaning up, the two head to the bedroom, where Kevin unleashes his giant dick to fill both of Ross's holes in a romantic pairing.
Ross Vincent awakes from his nightmare of sexual domination only to find lover Kevin Miles ready to play. They become one as they suck and fuck their way to paradise. Ross worships his lover's horshung cock, sucking it wholly down his gullet. Kevin is able and nimble enough to suck his hown cock, then he plunges his hard rod deep into Ross's asscrack, fucking him intensely, passionately until they both spill forth in orgasm.

WATCH THE SCENES NOW AT:
FALCON STUDIOS
Falcon Members can watch scenes from this Release anytime online.
DVD Releases debut online prior to DVD Release.

WATCH IT AT: AEBN / SMUTJUNKIES THEATER
BUY IT / WATCH IT AT: GAY HOT MOVIES