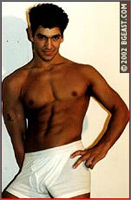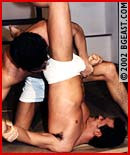 Studio: BG East Wrestling
Directed by:
Year of Production / Release:
Country of Production: U.S.A.

CAST:
Anthony
Vito Carlucci
Cruze
Jose
Kris Lord
Jake Tucker
INFORMATION FROM BG EAST:
Jake Tucker vs. Vito Carlucci
Jose vs. Anthony
Kris Lord vs. Cruze
MATCH 3: Cruze vs. Kris Lord
Kris, at 6′, 190 lbs has the advantage in height and weight, Cruze is street smart and cocky. They scrap on the mats, where the action and the talk is tough and dirty. The jeans come off and the two adonises wrestle in their white undergear. Cruze plays rough but Kris takes the abuse and matches him hold for hold. Besides being hung bigger than a stallion, Kris has an engaging and very sexy, very masculine persona. Cruze gets frustrated by Kris' ability to absorb abuse and turn matters to his own advantage. After a particularly nasty battering, Cruze lords above Kris, stroking his own thickening dick while watching the centerfold superstar grovel and suffer at his feet. He whips down his BVD's, showing off his big hardened dick, flexing and posing for Lord. Lord takes in the show, his own manmeat hardens as he does, and when he can take no more, he tosses Cruze aside, saying, "So you think you're a man? You ain't nothin, feast your eyes on THIS!". He peels down his own undergear and reveals his now-famous massive mantool. Cruze looks on dumbfounded and soon Kris is all over him. It's a 3rd fall hard-on fight between two gorgeous hunks.