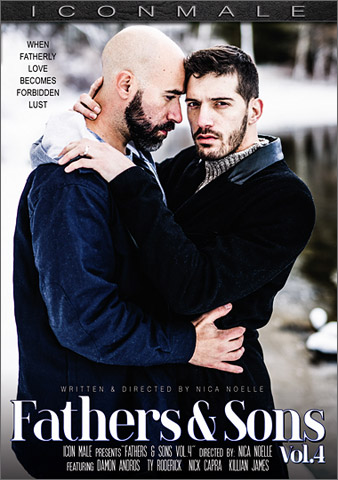 Studio: IconMale
Directed by: Nica Noelle
Year of Production / Release: 2016
Country of Production: U.S.A.

CAST:
Damon Andros
Nick Capra
Killian James
Ty Roderick
INFORMATION FROM ICONMALE:
Newly engaged lovebirds Nick Capra and Damon Andros decide they should meet each other's sons before their wedding day, so they plan a family get together up in the mountains. Easy going Damon instantly bonds with Nick's free spirited, bad boy son (Ty Roderick), while muscular Daddy Nick is captivated by Damon's sweet faced offspring (Killion James.) Will the attempts at family bonding go too far, or can will the four hot studs live happily ever after? Written and directed by Nica Noelle.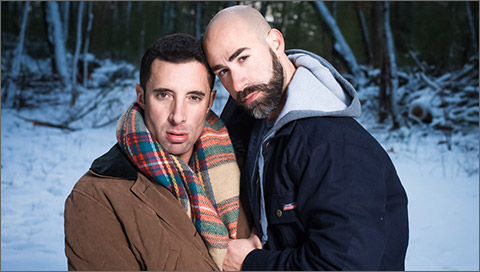 SCENE 1: Damon Andros fucks Nick Capra
Nick Capra didn't think he could find love again, especially after coming out as a gay man so late in life. That was, until he met Damon Andros. After only a few months into their relationship, the couple have decided to get married. But before they can move forward, they need to share the big news with their sons.
   The news about their dads' engagement is unexpectedly dropped over dinner, but the boys are nevertheless thrilled for them! Later that night, Nick is lying in bed, thinking. He tells Damon how surprised he was over his own son's reaction. He didn't expect Ty to take it so well. He also tells Damon how impressed he was of Killian. He always hoped that his son would be as motivated as Killian is. But Damon tells Nick to let his son be who he is. They stare into each other's eyes, and Nick leans in to give Damon a kiss.
   Nick rolls on top of Damon, pressing his hairy body against his. Damon grabs Nick's ass, squeezing it, as they continue to passionately make out. Damon flips him onto his back, kisses him on the neck and slowly makes his way down to Nick's huge bulge. Nick watches Damon suck on his big dick, drooling down on his balls. Nick gets on all fours with Damon behind him licking and eating his hole. Damon gets on his knees behind him and pushes his rock hard meat inside of Nick's ass. He fucks him hard, banging against his bubble butt. Nick falls flat on the bed, still receiving a rough pounding.
   They change position, Damon lying on his back with Nick sitting on his tool, riding it. He jerks off as he bounces on top of Damon, which makes him cum instantly all over his man. When Damon is about to shoot his load, Nick gets in a doggy style position and takes it all on his ass.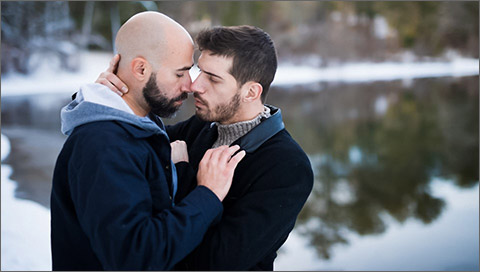 SCENE 2: Ty Roderick fucks Damon Andros
After enjoying the cold winter air, the fathers and their sons return to the house to warm up. The conversation turns to career paths, and Damon Andros' son criticizes how his mother was never able to commit to one single job. Ty Roderick, on the other hand, doesn't believe there's anything wrong with exploring different paths. Ty's father and Damon's son disagree, explaining that people need stability. When Damon finally speaks his mind, he confesses to be on Ty's side. If people want to expand their horizons to get experience and learn new things, why shouldn't they?
   As the night comes to an end, Ty's father and Damon's son head to bed. Damon decides to stay up a little while longer to look over at some of the pictures that his boyfriend's son took. Going through them, Damon sees just how talented the boy is. Ty turn to face Damon and thanks him for having his back earlier. They glance into each other's eyes for a moment, feeling a stronger bond between each other. Then, Ty leans in to kiss his new dad.
   The guys are making out on the couch. Ty removes Damon's shirt and kisses his hairy chest. Clothes are coming off, piece by piece, until there's nothing left. Damon gets on his knees to suck on Ty's big dick, as the young man enjoys. Ty tries thrusting his cock down Damon's throat, choking him. They flip suck, giving Ty the chance to thank his new dad the best way he can.
   Damon gets on all fours, spreading his ass cheeks for the boy. Ty gets deep inside of his dad's hairy hole with his tongue. He sits back down on the couch and strokes his thick tool as Damon gets ready to swallow his cum. Ty shoots his load into Damon's mouth, sucking the rest off of the boy's cock.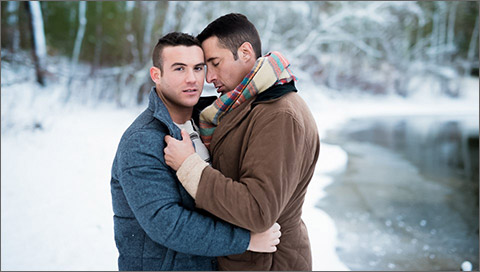 SCENE 3: Nick Capra fucks Killian James
Nick Capra is shoveling snow, when his boyfriend's son, Killian James, comes to lend him a hand. After working hard and long, the entrance is cleared and the guys move indoors to remove their sweaty clothes. When Nick takes his shirt off, he reveals his muscled pecs and beefy biceps. Killian can't help but stare at his hot new daddy, who's wearing nothing but his briefs. Killian takes his turn removing his clothes, making sure Nick gets to see his bare body. However, this horny young boy doesn't stop there. He takes his underwear off, standing completely naked in front of Nick, teasing him. Nick tries not to look, but Killian can tell he likes what he sees. So he walks up to him, and places a kiss on his dad's lips. Nick hesitates for a moment, pulling away, but the temptation is stronger than him. When Killian kisses him again, Nick forgets his worries and makes out with his boyfriend's son.
   The boys lie on the floor, where Killian starts to stroke Nick's tool using his mouth, sliding his juicy lips back and forth. They take turns sucking each other off, till Nick places Killian face down on the ground. He spreads the boy's cheeks and rims his tasty hole, going deep with his tongue in preparation for his big dick. Once loose, Nick takes his cock and plunges it inside of his son's ass, fucking him. He rams his tool hard and rough, making Killian moan at every thrust. Killian takes his daddy's big dick in different positions, until they lie side by side to jerk off, and both shooting their loads on themselves.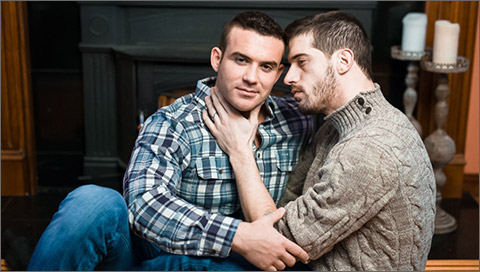 SCENE 4: Ty Roderick fucks Killian James
Ty Roderick is flipping through the photos on his camera as he and his new step-brother Killian James get to know each other. The conversation moves from what they wanted to be growing up, to what it was like growing up with their dads. Killian mentions Ty's dark spirit, commenting about how hot it is, triggering his savior complex. This peaks his interest, and Ty flirtatiously asks him if he wants to try and save him.
   Killian leans in slowly, unsure, but Ty makes the first move, kissing him. Killian pulls himself into Ty. Kneeling on the bed, Killian's hand reaches down and squeezes Ty's firm cheek. Killian's tongue darts in and out of Ty's mouth. Taking their shirts off, their mouths explore further down. Killian's face nears Ty's lightly hairy lower stomach. Ty gives him access, pulling his shorts down and letting Killian take in every inch of Ty's sexy body.
   Sucking his dick and licking his balls, he explores his step brother. Running his tongue over Ty's thick shaft, he flicks the underside of his head while sucking on his huge rod. Getting hornier and hornier, soon Ty decides it's Killian's turn. Ty pushes him down onto the mattress, folding his legs up over his head to rim his ass, and giving him a wet blowjob. Ty penetrates his brother slowly but deeply, his cock exploring his tight ass. Moaning in ecstasy, Killian asks for more! Ty grabs him from behind around the neck, and kisses the nape passionately.
   Climbing on top, Killian rides his huge cock, bobbing his muscular frame up and down over him. Ty responds by fucking him from below, hitting his prostate with every thrust, until Killian blows his load onto Ty's toned stomach. This pushes Ty over the edge and, standing over Killian, he sprays his cum right into Killian's waiting mouth.

WATCH IT / DOWNLOAD IT NOW AT:
ICONMALE
On-Line Only Presentation, Members can Download the presentation for later for "off-line" viewing.
Members have access to a vast array of photos from each scene.

VIDEO ON-DEMAND: AEBN SMUTJUNKIES THEATER