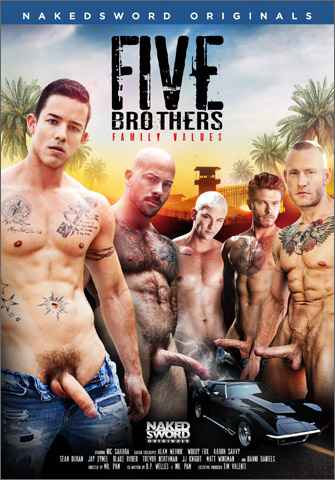 Studio: NakedSword Originals
Directed by: mr. Pam
Year of Production / Release: 2019
Country of Production: U.S.A.

CAST:
Danni Daniels
Sean Duran
Jay Dymel
Woody Fox
JJ Knight
Trevor Northman
Nic Sahara
Aaron Savvy
Alam Wernik
Matt Wingman
INFORMATION FROM NAKEDSWORD:
"The family that plays together….stays together", and this family plays rough and dirty. Brothers Sean Duran and Blake Ryder duke it out to see who gets first dibs on captive Alam Wernik's tight pink hole. A drunken Nic Sahara stumbles on Woody Fox, and takes him home for some really rough sex. Jay Dymel takes one last raw ride on JJ Knight's huge cock before he's released from jail. Drug dealer Trevor Northman comes up short, and Aaron Savvy collects in cock and ass. Matriarch Danni Daniels reveals her family secret to Senator Matt Wingman, and the results are deadly. It may be a life of crime, car chases, drugs deals and corruption, but it's all in the family. Buckle up and get ready for FIVE BROTHERS: FAMILY VALUES.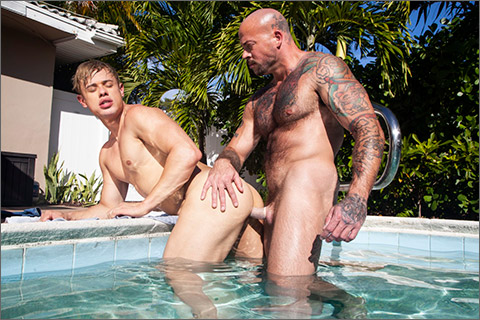 SCENE 1 – BUBBLE BUTT WINNER!: Sean Duran fucks Alam Wernik
After winning the fight by head butting Blake Ryder into the pool, Sean Duran collects his earnings: bubble butt blond hottie Alam Wernik. Sean leads Alam away from the pack to secluded poolside location to test out the new employee of the family. With Alam's wrists tied, Sean busts out his huge erect cock and feeds it to Alam. Alam, wanting to prove he's the best escort the family has every hired, he slurps down every inch of Sean's thick cock. Sean wastes no time diving into Alam's bubble butt, pushing him over the edge of the pool and tongue-fucking the Brazilian hottie. With Sean's dick about to explode, Sean plunges his thick cock into Alam's welcoming ass. Alam, being the experienced power-bottom that he is, needs no warm up and takes the dick down to the balls in one swoop. Doggie, followed by Alam showing off his thick legs while riding Sean's massive cock, then Sean flips Alam on his back to finish him off. Alam shoots a huge load while getting pounded, then Sean forcefully pulls Alam up to swallow every drop of his man juice. Satisfied with the hottest poolside fuck, Sean gives Alam to big ok to come work for the family.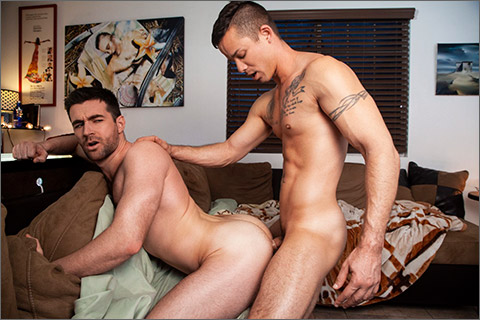 SCENE 2 – WONDERFUL DISTRACTION: Nic Sahara fucks Woody Fox
Its 3am on the Las Vegas Strip and everything is lit, including Nic Sahara. Nic stumbles out of a liquor store and heading to his car. Sexy Aussie Woody Fox sees Nic fumbling with his keys and looking like he's having a really bad day, so Woody offers to help drive the car and drunk Nic home. As soon as they get to Nic's, its on! Nic feasts on Woody's huge cock and Woody fucks his face with tears streaming down his face. Woody flips Nic over his lap and eats Nic's cute bubble butt. Woody sits back as Nic climbs on top of him and lowers his perfect ass on Woody's throbbing huge cock. Nic rides Woody reverse cowboy and the giant dick slams into Nic's hole. They Nic says "Now I want to fuck you!" Woody is hesitant "Uhhh, that's not really my thing, but ok" why not! Go for it. Nic bends Woody over and delicately eats Woody's virgin hole. Then Nic stands to fuck Woody doggie-style for the first time! He starts slow, then eases into pounding Woody's virgin white ass. Then Nic begs Woody to fuck him again with his gigantic dick, choking him until Nic blows his load all over then drops to his knees to suck down every drop of Woody's hot load. Woody's Aussie charm and huge cock are a wonderful distraction from the haunting troubles of Nic's dark world.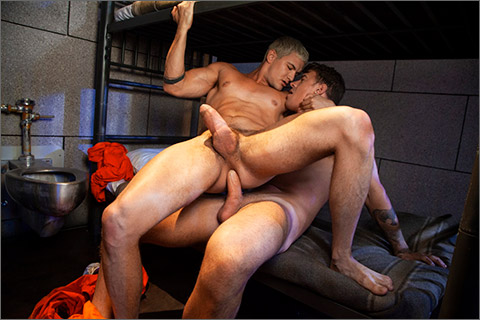 SCENE 3 – I LIKE TROUBLE: JJ Knight fucks Jay Dymel
As the guard passes by, Jay Dymel, being the prison pig that he is, slips his finger in his cellmates urine stream and takes a sip. But once you have a taste, all little piggies want more! JJ Knight makes sure they have exactly 15 minutes until the next cell check and gets to work on fucking the hot mouth of his horny cellmate. Jay gobbles down JJ's enormous cock all the way to the balls, making his asshole pucker for the same attention. They quickly pull their pants up when surprise cell check. Jay after having a taste of the giant cock, pops up to kiss JJ and beg him to fuck him. Who could resist Jay's perfect ass and throbbing hole? JJ looks around, making sure the coast is clear, spits on his dick and shoves it in raw. Jay clenches the sheets of the bottom bunk, trying not to make a sound as JJ pounds his welcoming ass. Then JJ flips over on his back and Jay pounces on that dick bouncing up and down with Jay's own monster cock standing at attention with each thrust. After riding JJ's massive dick, Jay flips on his back to have JJ finish him off. Jay fucks while getting pounded and then JJ blows his load all over Jay's worn and welcoming hole, shoving his wet, steamy cum back in Jay's ass. Jay smiles with delight, like only the piggiest of all pig bottoms do when they have a fresh load in their ass. They hear the guard making the rounds again and quickly get dressed. The guard informs Jay that his paperwork went through and he's free to go. JJ tells him to stay out of trouble, Jay replies with the most mischievous chin "But I like trouble."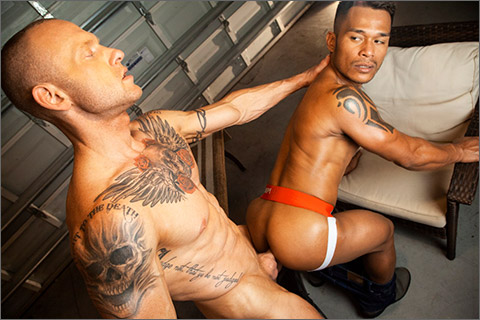 SCENE 4 – PLEASURE ME: Aaron Savvy fucks Trevor Northman
As the sun glistens on late afternoon in Miami, Aunt Danni is chillin in the backyard of the family home. Suddenly her darling Jay Dymel appears with their long lost recently orphaned brother Nic Sahara. "Nic, so great to see you baby!" she gives Nic a hug then slaps Jay across the face, "Don't you ever pull that shit again!" as a "welcome home" from five years in prison. Danni sees Nic to his room as Jay goes to the garage to reconnect with his brother Aaron Savvy. As Jay walks up to the door, he can hear Aaron reprimanding one of their dealers, Trevor Northman. Sadistic Jay settles in to watch Aaron give this boy a lesson in proper dealer etiquette: "Pull down your pants and bend over." Trevor does as he's told, and after a few spanks then Aaron unzips his pants to reveal his giant cock. "Pleasure Me" and shoves his cock all the way down Trevor's throat. After much sucking and gagging, Aaron pulls Trevor up, gives him a wet unwanted kiss, then bends him over again to reveal Trevor's perfect tight ass. Aaron teases the dealer by rubbing his giant cock up and down Trevor's hesitant hole, and then slides slowly inside. Aaron, having some pity on the boy, knowing his cock is gigantic, reminding him "shhhh, not so loud." Aaron continues to use Trevor's hole as his personal fuck toy until he is satisfied and blows his load all over Trevor's flawless ass then commands him "Get the fuck out, I'm done." Trevor scurries out of the garage; lesson learned as Aaron sadistically licks his cum off his fingers.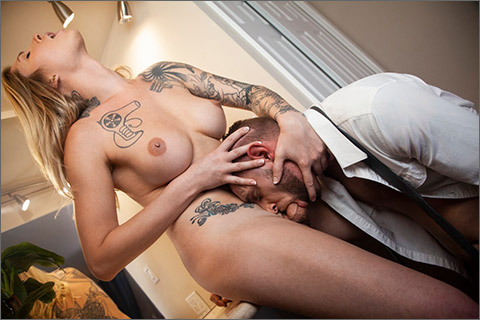 SCENE 5 – SENATOR SURPRISE: Danni Daniels & Matt Wingman
As newly acquainted brother Nic Sahara explores his new family-home in Miami, he accidentally walks in on Aunt Danni doing "family business" of her own, with their prized ally Senator Matt Wingman, on his knees sucking Aunt Danni's gigantic cock. Nic backs up out of the room after getting screamed at and Sean Duran jumps up to see the commotion. He pulls Nic away laughing, "this family has a lot of secrets!" Back in the negotiation room, the senator is on his knees slurping down every inch of Danni's enormous cock. He starts fingering her hole and she screams out for more. Both of them strip off their clothes and dominant Danni drops to her knees to enjoy all 9 inches of the senator's thick dick. With tears streaming down her face from sucking down to the balls, she throws him on the bed and climbs on top to face fuck him and get ass-fucked by his thick fingers. After cuming a few times, she jumps back down to feast on his dick. He flips her over to suck and finger-fuck her ass pussy. She jerks her big delicious dick until both her ass and cock explode into full body orgasm. Once she cums back to life, she throws the senator back on the bed to milk a huge juicy load out of his big dick. Both quivering and wet with sweat, there's another surprise, this time for Aunt Danni. The cool-collected matriarch of this crime family loses it in a surprise ending that will keep you wanting more. Stay tuned for part 2 of this epic hardcore series: 'Five Brothers: The Takedown!'

WATCH THIS AND A HOST OF OTHER FILMS AT:
NAKEDSWORD
On-Line Presentation, exclusive to NAKEDSWORD
Members can watch this with a host of other films in the NakedSword Library.