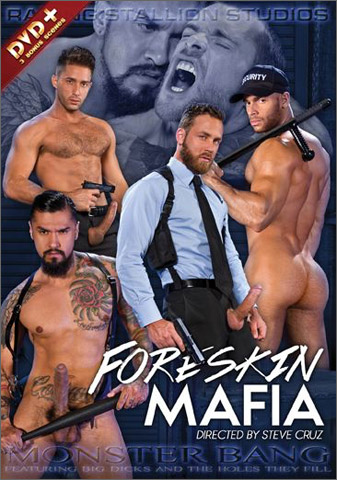 Studio: Raging Stallion
Directed by: Steve Cruz
Year of Production / Release: 2015
Country of Production: U.S.A.

CAST:
Boomer Banks
Armando De Armas
Christian Lesage
Logan Moore
FX Rios
Sean Zevran
INFORMATION FROM RAGING STALLION:
Steamy, uncut sex is a seedy business, and the most formidable gang in this sexual underground is the Foreskin Mafia. They dress in black and lurk in the shadows. They deal in the hottest goods, and every transaction requires "one more thing": unbridled, uncut, hardcore action. Steve Cruz directs this unseemly lot of sexual hooligans in an all-out fuck fest filled with foreskin. Night watchman Sean Zevran is a monument of physique perfection, but he needs a refresher course in how to use his nightstick; it ends up in his ass, wielded by sexy white-collar agent Logan Moore. Furry, athletic Christian Lesage wants a heated exchange before he seals the deal with inked up FX Rios, and he gets a hole-stretching. Gang-member Logan Moore accepts a package from Armando De Armas, but Logan really wants the package in Armando's pants. Armando plays bait-and-switch, offering his ass then topping Logan in a surprise turn-around. Boss Boomer Banks has incriminating photos of Christian Lesage, and Christian is going to pay the price for wronging the wrong man. Christian's punishment involves a baseball bat and the hugest uncut cock wielded by Boomer. If you can't get enough of thick, sexy, uncut cock, you should get in with the Foreskin Mafia, but beware: they're a brutal mob that will shoot you down with loads of cum if you cross them.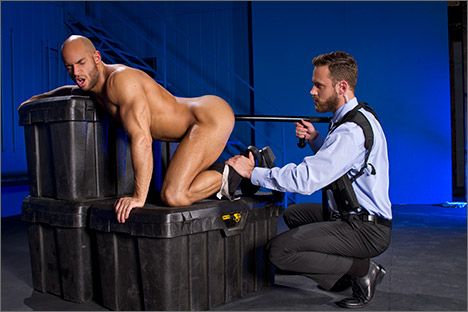 SCENE 1: Logan Moore fucks Sean Zevran
The shoulder holster worn by handsome, well-dressed Logan Moore poses a problem for security guard Sean Zevran. But, before Sean can decide what to do, Logan grabs his nightstick, using it to put Sean in a choke hold. Logan's intentions are strictly carnal, and Sean submits to being ravaged by gropes and kisses. Sean has a chest full of hair, and the dim light illuminates every sinew on his bronzed, ripped body. Logan grabs Sean's hard cock, swiveling it like a joystick while he feasts on Sean's muscle butt. Once that hole is well basted, he slips Sean's nightstick into it. Logan is fully dressed; Sean is completely naked. The contrast emphasizes Logan's intent to make submit Sean to his every desire. Logan pulls his cock out of his fly for Sean to suck and play with his foreskin. Shirt and tie are cast aside, then Logan, still wearing belt and trousers, begins to fuck his conquest. When they change positions, Logan will finally shed the rest of his clothes, drilling deep into Sean's ass from above. Sean takes Logan's gooey load in the face, leaving his own on the cold concrete floor, squeezing the final drops from his foreskin.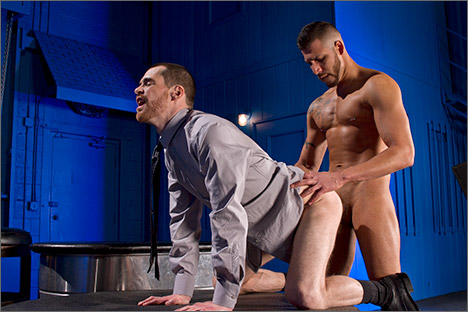 SCENE 2: FX Rios fucks Christian Lesage
Dressed in black from head to toe, FX Rios blends into the dark background. He's approached by a man wearing a shirt and tie, Christian Lesage. He offers red-bearded Christian a package of white powder but Christian wants something else. He gropes FX's crotch and gets the go-ahead. He extracts an uncut cock from a leather jock strap. Christian sucks deeply and with abandon. Meanwhile, FX undresses, revealing smooth olive skin, pierced nipples and splashes of ink across his right pec and shoulder. He pumps Christian's mouth. FX takes off his jeans and sits, aiming his hard on skywards, and Christian lowers his hole, grimacing, until he's fully impaled. Thigh muscles and abs go to work, contracting and straining as flesh encounters flesh. Christian's body is athletic, with a dense carpet of hair. He surrenders his ass to the taking by spreading his legs wider. The fuck culminates in a shuddering mix of sweat, moans, groans, and an abundance of jizz, as FX sprays his load across Christian's face while Christian beats off wildly.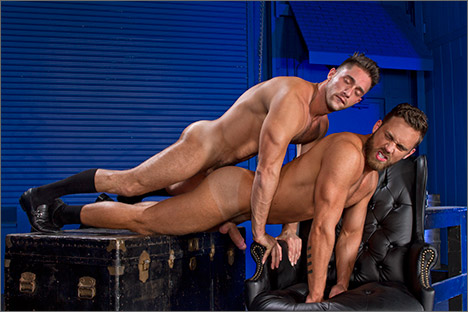 SCENE 3: Armando De Armas fucks Logan Moore
Armando De Armas delivers a satchel to Logan Moore. Inspecting the contents, Logan expresses satisfaction, but says he needs "one more thing." That thing is Armando, a trim, handsome package of hard and willing flesh. Armando's furry, v-shaped torso undulates under Logan's caresses, and he offers no resistance when Logan undresses him. Logan pulls his own cock out of his pants and inserts a moist finger under his foreskin, swirling it around the head. Armando tugs his own foreskin, then kneels to take Logan's hard cock in his mouth. He pulls back the foreskin, spits on the head and works diligently with his tongue to trace every contour, sending Logan into convulsions of bliss. Armando's ass looks delicious, and Logan's tongue is soon delving into the crack. Logan is fully clothed and seems poised to take Armando's ass with his cock, but in a surprise turnaround, he's naked with Armando's cock up his ass. Armando is a well-lubed fucking machine whose body is perfection in every sexual motion. He plows the larger man's ass in multiple positions, leaving Logan's haunches dotted with the liquid of his lust.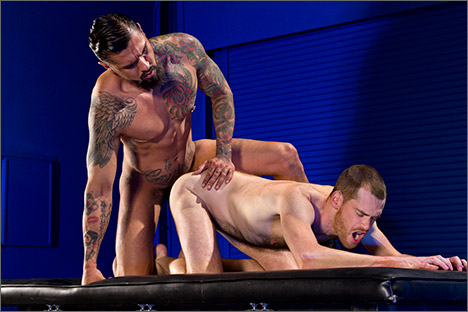 SCENE 4: Boomer Banks fucks Christian Lesage
Boss Boomer Banks is hung. He holds incriminating photos of Christian Lesage and he's demanding money for them, threatening to hurt him otherwise. While Christian trembles, Boomer slips a black hood over his head. By now, Christian will do anything to appease Boomer — an offer quickly taken advantage of. Boomer yanks Christian's clothes off and attaches clamps to his nipples. Then he taps Christian's taint with the end of a baseball bat, eliciting a spontaneous orgasm. Then the fat end of the bat is shoved up Christian's ass. Christian revels in the pleasure and the pressure. It gets better when Boomer strokes his cock and stretches his foreskin. Fucking Christian's face, Boomer's orders him to "open up," ramming his monster cock in to the hilt. Christian's face is covered with slobber and drool, and his ass has been primed by the bat. Boomer delivers the final blow, fucking Christian hard and deep. After two positions, Christian blow his load all over the table and himself, and Boomer riddles Christian with bullets of cum.

WATCH THE SCENES AT:
RAGING STALLION'S MEMBERS SITE
Members at RAGING STALLION'S MEMBERS SITE can watch these scenes and download extensive Photo Content from this production.

Hot or Not? Let us know.
[Total:

3

Average:

4.3

]