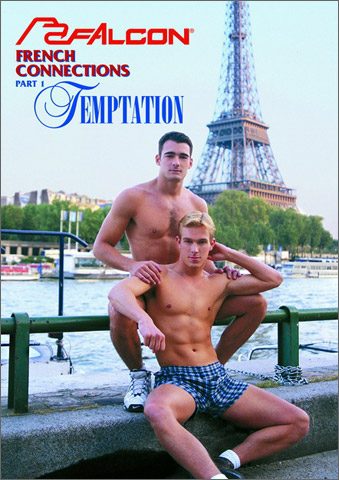 Studio: Falcon Studios
Directed by: John Rutherford
Year of Production / Release: 1999
Country of Production: U.S.A.

CAST:
Thom Barron
Nick Chevalier
Brennan Foster
Eric Hanson
Buck Meadows
Antonio Romano
Virgil Sainclair
Colby Taylor
Jared Wright
Thom Barron's Comments:
Definetly a candidate for my all-time favourite. My scenes were filmed in a little town about 50 miles away from Paris. We were staying in a posh golf hotel (I think it was the only hotel there was in this hicksville) and a bunch of (mostly American) porn stars obiviously were standing out among the guests. Of course the Americans would ask for ketchup along with the fine French cuisine for dinner! But nevertheless I think the staff loved us but the other guests hated us! The location was beautiful, the weather was great, everybody got along very well with each other and I had a lot of free time inbetween shots. Like a perfect countryside holiday and – I nearly forgot – the sex on camera was also a lot of fun. I especially like the scene with Jared Wright – I think it' s just damn hot! (I hope I don't seem to bigheaded here saying this about my own scene).

FROM FALCON STUDIOS:
Falcon Studios invites you to France! An epic film adventure shot in beautiful scenic locations throughout France and featuring the hottest Falcon Exclusives and International Cast ever assembled! This is Part One of a must-see double-feature! This series boasts non-stop Action! The hottest sex-scenes imaginable, plus tenderness that will move you at the highest emotional level. This series is so hot you will be unable to resist the savage need to be there yourself. Starring Eric Hanson, Brennan Foster, Colby Taylor, Nick Chevalier, Virgil Sainclair, Thom Barron, Jared Wright, Antonio Romano and Buck Meadows. Truly a cast of men that dreams are made of!! Falcon Exclusives Brennan Foster & Eric Hanson are two young men in Paris, on a journey of self discovery and non-stop sex action! Both films feature the hottest men of the US and Europe.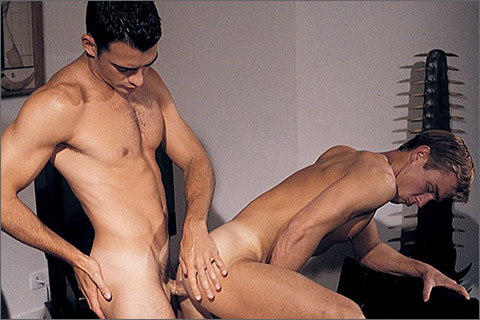 SCENE 1: Eric Hanson fucks Brennan Foster
At Brennan Foster's chateau in the French countryside, he and friend Eric hanson spend their morning unwinding. They strip down and Eric lovingly sucks Brennan's cock. Brennan returns the favor…sucking deeply on Eric's cock Before long Eric's got his cock buried in Brennan's ass, pumping rhythmically… faster and faster until finally Brennan unloads and Eric shoots his own load over Brennan's chest.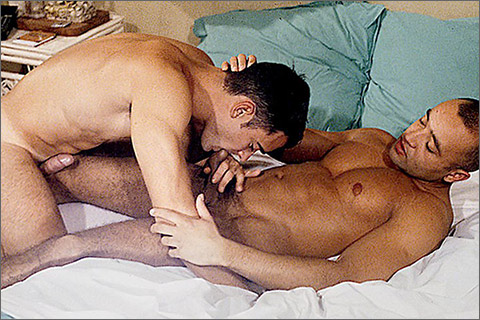 SCENE 2: Eric Hanson fucks Antonio Romano
Winding his way through the streets of Paris, Eric Hanson meets Antonio Romano, a street artist, who invites him on a very personal tour of the city. Back at Antonio's apartment, Eric sucks his long uncut prick. Antonio does likewise, savoring every inch of Eric's cock. The sex is nicely paced, each man enjoying the other, thrilling to each other's touch and feel . Eric straddles Antonio, sitting on his face as the swarthy Frenchman tongues his asshole. Eric flips Antonio over and fucks him hard and strong, pumping his cock high up his hole until both men lose their loads.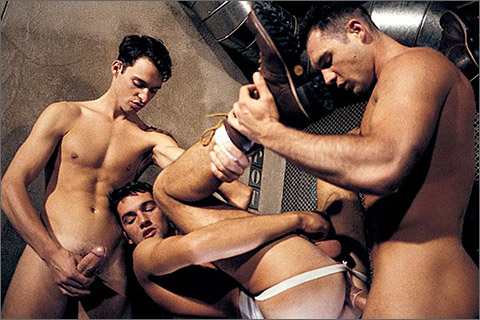 SCENE 3: Colby Taylor and Virgil Sainclair fuck Nich Chevalier
At a sexclub in Paris, Colby Taylor gets very friendly with musclestud Virgil Sainclair and his pal Nich Chevalier. Nick worships Virgil's huge uncut cock, then divides his time between sucking Colby and Virgil…one then the other…then both at once. Mesmerized by the sight of Virgil's cock, Colby drops to his knees and the two young men devote themselves to cock. Finally Colby and Virgil sandwich Nick between them, filling both his holes and plunging their cocks deep until each man bursts forth in thick cum.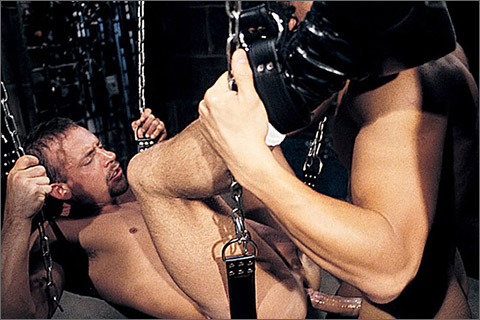 SCENE 4: Thom Barron and Jared Wright flip-fuck and Fist one onther
Thom Barron and Jared Wright are hard at work in the sexclub. They suck each other for starters, then Jared rims Thom's hole, priming it for some fucking. Then perched in a sling, Jared leans back and surrenders his ass for some intense play. Thom greases up a big black dildo and shoves the sturdy tool up Jared's ass. The action continues until finally the two satisfied studs blow their loads and cool down.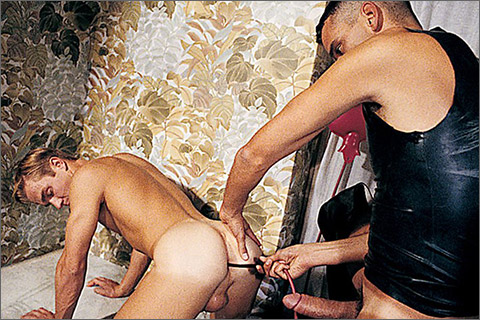 SCENE 5: Buck Meadows douches Brennan Foster
Businessman Buck Meadows spots Brennan Foster on the street and soon the two men are engaged in a sultry tryst. Buck feeds on Brennan's tight body, tonguing his hole expertly and lightly teasing Brennan's cock and balls with his tongue. Buck decides to get kinkier and gives Brennan an enema. Buck forces the water deep in Brennan's ass and then lets the boy enjoy the feeling of holding it in…and shooting it out. When Brennan has taken and given as much as he can, Buck rims his warm ass and Brennan unloads all over Buck's chest.

WATCH IT NOW AT:
FALCON STUDIOS
Falcon Members can watch scenes from this Release anytime online.
DVD Releases debut online prior to DVD Release.
NOW STREAMING:
FRENCH CONNECTIONS – PART 1 – TEMPTATION @ NAKEDSWORD