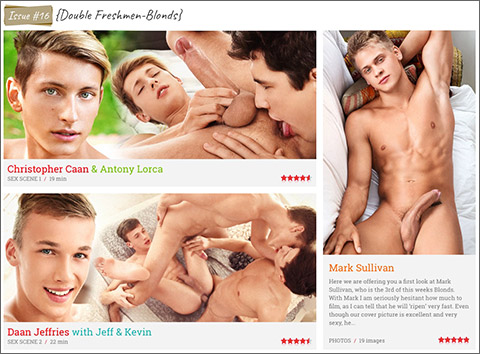 Studio: BelAmi / Freshmen
Year of Production / Release: 2017
Country of Production: Czech Republic

CAST:
Christopher Caan
Daan Jeffries
Antony Lorca
Jeff Mirren
Mark Sullivan
Kevin Warhol
INFORMATION FROM BEL AMI:
Christopher Caan & Antony Lorca
In this scene you will see the dancing part of Christopher Caan (he performed ballroom dancing in his earlier life), now he is trying to import used cars. In any case this scene is destined to be a success with you as the chemistry between the boys is great, and all the elements of the scene work, which is not generally the rule with new boys. Please concentrate your comments on Christopher so we can get some feedback.
Dann Jeffries with Kevin Warhol & Jeff Mirren
The 2nd of this weeks blonds is Daan Jeffries, where we also have the same questions for you as with Christopher. He came to us in an age where he still suffers repeated skin issues, which of course disappear during the sunnier months. He is at first very shy, but what convinced us was that he had previous private experience with other boys so we thought that we would give him a try.
   Today's scene originally consisted of 2 separate parts that we combined here for you today. In your evaluation please keep in mind that he is still in his very early stages and that we think that he will turn out to be a very good performer.
PHOTOS: Mark Sullivan
Here we are offering you a first look at Mark Sullivan, who is the 3rd of this weeks Blonds.
With Mark I am seriously hesitant how much to film, as I can tell that he will 'ripen' very fast. Even though our cover picture is excellent and very sexy, he is not an easy boy to shoot. You will see him next week in a scene with Torsten Ullman and hopefully we will be able to tell more.

WATCH IT / DOWNLOAD IT NOW AT:
BEL AMI'S FRESHMEN
Downloadable Presentations, with extensive Photo Galleries
One of the Highest Quality Mega sites.