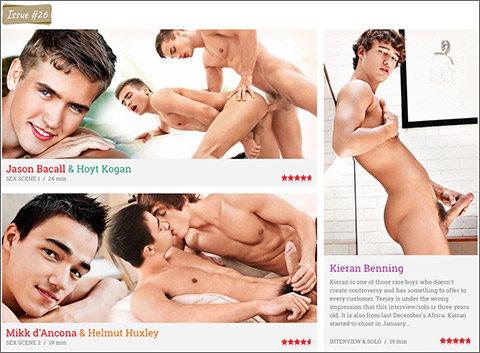 Studio: BelAmi / Freshmen
Year of Production / Release: 2017
Country of Production: Czech Republic

CAST:
Jason Bacall
Kieran Benning
Mikk d'Ancona
Helmut Huxley
Hoyt Kogan
INFORMATION FROM BEL AMI:
Jason Bacall & Hoyt Kogan
Today's scene was shot as a part of the African production last December. I admit it is neither an early, nor the only scene with Hoyt/Jason. I selected it for Jason's debut simply because it was good, and thanks to its opening, also untraditional. Admittedly it is a bit out of context because it was shot as a part of an African reality show, but I am sure you'll enjoy it.
Mikk d'Ancona & Helmut Huxley
"What did poor Helmut do to deserve this?" one of you asked in a comment on last week's preview. Well Mikk might not be in same league as Helmut at this moment, but I recommend you to go back to Helmut's casting and his equally atrocious early haircut. In any case, you can't have only star-class newcomers. We have to hatch and also test boys who might not be to everybody's taste. Many of you keep forgetting that that these boys are completely new and inexperienced. Before you start comparing him to Jason, it is good to know that this scene is Mikk's first and Jason's 20th.
INTERVIEW & SOLO: Kieran Benning
Kieran is one of those rare boys who doesn't create controversy and has something to offer to every customer. Teejay is under the wrong impression that this interview/solo is three years old. It is also from last December's Africa. Kieran started to shoot in January 2016. As a result you'll gradually see him with different hairstyle attempts and different levels of experience. By know he has become a seasoned performer. He was sensual and flirty from the very beginning, and experience came with shooting. I suspect that he'll tell you more about himself in his interview. His other qualities don't need my commentary.

WATCH IT / DOWNLOAD IT NOW AT:
BEL AMI'S FRESHMEN
Downloadable Presentations, with extensive Photo Galleries
One of the Highest Quality Mega sites.