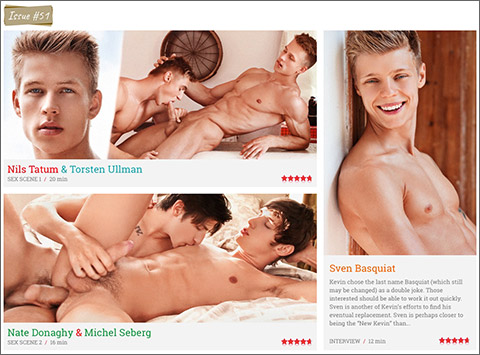 Studio: BelAmi / Freshmen
Year of Production / Release: 2017
Country of Production: Czech Republic

CAST:
Sven Basquiat
Nate Donaghy
Michel Seberg
Nils Tatum
Torsten Ullman
INFORMATION FROM BEL AMI:
Nils Tatum & Torsten Ullman
No matter how much we try to prepare models for the rigors of having gay sex on camera, there is some inevitable nervousness during a model's first few scenes. This can come across as aloofness. Trust me, with Nils and Torsten, it is the presence of a film crew and not the absence of chemistry that may make Nils seem apprehensive. They are a near perfect couple and we hope you enjoy them as much as they enjoy each other.
Nate Donaghy & Michel Seberg
The second scene of the week is more tender and romantic. This is what comes naturally for both of these boys who are passionate lovers more than furious fuckers. We believe this to be archetypal Freshmen scene.
INTERVIEW: Sven Basquiat
Kevin chose the last name Basquiat (which still may be changed) as a double joke. Those interested should be able to work it out quickly. Sven is another of Kevin's efforts to find his eventual replacement. Sven is perhaps closer to being the "New Kevin" than Pip is. Sven, like Kevin, has a tattoo. For xlnt2b1 and takeshi and other members who have issues with Tattoos consider that this prohibition would of prevented us from enjoying Kevin and his documentaries for all these years. We feel Sven will turn out similar to Kevin. Admire him for his other qualities as bitching about the tattoo will not convince us to abandon such a promising model.

WATCH IT / DOWNLOAD IT NOW AT:
BEL AMI'S FRESHMEN
Downloadable Presentations, with extensive Photo Galleries
One of the Highest Quality Mega sites.