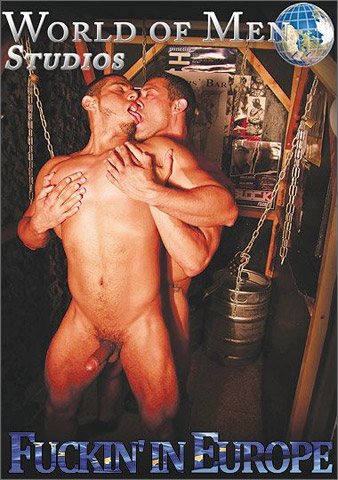 Studio: Collin O'Neal's World of Men
Directed by: Collin O'Neal
Country of Production: U.S.A. / Spain / Germany
Year of Production / Release: 2010

CAST:
Kriss
Tony Aziz
Harry Louis
Aaron Mark
Pablo Santana
Thorben
Yenier
ADDITIONAL COMMENTS:
All Scenes can be viewed online at COLLIN O'NEAL'S WOLRD OF MEN
INFORMATION FROM COLLIN O'NEAL'S WOLRD OF MEN:
On a recent to trip to Europe and the Middle East with Tony Aziz Collin filmed Tony and many different hot guys from around the world typical of Collin's World of Men style. Men from Lebanon, Germany, Cuba, France, Colombia and Brazil are represented in this recent release.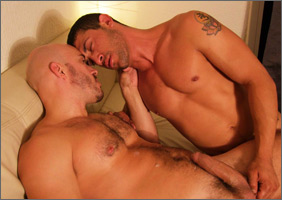 SCENE 1: Yenier fucks Tony Aziz
Collin picks up Tony Aziz from Barcelona after a long flight from San Francisco to only giving him a little rest before letting him out on the streets of Barcelona at night to find a scene partner. Just around the corner Tony spots bald, bad looking Yenier and catches up to him. After a quick grab of Tony's tight ass, Yenier agrees to follow Tony up to his rented room. Tony wastes no time to find out what Yenier is hiding in the bulge in his pants. When Tony finally gets down on his knees and unzips Yenier's pants, and out pops Yenier's huge uncut white Cuban cock ready for Tony. Yenier then decides to attack Tony's tight ass, spitting on it, licking it, smacking it and slapping it with his hard cock. Tony climbs on Yenier rubbing his ass all of Yenier's cock and then finally hops down on it. Yenier flips Tony over, fucking him from behind, making Tony blow his load all over the floor then Tony quickly turns around to play with Yenier's nipples until his big cock explodes.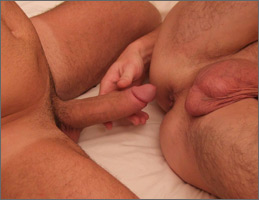 SCENE 2: Harry Louis fucks Kriss
Hot daddy Kriss is cruising the streets of East Berlin and finds cute young Harry Louis standing underneath a light pole. The two quick go up to Harry's hotel room to have some hot daddy-boy fun. Harry rapidly starts roughing up Kriss by spitting on him and slapping him then finally pushing Kriss to his knees, whips out his fat huge cock, and forces it into Kriss' mouth. Harry relentlessly chokes daddy Kriss with his enormous cock slapping ad spitting on him along the way. Finally Harry turns Kriss around, pulls down his pants and eats out Kriss' big daddy ass making Harry harder and harder the more he plays with it. Finally Harry shoves Kriss onto the bed and thrusts his fat cock into Kriss' tight hole. Harry keeps banging Kriss until he finally pulls out of his ass and blows all over Kriss.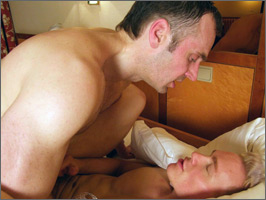 SCENE 3: Thorben fucks Aaron Mark
Big tall blonde boy Aaron Mark invites his friend Thorben over for a little fun at a hotel room in Hamburg, Germany. These two have obviously played around before and role play the daddy boy scenario, but this time with the daddy being in complete control. Thorben starts off by forcing his boy to take his fat uncut German cock all the way down his throat. Thorben then turns Aaron around, pulls down his pants, and attacks his ass, slapping it and eating it out while aggressively talking to Arron in German. Thorben then takes his big fat cock and shoves it into Arron's muscle blonde tight ass. Thorben aggressively attacks Aaron's ass until his boy shoots his load then Aaron flips over and plays with Thorben's nipples until he shoots his huge load too.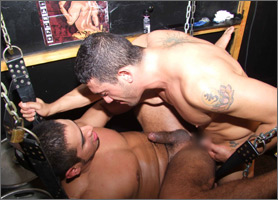 SCENE 4: Tony Aziz fucks Pablo Santana
Tony cruises Pablo in Barcelona's main train station and then follows him onto the train to Sitges. The two guys walk through the streets of Sitges until they find a sex club where they can have some fun. Tony and Pablo decided to go to the back of the sex club where the sling is to have some fun. Tony wastes no time in pulling Pablo's pants down to unleash his nice Colombian uncut cock. Pablo then services Tony's cock until Tony decides to bend Pablo over to spit on, slap and lick Pablo's big hot ass. Tony finally sets Pablo in the sling then fucks and punches Pablo until he finally cums. Tony pulls out, eats a bit more of Pablo's ass and then blows his thick load all over Pablo.
SCENE 5 – Bonus Interview:
Tony Aziz and Yenier talk about sex porn and a bit about themselves.

WATCH THIS ONLINE NOW AT: COLLIN O'NEAL'S WOLRD OF MEN