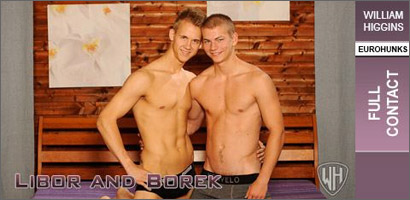 Studio: William Higgins Productions
Directed by: William Higgins & staff
Year of Production / Release: 2013
Country of Production: Czech Republic

CAST:
Borek Sokol
Libor Bores

THIS PREVIEW CONTAINS ADULT SEXUAL CONTENT
[jwplayer mediaid="60312″]

INFORMATION FROM WILLIAM HIGGINS PRODUCTIONS:
After a wonderful solo shoot we invited Libor Bores in for a screentest, and paired him up with the lovely Borek Sokol. We find them sitting on the bed, and Borek doing a brief interview with Libor. Then they start to kiss and feel each other's bodies. Libor then lowers his underwear some, so that Borek can wank him as they continue to kiss. Libor follows the lead and dips his hand into Borek's underwear to feel some cock. Both guys then lose their underwear and Borek goes down on Libor's hard cock. He sucks on that big dick as Libor reaches round and wanks him. Almost right away Borek gets onto his knees and presents his own hard cock for Libor to suck. Libor shows that he is very keen to do a good job, with his mouth closing tight around that hard dick. He wanks himself as he sucks Borek, and cups his tight balls. Libor has a nice rhythm to his sucking, as his whole body moves back and forth so that his head slides up and down on Borek's cock. Then he kneels up and kisses Borek and they both wank each other. What a beautiful sight it is, those two hot bodies and the hard cocks being gripped and wanked. Moving on to the next stage of the screentest Libor presents his ass and Borek quickly starts to rim that hole. His tongue licks as the hole and gets it nice and wet before he slips a finger it. That tight hole takes the finger, with Libor moaning slightly. Finger and tongue both play with his hole, and Libor is writhing in pleasure. He wanks himself all the while as his hole gets ready for more. Borek then positions himself and slides his throbbing cock deep into Libor's virgin ass. He fucks that ass nice and deep as Libor continues wanking his own hard cock. His moaning lets us know just how much he is enjoying the feeling of having his hole filled. Borek is really working that hole and they move, so that Libor can sit down on that big dick. He rides up and down on that thick shaft, and keeps wanking himself as he does it. Then Libor holds himself still, so that Borek can fuck that ass, thrusting his cock upward and really working the hole. Another move has Libor on the bed, hand wrapped tight around his cock as Borek fucks him some more. They move into missionary postion with Borek sliding in and out of that hot ass and Libor still wanking. Libor is loving that feeling of cock in ass and his own hand wanking, and quickly builds up to a lovely cumshot, squirting all over his belly. Borek continues to fuck and then pulls out to cream all over Libor. What a fabulous scene, with Libor showing that he is a real star, in this first every sex scene with another guy. Borek was a great choice as partner, doing a great job. They kiss and then go off to the shower to clean up.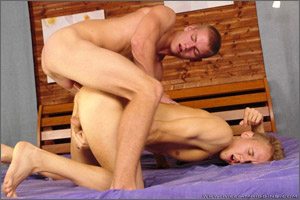 WATCH / DOWNLOAD THE SCENES AND IMAGES AT:
WILLIAM HIGGINS PRODUCTIONS
Members can download the High Definition and other versions of this film. Extensive Photosets are always offered to members as well.