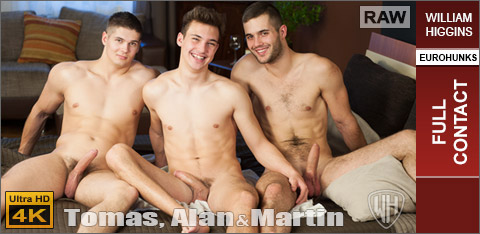 Studio: William Higgins Productions
Directed by: William Higgins & staff
Year of Production / Release: 2016
Country of Production: Czech Republic

CAST:
Alan Carly
Tomas Fuk
Martin Polnak
INFORMATION FROM WILLIAM HIGGINS PRODUCTIONS:
Martin Polnak is having a good time wanking himself as he works a dildo in and out of his ass. As he plays Tomas Fuk and Alan Carly come in to the next room and spy him doing it. They watch him through the open door for a while and Alan begins to rub Tomas' crotch. Tomas responds by kissing Alan. Then Alan lifts Tomas' tee shirt and kisses and licks his chest. He opens Tomas' jeans as he kisses down the chest, and pulls out the hard cock that is waiting for him. He takes the stiff dick in his mouth and sucks on it as we see Martin through th open door, still having his own fun. Tomas loves the feel of Alan's hot mouth and fucks his cock in and out. Then Alan stands and they kiss again before going in to join Martin. Alan kisses him as Tomas takes the hard dick in his mouth. He sucks on Martin's cock as Alan leans over to lick the shaft. Then Alan takes a turn at sucking as well. Tomas takes over sucking again as Alan pulls his throbbing cock out for Martin to suck. Tomas moves up to Martin's head and presents his cock as well. Martin takes turns on each cock as Tomas wanks him. Then Martin moves onto his knees and presents his ass to Tomas. The invitation is accepted as Tomas thrusts his cock in and out of Martin's eager hole. Martin sucks Alan's rock hard cock as he feels Tomas working his hole. Then Tomas withdraws from that hot ass and Alan's cock slides in. He fucks Martin deep and hard stretching the hole wide. Then Tomas lays on the bed and Alan climbs on, sliding his ass down on the throbbing cock. He rides that dick as Martin lays next to Tomas who reaches over to wank him. Alan's ass really works itself onto Tomas' dick, bouncing up and down on it. Alan turns around and slides his ass back down on the cock, wanking himself at the same time. His wanking it so hard that very quickly he shoots his creamy cum onto the bed. As Alan's ass comes off Tomas' cock Martin grabs hold and wanks it. That soon has Tomas' shooting his hot load too and Alan licks the sticky dick. Then Martin Kneels over both of them and wanks himself. His big balls tighten as he wanks and his cock erupts with a hot stream of cum, which shoots onto Tomas. Then Martin and Alan go off to the shower to clean up. They wash each other and then leave as Tomas also gets in the shower to wash all that cum off his hot body.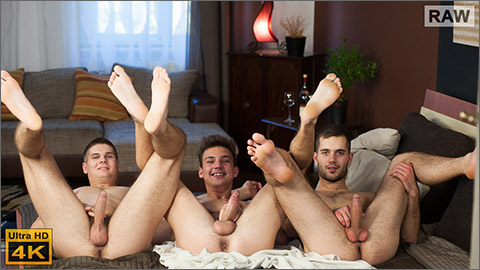 WATCH / DOWNLOAD THE SCENES AND IMAGES AT:
WILLIAM HIGGINS PRODUCTIONS
Members can download the High Definition and other versions of this film. Extensive Photosets are always offered to members as well.