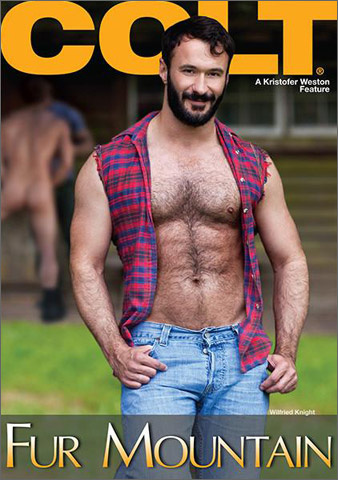 Studio: COLT Studio / Buckshot Productions
Directed by: Kristofer Weston
Year of Production / Release: 2015
Country of Production: U.S.A.

CAST:
Dirk Caber
Bob Hager
Brad Kalvo
Tim Kelly
Wilfried Knight
Trent Locke
Shay Michaels
Spencer Reed
Damien Stone
INFORMATION FROM COLT STUDIO:
Hot, Hairy, full grown men, in the prime of their lives. Living, working and sweating in the rugged mountain terrain, these men get through the rigors of the day with plenty of healthy COLT man-on-man contact.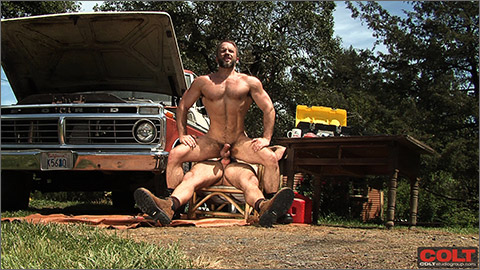 SCENE 1: Spencer Reed fucks Dirk Caber
Sprawled out under a pick-up truck, Spencer Reed is busy with his mechanic's tools in hand. Dirk Caber watches from above, patting his bulging jeans as he watches Spencer on his back under the truck. Spencer looks up from under the truck and asks, You think that works? Dirk looks at Spencer?s hairy chest, gives his hard tool a squeeze and says, It works for me".
   Spencer rises up toward Dirks bulge and laps his tongue on that thick juicy cock. Slowly stripping each other out of their clothes, these guys enjoy sucking and slurping on their hard cocks in the hot, blazing sun.
   Dirk bends over the grill of the pick-up and offers his hairy, beefy ass – He offers it up for Spencer to do as he will. Spencer buries his face in that hot muscle butt as he strokes his meaty cock. Rock hard and ready to fuck, Spencer drills his meaty dick deep into Dirks hungry manhole, giving him a hard and deep pounding. Riding wild, Dirk gets on top and takes Spencer?s throbbing cock to the hilt. Ramming his hole on Spencer?s thick meat, Dirk unleashes a gusher, draining his balls of sweet, hot cum. Spencer rises to his feet as Dirk drops to his knees to take Spencer?s thick, drenching load.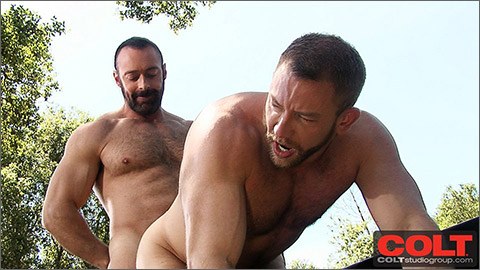 SCENE 2: Brad Kalvo fucks Shay Michaels
Beefy stud Shay Michaels and muscle-bound Brad Kalvo come together for a hot and heavy, outdoor play session. Shay drops straight to his knees, eager to get at the meaty package inside Brad's bulging pants. Once that hefty piece of meat is unleashed, Shay goes to town swallowing every inch of Brad's thick, hard cock. Brad returns the favor and gets down on his knees, worshipping Shay's thick monster with a deep throated hunger for cock.
   Kissing and grinding their cocks together, Shay asks 'you want some ass'? Turning around he bends over and offers Brad his beefy, hairy butt. Spreading those muscled mounds wide, Brad drives his tongue deep into Shay's hot, manly hole, slapping those furry cheeks as he buries his face. 'Get in there' says Shay as Brad takes his rock hard cock and rams it in deep. Brad gives that ass a solid pounding, flipping Shay over on his back to drill his ass even deeper. Shay spreads his legs wide and takes it hard. "Yeah, keep fuckin' me" Shay begs as his throbbing cock swells. Pounding his meaty cock in hand, Shay jacks out a gushing load. Seeing Shay's cum flying high sets Brad's swollen balls on fire. Pulling out Brad strokes a thick and steamy load, drenching Shay in hot, white cum.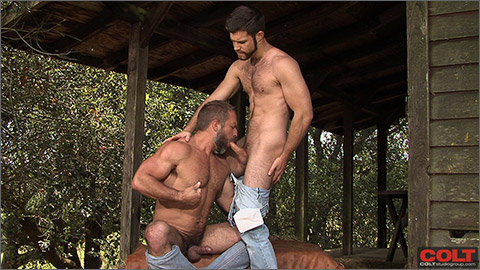 SCENE 3: Trent Locke & Dirk Caber
Out by the barn and resting on a bale of hay, burly Dirk Caber has his furry buddy Trent Locke in his muscular arms, passionately kissing and enjoying the feel of his hairy body and his growing bulge. Finding a hole in Trent's jean, Dirk tears open a hole, exposing Trent's thick swollen cock. Dirk lets his lips explore and finds his way down to take a taste of Trent's meaty pole. Slowly undressing each other, Dirk pulls down his jeans as Trent goes down to slurp on Dirk's thick cock and big man-sized balls. It's a slow and sensual give-and-take as these men enjoy the feel and the taste of each other's furry bodies and hard and juicy cocks. Dirk loses himself in the pleasure of sucking Trent's big dick. Dirk sucks and strokes Trent to the edge before taking a white-hot load on his chest. Then with fresh cum dripping down his hairy chest Dirk strokes himself to a gushing climax as thick gobs of dick juice ooze from his swollen cock.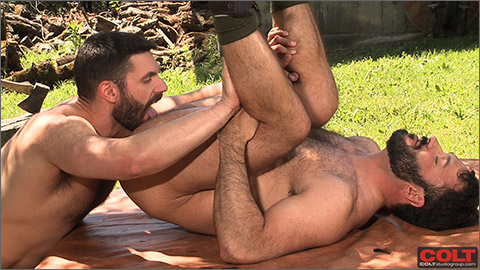 SCENE 4: Bob Hager & Wilfried Knight flip-fuck
Whittling away at a piece of hard wood in his hand, COLT Man Bob Hager is caught off-guard as hairy hunk Wilfried Knight sneaks up from behind to steal a hot kiss. Bob drops the wood in his hands and feels the wood in his pants begin to harden. Undressing as they passionately kiss and grab at each other's muscled bodies, these men come together with a hungry need for man-sex. Wilfried reaches in the front of Bob's jeans and takes Bob's cock in his mouth, lovingly swallowing every inch as he worships Bob's big cock. After stripping each other down and tasting each other's juicy dicks, Bob turns and bends over. Wilfried buries his face in Bob's manly butt, licking his hot hole with gusto. Bob's furry ass is just begging to get fucked by the time Wilfried is done eating that ass. Wilfried delivers the goods, sliding his swollen cock deep into Bob's ass as Bob groans with approval. The man fur flies as these guys fuck the day away. Turning the tables, Bob turns around for a kiss, flips Wilfried on his back, climbs on top and glides his dick deep into Wilfried's fury man-butt. Wilfried holds his big muscular legs and spreads his hole wide as he takes Bob to the hilt. With Bob's big dick drilling his ass Wilfried lets loose a thick nut busting load. Within seconds Bob is gushing and squirting as well, drenching Wilfried in two man-sized loads.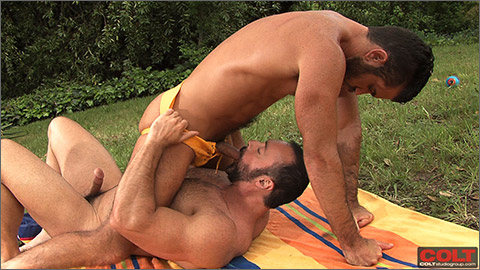 SCENE 5: Brad Kalvo & Damien Stone
Lying out in the sun, Damien Stone shows a hot ass in his tight yellow jock as he lays face down in the back yard. Burly Brad Kalvo notices that hot butt and moves in to help apply some oil to the bronzed furry butt cheeks. Applying oil turns into an extended full body massage, which makes both men very hard and very horny.
   Flipping over on his back, Damien's cock is busting out of his jock. Brad strips out of his shorts and lies down with Damien for a hot, manly and bearded fur-on-fur session.
   Damien feeds Brad his big swollen cock, slowly driving his cock deep down Brad's throat. A long session of cock sucking has both men dripping with pre-cum, and swollen balls. Standing side by side they stroke as Damien can no longer hold off. A thick load of cum drains from his pulsing cock. Brad is close behind as a hot jet of cum flows from his cock, leaving thick streams of cum dripping from the head of his cock.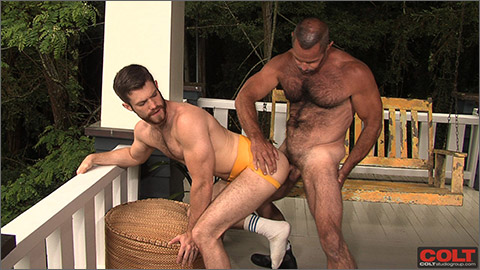 SCENE 6: Tim Kelly fucks Trent Locke
With a thick pelt of fur on display, Tim Kelly is kicking back and enjoying dedicated service from cock worshipping Trent Locke. Trent is treated to an eyeful of body hair as he kneels before Tim's altar of fur and cock, lovingly swallowing and slurping on Tim's thick piece of man meat. Grabbing the back of Trent's head, Tim guides him down on his cock, demanding Trent handle every inch.
   Reaching over Tim, grabs Trent's jock strapped ass. Spitting on his hand Tim probes that hot manhole with his fingers. Turning Trent around, Tim turns his full attention on that butt. Tongue deep in that hole, Tim gets Trent's ass lubed and horny for cock.
   Rising up with his rock hard cock Tim spreads those mounds and buries his cock deep in that sweet ass. Trent holds on tight as Tim gives his hole a hard pounding. And after a hard pounding from behind, Trent climbs up on top and takes a wild feel good ride on Tim's big pole. Feeling that cock deep in his ass, Trent rides harder as cum begins to fly. A hot white load explodes from his cock and lands in pools in the thick fur of Tim's manly chest. As Trent leans in for a hot lip-lock, Tim reaches down to stroke his ready to blow cock. Thick wads of cum gush from his cock as his balls are drained.

MORE INFORMATION / WATCH IT / DOWNLOAD IT :
COLT STUDIO
COLT Studio members can watch this presentation online.
Extensive Photo Archives are available for download on all Classic Colt and Newer Colt Studio Productions.

WATCH IT NOW AT: Colt Studio @ AEBN / SMUTJUNKIES THEATER
DVD AVAILABLE FROM: COLT STUDIO STORE