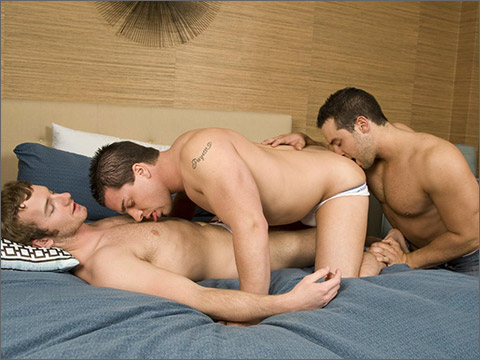 Studio: Randy Blue
Directed by: Randy Blue
Year of Production / Release: 2007
Country of Production: U.S.A.

CAST:
Braden Charron
Alex Eden
Gage Wilson
REMASTERED ON THE NEW RANDY BLUE PLATFORM:
I know when you guys want something. Every since Gage Wilson started with Randy Blue last year everyone raved about how hot he was. When he blew Reese I got tons of emails about it. When he fucked Trent, people went nuts. But the one thing everyone kept asking was… when is Trent going to get fucked. His toy video was so hot it just got everyone craving to see his ass pounded by another Randy Blue model. I knew it was time. And I knew it had to be hotter than you guys could even imagine. I called in not one but two fan favorites, Alex Eden and Braden Charron to make sure Gage got a fucking he won't soon forget. I don't know what was in the air that day but when we got into the studio Alex and Braden had this look in their eyes… like hungry animals. Gage and Braden started fooling around even before I turned on my camera and Alex was enthralled, just staring with a growing bulge in his shorts. That gave me a great idea. Have Gage and Braden making out while Alex watches. That didn't last long as Alex, unable to help himself, jumped into action. If this video doesn't put you in a good, and incredibly horny, mood for the weekend nothing will. Braden has become quite the talented cocksucker. Seeing that hunky, musclebound stud on his knees going down on both Alex and Gage at the same time is enough to make you pop before you even go any further, but you better hold off for the really good stuff. Then Alex takes a turn engulfing Gage and Braden's stiff members. But seeing Gage getting his ass rammed by both Alex and then Braden is where everything just goes through the roof. And after a good solid pounding he gets a crack at Braden's ass before unloading a pent up load of hot steamy jizz all over Braden's back.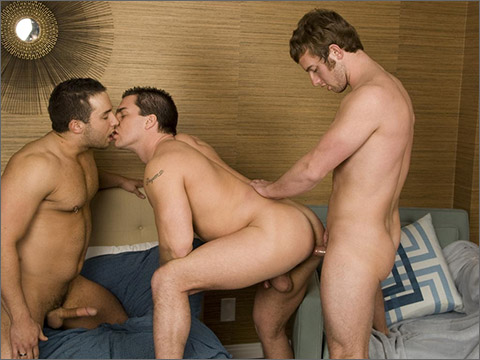 WATCH IT / DOWNLOAD IT NOW AT:
RANDY BLUE
Download or Streaming On-Line Presentations.
Extensive High Quality Photoshoots with each release.
Live Performances and Private Online Shows of your favorite performers.