Studio: Iconmale
Directed by: Nica Noelle
Year of Production / Release: 2014
Country of Production: U.S.A.

CAST:
Brent Corrigan
Mike De Marko
Trenton Ducati
Cliff Jensen
Josh Pierce
Adam Russo
Brandon Wilde
PROMOTIONAL INFORMATION:
IconMale takes you inside a special massage parlor, where closeted men can finally indulge in the gay sex they crave. Brent Corrigan is an all American football hero who secretly yearns for another man's touch, so smooth daddy Adam Russo gives the frustrated stud what he needs. Uptight, geeky actor Josh Pierce gets a royal opening from hot, hung muscleman Trenton Ducati, and arrogant musician Cliff Jensen gives in to beautiful Brandon Wilde.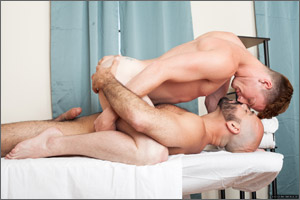 SCENE 1: Adam Russo & Brent Corrigan flip-fuck
Adam Russo is not your average massage therapist. He specializes in treating particularly anxious men, ones that are so deep in the closet that they don't even know they're gay. Adam relieves their tension and anxiety with his touch, but leaves his special 'happy ending' as a surprise. His first client is Brent Corrigan, a religious boy-next-door type who is under a lot of pressure to be a perfect Christian. Adam puts his hands on Brent to start loosening up some of his tension, then he puts his lips around Brent's dick to relieve up a different kind of pressure. Adam worships Brent's cock and then hops up on the massage bed to have Brent suck him. Brent bends over and lets Adam rim and finger him, relaxing a whole new place on his body. Then Adam slips inside and fucks Brent while jerking him. Brent asks Adam if he can return the favour by fucking him, and he's very willing to let the boy try. The guys flip back and Adam fucks Brent hard against the massage table until he cums all over Brent's perky ass. Adam fingers Brent until his tension is finally relieved all over his muscular stomach.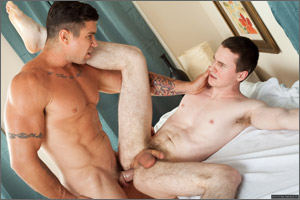 SCENE 2: Trenton Ducati fucks Josh Pierce
Trenton Ducati is a massage therapist at the Gay Massage House. He uses the same techniques as his co-worker Adam Russo, but his style has a more 'dive in head first' approach. Actor Joshua Pierce is used to hiding behind the characters he plays, but at the massage house he will have to finally meet me the man behind the mask. Trenton starts by rubbing oil on his back, and they chat a bit about Joshua's stress factors. Trenton spend a lot of time on Joshua's ass, relaxing the muscles and spreading the cheeks, exposing his pink asshole. He flips over and Trenton goes right for Joshua's dick, pinning him onto the table and kissing him hard on the lips. Right away Trenton throws Joshua's legs over his head and darts his tongue into his asshole. Trenton jumps up on the massage bed and starts licking Joshua all over his body. His shorts quickly come off for a massage table fuckfest. Trenton dominates Joshua, making him spread his asshole and scratching his chest until it turns red. Trenton pounds Joshua until they both spray onto Joshua's dick and balls.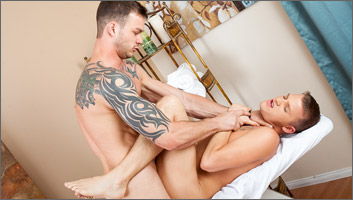 SCENE 3: Cliff Jenson fucks Brandon Wilde
Cliff Jensen is pretty cold to Brandon Wilde when he walks into the massage parlour, he seems like he's going to be a tough guy to break. The guys make small talk about the tattoos that they have, and Brandon starts oiling up Cliff's back. He gets Cliff to admit that, despite being a musician, he doesn't mess with groupies or have a girlfriend. Cliff turns over and while he's being rubbed he starts getting a half hard on. He asks Brandon to help him out with it and he'll keep his eyes closed. Brandon slips his hand under the towel and starts stroking Cliff's big cock. Then Brandon wraps his lips around it, sucking and teasing it while Cliff moans in pleasure. Brandon drops his sweatpants to the floor and Cliff returns the favor. Then Brandon lifts his legs up on the table and lets Cliff enter him. Brandon is so turned on that he cums almost immediately. He's not ready to stop the action, so Cliff continues pumping into him on the massage bed for round two. Amazingly, Brandon comes again and Cliff dumps his load onto the masseuse's stomach, who licks up the spilled juice.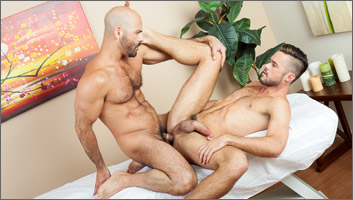 SCENE 4: Adam Russo fucks Mike De Marco
Adam Russo's next client of the day is Mike de Marko. Mike has been married to his highschool sweetheart for three years. He's been feeling particularly stressed lately in always trying to hide who he really is. Adam's hands linger on his favorite body part, Mike's perky ass. Adam gets Mike to flip over and starts massaging his chest while Mike opens up about the problems he's been having in the bedroom with his wife. Adam brings his hand over to Mike's erect dick and starts blowing his client. Adam takes off his clothes and positions himself on the table so the guys can 69. Adam makes Mike bend over so he can massage his asshole with his tongue. Then Adam slips inside Mike and starts fucking him doggy style until both men are moaning in pleasure. Adam fucks Mike until he's ready to relieve some of the built up tension that he hasn't been releasing on his wife all over his stomach. Adam makes Mike lick his balls until he cums on Mike's trimmed chest.

WATCH IT / DOWNLOAD IT NOW AT:
ICONMALE
On-Line Only Presentation, Members can Download the presentation for later for "off-line" viewing.
Members have access to a vast array of photos from each scene.