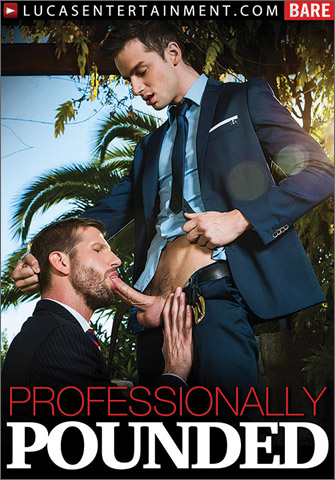 Studio: Lucas Entertainment
Directed by: Michael Lucas
Year of Production / Release: 2016
Country of Production: U.S.A.

CAST:
Tomas Brand
Zander Craze
Damon Heart
Klein Kerr
Dylan O'Hardy
Massimo Piano
Viktor Rom
Jesse Vos
INFORMATION FROM LUCAS ENTERTAINMENT:
You know you're a success when you've been "PROFESSIONALLY POUNDED," and Lucas Entertainment's elite class of men will deliver that experience to you! In the "GENTLEMEN" series' sixteenth installment, Massimo Piano takes on Tomas Brand as a mentor during a company retreat. Dylan O'Hardy blows off a meeting to instead ride Klein Kerr's raw cock. Viktor Rom doesn't waste much time in business attire: Zander Craze wants Viktor's power-top cock, and no suit will get in his way. And Jesse Vos gives Damon Heart an unforgettable lesson on how to get ahead in life!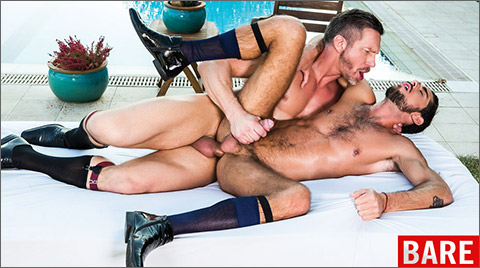 SCENE 1: Tomas Brand and Massimo Piano Flip-Fuck Raw
Lucas Entertainment's premiere muscle-daddy Tomas Brand joins the cast of "Gentlemen 16: Professionally Pounded" to mentor Massimo Piano in and out of his corporate attire. Massimo is a gorgeous guy, and Tomas Brand has all the required attributes to show Massimo an incredible time. Eye contact during oral sex is a Dick-Sucking 101 must, and Massimo Piano certainly delivers that to Tomas Brand at 18:11. But when Tomas is around, we want to see him take charge and fuck his bottom. Check out 28:40 for a taste of it. Fans of versatility won't be disappointed — Massimo gets his shot at Tomas' backside, too.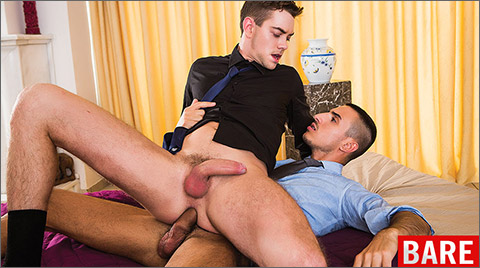 SCENE 2: Dylan O'Hardy Gives His Ass To Klein Kerr
During a Greek business retreat, the young up-and-comer Dylan O'Hardy neglects his responsibilities and blows off a meeting. Though, I think you'd make the same decision if it meant sneaking away with Klein Kerr, who looks amazing when dressed to the nines — and even better stripped down. Klein is a take-charge top, so I certainly hope Dylan is ready to submit to his needs. And if you check out 14:37, he looks like he's off to a great start… look at how far Klein is spreading Dylan's legs for the deepest bareback sex action possible!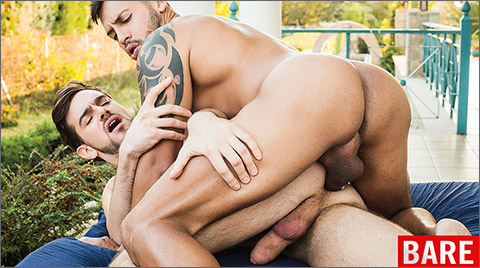 SCENE 3: Zander Craze Sucks And Rides Viktor Rom's Top Cock
If Zander Craze loves one thing in life, it's submitting himself to a total power top's throbbing erect penis. He doesn't just have sex — he gives himself to the man he's servicing completely, and in this instance Viktor Rom is the total power top in question. I couldn't have come up with a better pairing than this one. Watching Zander sensually suck on Viktor will alone make you shoot a hot load in your pants, but that's only the beginning. A power top Zander Craze wanted, so a power top he shall have. Don't take it easy on him, Viktor Rom!

SCENE 4: Damon Heart And Jesse Vos Swap Their Raw Cum
Damon Heart has the foresight to go straight for Jesse Vos' nipples after unbuttoning his dress shirt. You want to talk about sex noises? Jesse certainly lets us all know he gets off from having his (very) sensitive nipples teased and licked. And that's just his nipples — wait for when Damon pulls his pants down, bends him over, and bangs his ass raw!

SEE THIS NOW / MORE INFO:
LUCAS ENTERTAINMENT
Scenes Premier online prior to DVD release and are available to view anytime in the Members Area.
Members can watch scenes from all Lucas Entertainment releases anytime online.