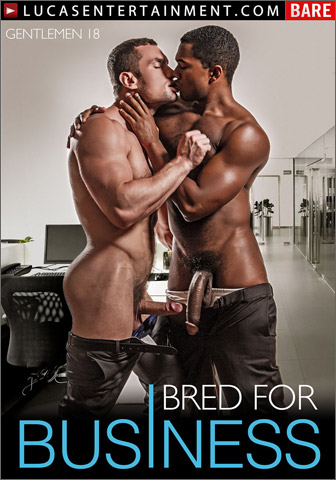 Studio: Lucas Entertainment
Directed by: Michael Lucas
Year of Production / Release: 2017
Country of Production: U.S.A.

CAST:
Kaden Alexander
Devin Franco
Dylan James
Stas Landon
Sergeant Miles
Emerson Palmer
Brandon Wilde
Sean Xavier
INFORMATION FROM LUCAS ENTERTAINMENT:
Only the Lucas Men that are "BRED FOR BUSINESS" have what it takes to be true Gentlemen. And here you'll see our studliest elites doing what they do best: showing off their power! Sean Xavier seals a business transaction with Stas Landon by giving and taking raw cock. Alpha-male Sergeant Miles uses the hole of his work subordinate, Devin Franco. Dylan James takes disciplinary action on Emerson Palmer's ass with his bare nine-inch dick. And Brandon Wilde breaks protocol by having bareback sex with Kaden Alexander on their lunch break. You only have what it takes to be a true Gentleman if you're first "BRED FOR BUSINESS"!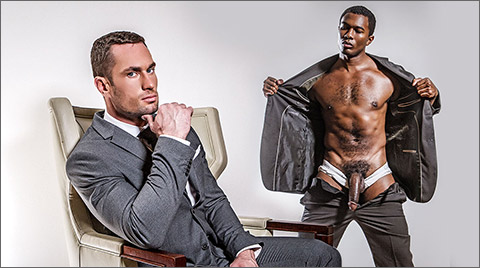 SCENE 1: Sean Xavier And Stas Landon Flip-Fuck In Suits
Sean Xavier is keeping Stas Landon company in the office while he works some overtime to impress the boss. But Sean's offer to hang out is rooted in an ulterior motive, and that's to see exactly how good Stas looks out of his suit. Stas Landon's body is huge: he's a human wall of meaty muscle and Sean's never seen a guy that big naked, let alone had sex with. Likewise, Stas has never seen a dick as huge as Sean Xavier's big black cock. The passion runs high when Stas and Sean take full advantage of the empty office for some unforgettable bareback sex.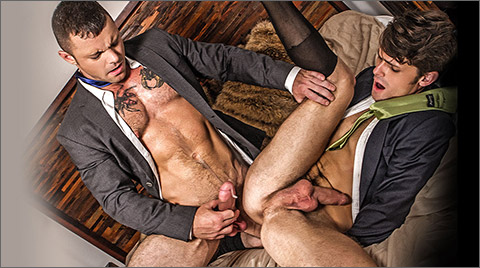 SCENE 2: Devin Franco Services Sergeant Miles' Executive Cock
Devin Franco looks up to his business superior, Sergeant Miles, so when Sergeant invites Devin over to his apartment for some wine after a long day in the board meetings, and there's no way Devin would turn down the chance. Devin had an idea that Sergeant was sexually attracted to him, and once the wine takes over, Sergeant makes his move. When their hard raw cocks are throbbing, Sergeant Miles and Devin Franco move take secret affair into the bedroom.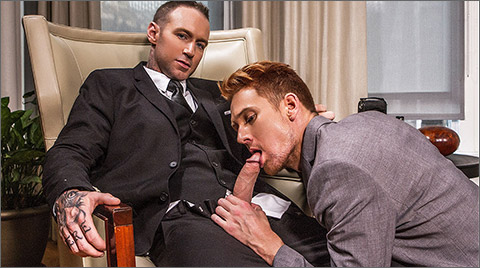 SCENE 3: Dylan James Gives Emerson Palmer's Ass Professional Training
Dylan James is forced to wait for a business meeting he's having with Emerson Palmer. He'd be more upset, though, if he actually meant to conduct business during it. But it's Emerson's ass he's interested in and not his business savvy. Emerson works hard to win back Dylan's good graces: he starts with Dylan's black dress shoes and works his way up. Who wouldn't want to suck on Dylan James' nine-inch cock with him sitting back in a chair' It's a pleasure watching Emerson take care of Dylan's hard-on. When Dylan's dick is throbbing, Emerson takes off his dress pants and gives up his ass.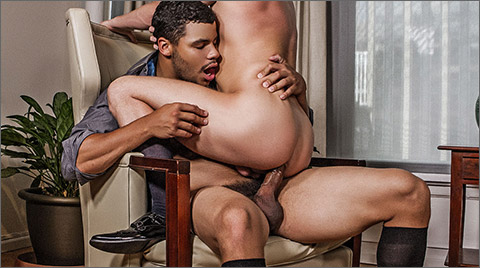 SCENE 4: Kaiden Alexander Fucks Brandon Wilde Raw In The Office
Brandon Wilde has a heated argument with his fellow office worker Kaiden Alexander. Brandon can be a know-it-all that refuses to admit when he makes a mistake (he's a bossy bottom), but Kaiden doesn't care and refuses to back down. He realizes there's only one thing to do in a situation like this. At the heat of their argument Kaiden makes a bold move and grabs hold of Brandon and kisses him. Brandon might be bossy at work, but he's all about submission in the bedroom. And Kaiden shows Brandon just how much of a dominant top he can be with his raw uncut cock.

SEE THIS NOW / MORE INFO:
LUCAS ENTERTAINMENT
Scenes Premier online prior to DVD release and are available to view anytime in the Members Area.
Members can watch scenes from all Lucas Entertainment releases anytime online.