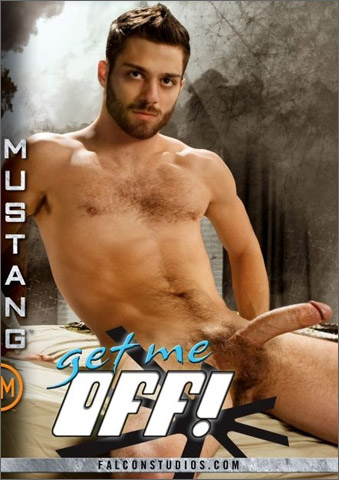 Studio: Falcon Studios / Mustang
Directed by:
Year of Production / Release: 2011
Country of Production: U.S.A.

CAST:
Felix Barca
Morgan Black
Race Cooper
Tommy Defendi
Jock Hudson
Heath Jordan
Revel Milan
Logan Scott
FROM THE FALCON WEB SITE:
Mustang Studios presents an action-packed production featuring the hottest, horniest men with one thing on their mind: Getting off! Join sculpted star Race Cooper as has his way with rugged and ready Felix Barca. Take a break from the daily workout as hairy Morgan Black sucks, rims, and fucks buddy Jock Hudson as they pump their muscles in the gym. Young buck Tommy Defendi hooks up with hot and hirsuit Heath Jordan for a hot suck and a hard ride…leaving both men soaked and satisfied….while Logan Scott and Revel Milan heat up and spill over in an unattended locker room. These guys know just what they want and they aren't afraid to ask – Get Me Off!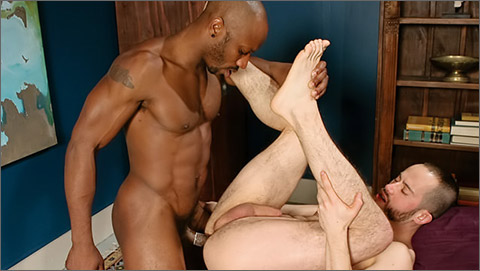 SCENE 1: Race Cooper fucks Felix Barca
Felix Barca and Race Cooper eagerly get down to business. The two studs smother each other with deep kisses, undo each other's trousers to fish out cock and then really get down and dirty. Felix nibbles on Race's tits and sucks on his long thick cock. Race leans back holding onto the back of Felix's head to guide him up and down. Felix can't get his fill of his buddy's big beautiful cock and continues to suck away like the hungry little pig he is. Race begins to feed on Felix's uncut prick. He presses his face up tight against his partner's fuzzy abs as he deepthroats his dick, causing Felix to spasm uncontrollably as he almost loses his load. Felix jabs his tongue deep down Race's manhole. He reaches between Race's legs, pulls his still engorged cock back and sucks it hard. Race's clenched sphincter twitches with each tongue poke and lick as Felix works hard to pleasure him. Now feeling it's time, Felix slams his cock up Race's ass and fucks him hard. He slaps the ebony cheeks of Race's bubblebutt making him cry out for more. The guys switch it up again, this time with Race screwing Felix fast and furious. Felix's face reddens with the ass assault and grows more excited as he pumps his own cock. He grimaces with pained pleasure as he shoots his load. Race fucks him some more and finally pulls out, grunting hard as he adds his own spurts of cum onto Felix's stomach.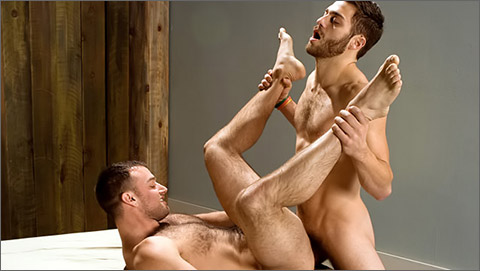 SCENE 2: Tommy Defendi fucks Heath Jordan
Tommy Defendi has Heath Jordan locked in his arms, holding his muscled, hairy torso close and tight against him. The two men kiss passionately as they rub and stroke each other, letting their hands glide up and down the other's finely muscled body. Tommy runs his tongue and lips down Heath's furry chest, biting and tongueing his nipples gently, before traveling down along his belly until he reaches his crotch. He pulls Heath's snug briefs down and immediately gets busy swallowing down his big cock. Tommy's lips are clamped tight around his partner's hefty tool, sliding back and forth over the entire length and all around the mushroom tip. Heath coos and sighs as he surrenders to the thrilling sensations of having his stiff staff stuffed down Tommy's throat. Now it's time to pay the piper and Heath takes his turn to get his friend off. He opens wide to envelop Tommy's tantalizing tool, grabbing onto the fuzzy nutsac as his head bobs up and down the length of the dickshaft. With the two of them worked up into a lather and anxious for more, Heath climbs aboard Tommy and skewers himself down onto his dick. His pinched asshole stretches wide to consume the hefty salami. Tommy's balls bounce as Heath bucks up and down from above, his dick swinging all around. Both men moan as Tommy continues plowing Heath's backside; the nonstop slapping of flesh against flesh reddens his buttcheeks. Then with the hirsute fireplug of a stud now flat on his back, Tommy fucks him even harder. Heath jerks himself off, pumping his cock until his load blasts out in thick spurts. Tommy is quick to answer with his own smattering of cum, matting Heath's chest hair even more.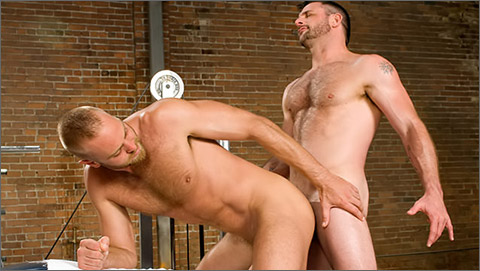 SCENE 3: Morgan Black fucks Jock Hudson
Jock Hudson is focused on pumping iron when hunky Morgan Black walks in. The horny studs find themselves working on a different set of muscles and after sucking face for awhile, Morgan pulls Jock's big juicy cock out and falls open-mouthed onto it. Jock sits back grinning – enjoying his buddy's oral expertise. Morgan's mouth is full of cock but he wouldn't want it any other way. He feasts some more, but after awhile, Morgan stands up buck naked and beautiful, an impressive tower of manliness with a fine coat of hair covering his muscled pecs and torso and a long slender cock looming erect and curving upward for Jock to jaw on. Jock then leans over, exposing his tight ass and wrinkled asshole to his hungry cohort who can't wait to rim it. Morgan's tongue reaches far inside as he stretches Jock's buttcheeks apart; he's priming it for the intense fucking he's so eager to deliver. He stands behind Jock who is folded over the workbench, and plugs him hard. Morgan pumps his hips, jamming his pole deep inside Jock's hole, building up speed with every thrust. As they move into missionary position, Jock grits his teeth as he hold his thighs up and apart, pleading for Morgan to fuck him even harder. Morgan's brawny body glistens with sweat as he continues pounding Jock's ass, exciting the taller man to jerk himself to climax. Jock strains with the exertion, then composes himself and leans back, happily anticipating Morgan's thick load all over him. Now spent and exhausted, the two jocks relax in each others arms.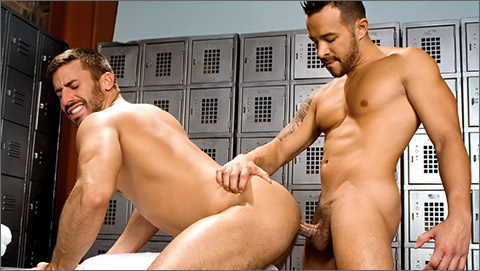 SCENE 4: Logan Scott and Revel Milan flip-fuck
Logan Scott hits the locker room after an intense workout and a shower. While rifling through his locker, he can feel someone eyeing him, Unnerved a bit, he turns around to find Revel Milan — looking captivated and so hungry — checking him out. Without uttering a single word, the two men hook up. Revel is the first to get down on his knees to worship Logan's magnificent cock and balls. His lips slide over the thick veiny shaft, riding back and forth in a repetitive and wolfish manner, generating feelings of satisfaction for the two of them. The torrid twosome suck face again some more and then Logan begins to feed on Revel's fat, thick cock. He slavishly works his tongue and mouth all over Revel's rod and balls, making his nipples jut out. Then Logan has Revel straddling a bench and leaning forward with the round mounds of his butt begging to be separated and probed, first with rapid tongue pokes and then with the meaty ramrod between his buddy's legs. Revel's sighs accompany every deep and deliberate thrust up his ass; he's really feeling it and all is really good. Then Revel gets his turn to fuck Logan's tight ass … his hefty cock sliding in and out of Logan's hairy asshole. Both guys sigh excitedly as Logan starts stroking himself until he climaxes, marking the furry treasure trail below his navel with pools of cum. Revel remains undaunted as he continues pumping Logan's until he finally withdraws and shoots his load.

WATCH THE SCENES NOW AT:
FALCON STUDIOS
Falcon Members can watch scenes from this Release anytime online.
DVD Releases debut online prior to DVD Release.

VIDEO ON-DEMAND: AEBN SMUTJUNKIES THEATER
DVDs & ON-DEMAND: TLA VIDEO