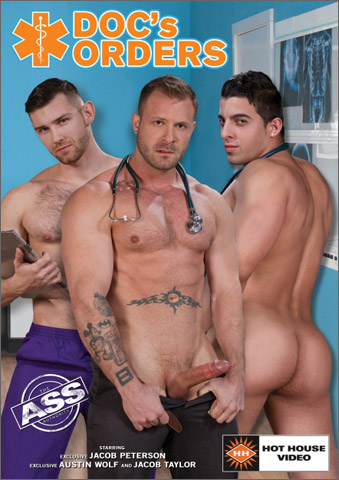 Studio: Hot House Entertainment
Directed by: Nick Foxx
Year of Production / Release: 2016
Country of Production: U.S.A.

CAST:
Tryp Bates
Ricky Decker
Jimmy Durano
Jacob Peterson
Brendan Phillips
Jacob Taylor
Austin Wolf
INFORMATION FROM HOT HOUSE:
When a patient is in need of sexual healing, these 'DOC'S ORDERS' are welcome relief for the doctors and the hot studs who visit their office. The prescription is for massive cocks, and the orders are to take them hard! When the lab coats and hospital gowns of these six sexy studs come off, Hot House director Nick Foxx captures doctors fully diagnosing their horny patients. Tryp Bates wants to make sure he can take bigger things inside of him and Doctor Jimmy Durano reassures him with his fat, uncut cock. Strip down to nothing, because it's time for you to follow 'DOC'S ORDERS'.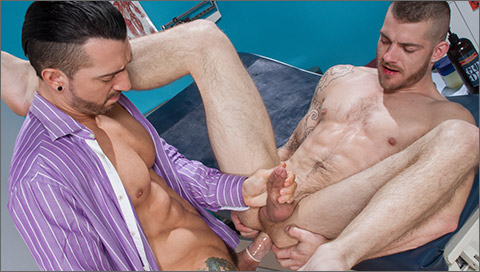 SCENE 1: Jimmy Durano examines / fucks Tryp Bates
Sexy patient Tryp Bates is visiting Doctor Jimmy Durano about not being able to take his man's huge cock. Doctor Durano is more than happy to help Tryp out. After examining Tryp's hole with a few fingers, Doctor Durano gradually widens Tryp's ass with multiple toys, each one bigger than the last. Doctor Durano says 'I think you're ready for something bigger,' alluding to his massive meat. He bends Tryp over his examining table and glides his humongous, uncut instrument swiftly into Tryp's hairy ass. Tryp follows his 'Doc's Orders' and gets on his back to take even more. Tryp's legs are high in the air, and Doctor Durano stretches Tryp to the max until he busts his wad onto the examination table, leaving Doc to coat Tryp's fuzzy ass in cum.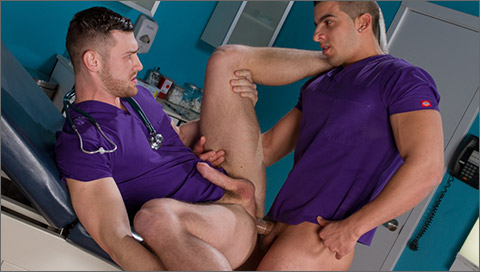 SCENE 2: Jacob Taylor fucks Jacob Peterson
Scruffy nurse Jacob Peterson is giving new hire Jacob Taylor an orientation, but Taylor is more interested in getting off with Peterson. Peterson slides down Taylor's scrubs and goes down on his fat dick. Taylor pulls up his shirt, revealing defined abs and a beefy physique. Peterson uncovers his smooth ass, and Taylor uses his tongue to explore Peterson's tight hole. As Taylor uses his spit to lube Peterson's hole, Peterson jerks his huge, uncut cock. With Peterson in the doggy style position, Taylor slides in his giant, throbbing cock and fucks Peterson with powerful, dynamic thrusts. For another angle, Peterson lays back on the examination table with his leg in the air as Taylor gives him a deep dicking in missionary. Peterson's hairy pecs bulge as he jerks his cock, spewing a huge load onto his furry abs. Taylor strokes himself until his cum erupts, arcing across the room and landing on Peterson's throbbing cock and balls.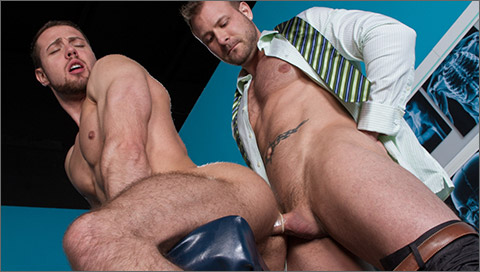 SCENE 3: Austin Wolf fucks Brendan Phillips
Football stud Brendan Phillips is on the examination table, ready for his routine physical. When the examination moves down south, Brendan can't suppress his excitement, and his cock leaps to attention at Doctor Austin Wolf's touch. A caress of Brendan's thick, stiff meat leads to fevered kissing, and then Doctor Wolf proceeds to inspect Brendan's hole with his tongue. Holding his legs up in the air, Brendan moans with pleasure as Doctor Wolf probes Brendan's prostate with his finger. One finger leads to two; Doctor Wolf uses his other hand to rub the sensitive head of Brendan's cock. To examine how deep Brendan can take it, Doctor Wolf grabs a thick metal probe and uses it to stimulate the patient's prostate. After Doctor Wolf unveils his thick, throbbing cock, Brendan eagerly gives him a wet, vigorous blowjob. Brendan then bends over, giving the doctor full access to his firm, furry ass. Doctor Wolf thrusts deep and reaches around to stroke Brendan's cock. Flipping over on his back, Brendan strokes himself off, blasting thick ropes of white cum across his washboard abs. Doctor Wolf releases his load right on Brendan's furry hole, and says 'I'll need to see you for a follow up.'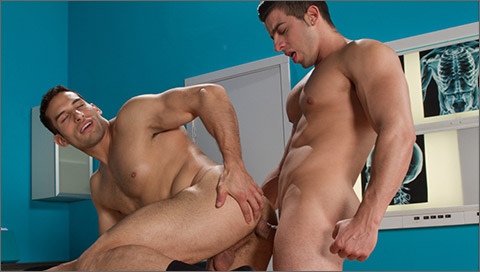 SCENE 4: Jacob Taylor fucks Ricky Decker
Sexy Dr. Ricky Decker calls Jacob Taylor into his office for a stern discussion. Jacob stands accused of having sex with a fellow employee, and Dr. Decker is furious! In response, Jacob simply slides off his scrubs, revealing his massive cock. As if hypnotized, Dr. Decker grasps Jacob's junk with his hands, then falls to his knees. Wrapping his lips around the head of Jacob's cock, Dr. Decker sucks deeply to the base of Jacob's shaft. Sliding back to the tip, he wraps his hand around Jacob's meat and starts jerking him off. Returning the favor, Jacob uses his tongue to deliver supple licks to the sensitive underside of Dr. Decker's cock. Laying down on his desk, Dr. Decker spreads his legs in the air and gives Jacob access to his tight hole. Going in tongue first, Jacob rims Dr. Decker's ass with plenty of tongue and spit. Standing up to remove their shirts gives them the opportunity to kiss, and then Dr. Decker gives up his ass to Jacob's monster meat. With one leg up on his desk, Dr. Decker gets pummeled by Jacob's powerful thrusts. A switch to missionary gets Dr. Decker close to the edge, and he jerks his cock until cum explodes all over his ripped abs. Pulling out, Jacob explodes his load onto Dr. Decker's chest and abs.

WATCH IT NOW / MORE INFO AT:
HOT HOUSE & HOT HOUSE BACKROOM
Hot House Backroom Members can see this film anytime online.
With extensive additional photography from every scene.