Studio: Hot House Entertainment / Club Inferno
Directed by: Michael Clift
Year of Production / Release: 2007
Country of Production: U.S.A.

CAST:
Jay Armstrong
Matt Cole
Vinnie D'Angelo
Marko Hansom
C.J. Knight
Nick Piston
Mike Power
Robert Van Damme
ADDITIONAL COMMENTS:
Working title was originally: TURBO CHARGED
INFORMATION FROM HOT HOUSE:
Hot House Video puts the pedal to the metal in this balls-out, hard-driving, machine shop hit! Feel the roar between the legs of this group of horny grease monkeys as they hop on and tear into action. Starring Hot House Exclusives Nick Piston, Vinnie D'Angelo, and C.J. Knight, this fast-paced cruising and nonstop sex could only be called Full Throttle!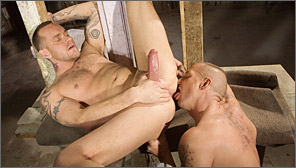 SCENE 1: Mike Power fucks Nick Piston
Nick Piston's long day of cruising pays off big time when Mike Power pulls his motorcycle into a nearby garage. Piston wastes no time joining Power and pulls his gigantic uncut cock out for some expert deep throat action. Power returns the favor, taking Piston's thick tool to the base. Piston kicks back on a workbench so that Power can rim his ass. Piston's hole is twitching for more and Power can't wait to shove his fat cock deep into the gaping hole. Power throws Piston down on a dirty mattress and fucks him ferociously until they both cum.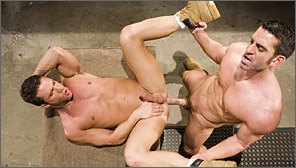 SCENE 2: Matt Cole fucks C.J. Knight
C.J. Knight comes down from the stockroom shelves to find coworker Matt Cole rock hard and ready for some really good head. Cole notices Knight's big muscular round ass and dives in for a taste. Cole tosses Knight on his back and power-fucks his hungry hole with all 9-inches, making Knight's cock rock hard. Knight climbs on top of Cole and rides him until he blows his load all over Cole's dick. Still hungry, C.J. sits back down on Matt's cum-coated prick and fucks himself until Cole can't take it any longer and pops a big one.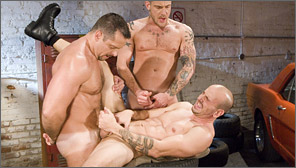 SCENE 3: Nick Piston & Vinnie D'Angelo fuck Jay Armstrong; Vinnie D'Angelo fucks Nick Piston
Nick Piston gets a little help with his hard on from coworker Jay Armstrong. Seeing his buddies getting it on grabs the attention of Vinnie D'Angelo. He joins them and while Armstrong bobs back and forth between he and Piston, sucking cock like a pro. While Armstrong is bent over eating D'Angelo's cock, Piston stands up and begins to fuck him from behind. Vinnie spins Armstrong around next and starts to use the man's hot hole. The three men pull a train with Nick in the middle until they finally stand, jack off, and dump their nuts.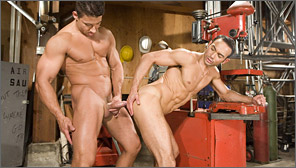 SCENE 4: Robert Van Damme fucks Marko Hansom
Robert Van Damme appreciates an employee like Marko Hansom; one who isn't afraid to get down on his knees and provide the kind of service a working man needs. Hansom swallows Van Damme's uncut cock while he works his own big thick tool up. Van Damme returns the favor, licking and sucking Hansom's 8+ inch tool. Noticing Hansom's tight hole, Van Damme flips him over and fucks him long and hard, thrusting his huge thighs agains't Hansom's glutes. Van Damme jacks Hansom off until he blows then gets his own nut, showering Hansom in cum.

WATCH IT NOW / MORE INFO AT:
HOT HOUSE & HOT HOUSE BACKROOM
Hot House Backroom Members can see this film anytime online.
With extensive additional photography from every scene.