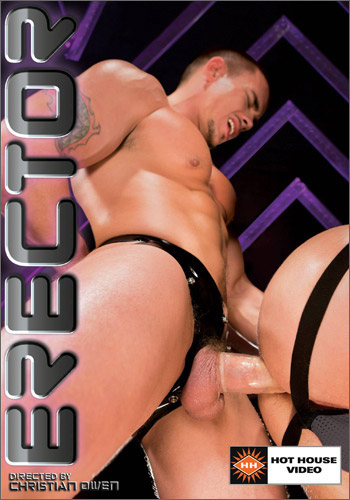 Studio: Hot House Entertainment
Directed by: Christian Owen
Year of Production / Release: 2014
Country of Production: U.S.A.

CAST:
Derek Atlas
Adam Bryant
Marko Carbo
Donnie Dean
Juan Lopez
Johnny Ryder
Seth Santoro
INFORMATION FROM HOT HOUSE:
The cock-hungry men in Erector are dead-set on raising the hardest wood, blowing the biggest loads and getting the ultimate sexual satisfaction! Seth Santoro and Donnie Dean have an ass-to-ass encounter with a double headed dildo before a flip fuck that moves through an epic progression of creative positions! Adam Bryant slams his wrecking balls into Johnny Ryder's willing hole, ending in a pool of sweat and cum. Marko Carbo pistons Donnie Dean's ass so hard, Donnie unloads with Marko still inside him. Derek Atlas and Juan Lopez have a high-impact sexual connection has their thick poles standing at full attention! Erections like skyscrapers and muscles like mountains dominate the screen in Erector, and the action will be sure to get a rise out of you!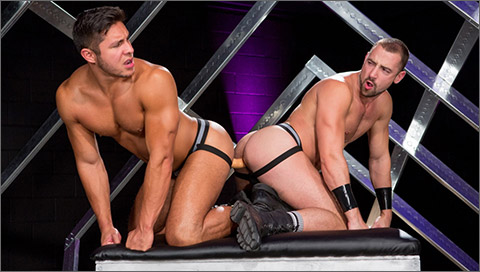 SCENE 1: Donnie Dean & Seth Santoro double dildo
Ass to ass! In matching jockstraps, Donnie Dean and Seth Santoro press their cheeks together as they enjoy a double headed dildo together! Backs arched and muscles bulging, they cast each other knowing glances over their shoulders. Donnie reaches back to slap Seth's ass, and Seth retorts with a smack of his own. When they've done all they can with the dildo, they break apart momentarily, only to reconnect in a steamy 69 position. They expertly use their tongue to swap passionate blowjobs, and when his cock is slicked and lubed, Donnie plows his cock into Seth's eager hole. The expressions of sexual pleasure on Seth's face are so tempting, that Donnie climbs on top to ride Seth's big, hard cock! Donnie samples both positions again before rolling over and letting Seth sit down on his big cock. Seth jerks out his load while riding Donnie's cock, then kneels down to lap up Donnie's cum when it explodes.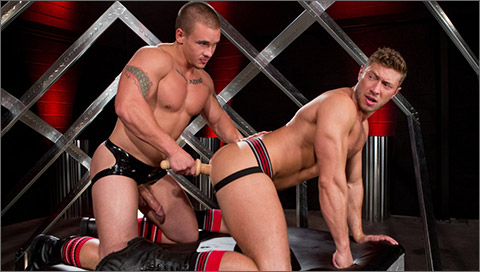 SCENE 2: Adam Bryant dildo-fucks and fucks Johnny Ryder
Adam Bryant stands like a god on a pedestal in his rubber gear. Johnny Ryder kneels in worship at his feet, with his mouth wrapped around Adam's thick cock. Spit and slobber drip off the tip of Adam's dick, and he keeps his hand resting on the back of Johnny's neck, offering subtle guidance. Johnny jacks his dick with excitement, and he gets his first taste of penetration when Adam bends him over and works his hole with an extra-long dildo. Adam's hulking biceps flex as he opens up Johnny's man cave with the toy, and Johnny's face contorts in pangs of bottoming bliss. With Johnny's ass good and ready, Adam mounts him from behind for a ball-slapping pounding. Sweat covers their muscled bodies as they slam together again and again. When they come to the edge, Johnny flips onto his back and locks eyes with Adam. They blast their thick white loads at the same time onto Johnny's ripped stomach, panting in their erotic connection.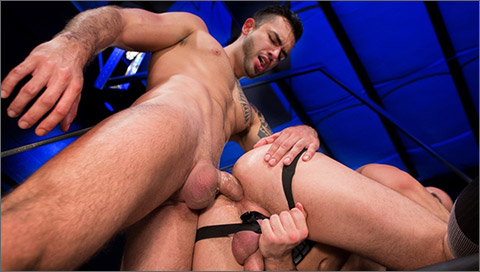 SCENE 3: Marko Carbo fucks Donnie Dean
Marko Carbo's nose and tongue are slammed into Donnie Dean's ass crack. Marko's finger probes the puckered center as Donnie rests on all fours. Flipping over, Donnie exposes his huge erect cock and massive balls, made even more impressive thanks to built-in cock ring of his jockstrap. Marko alternates between servicing Donnie's cock and spitting in his face–the slippery exchange makes both of them harder and eager for more! Dropping to his knees, Donnie goes to town on Marko's erect cock. When Marko can't contain his excitement any longer, he plunges his manhood into Donnie's ass, first doggy style, then missionary. With Marko still fucking him, Donnie's cum explodes all over his washboard abs! On the brink of his own release, Marko positions himself right over Donnie's face, and when the cum flies, Donnie hungrily catches it all in his mouth.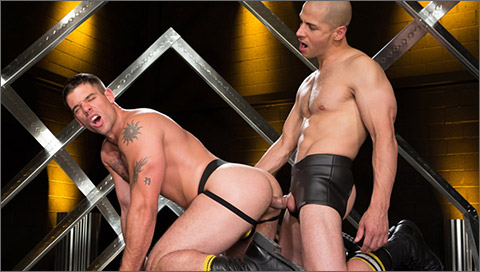 SCENE 4: Juan Lopez fucks Derek Atlas
Derek Atlas' jockstrapped ass fills the screen as he bends over to slurp and swallow Juan Lopez' cock. Juan's muscled torso is dusted with hair, as is Derek's hot hole. Turning around, Derek reveals his hole to Juan and receives a wet and juicy rimming. Derek is a total muscle stud who also knows how to take a pounding, and Juan slides his thick cock into Derek's fuck hole. When Juan slaps Derek's ass to show him who's boss, it leaves a pink handprint and makes Derek even more cock hungry! The intensity and the energy of their fucking has Derek on the edge, and his massive load spurts up into the air. Juan works his uncut meat until he blows his white cum right on Derek's furry hole, and he rubs it in with his cock and foreskin.

WATCH IT NOW / MORE INFO AT:
HOT HOUSE & HOT HOUSE BACKROOM
Hot House Backroom Members can see this film anytime online.
With extensive additional photography from every scene.