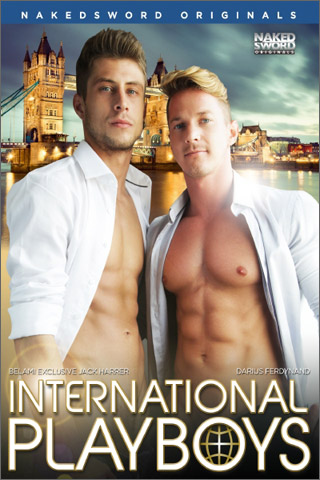 Studio: NakedSword Originals
Directed by: mr. Pam
Year of Production / Release: 2016
Country of Production: U.S.A.

CAST:
Rafael Alencar
Brute Club
Cameron Diggs
Darius Ferdynand
Kayden Gray
Jack Harrer
Ken Rodeo
Mickey Taylor
Rikk York

INFORMATION FROM NAKEDSWORD: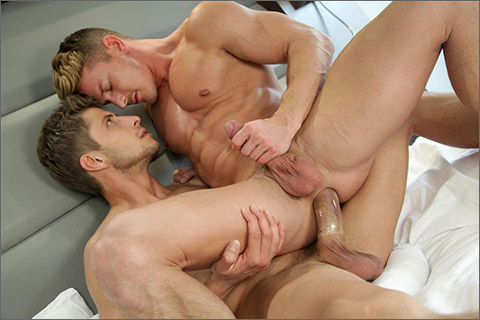 SCENE 1 – MAKING LOVE IN LONDON: Jack Harrer fucks Darius Ferdynand
Life's a banquet when you're a horse-hung European hunk. Just ask BelAmi Exclusive Jack Harrer and international porn star Darius Ferdynand. These two muscular stunners turn heads everywhere they go, especially the streets of London. After bumping into some friends they decide to go home and feast on each other's perfect cocks. No matter how hard Darius tries, it's clear that the only hole that can take all of Jack's enormous cock is his tight butthole. Jack fucks him hard then pulls out and rewards Darius with a face full of cum. Now that's love!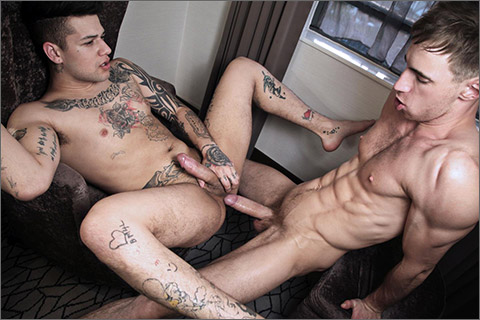 SCENE 2 – DATE NIGHT IN SOHO: Kayden Gray fucks Mickey Taylor
NakedSword Exclusive Mickey Taylor and Kayden Gray
There's no denying the chemistry between young lovers Mickey Taylor and Kayden Gray. The hip, sexy duo spend a lovely day cruising the local sex shop and sipping drinks at their favorite pub but it's all just foreplay for the main event. As soon as they're alone the clothes come off and Mickey is on his knees worshiping Kayden's huge cock. Kayden goes down on Mickey then flips him over and invades his SoHo with his legendary impaler. Both sexy Brits work loads our of each other and eat it, the perfect end to a perfect date.

SCENE 3 – IN A NEW YORK MINUTE: Rafael Alencar fucks Rikk York
Everything moves faster in New York City, especially International Playboys Rafael Alencar and Rikk York. The horny studs agree to meet in Times Square where they waste no time getting back to Rafael's place for a hot-blooded fuck session. Large and in charge, Rafael throws Rikk down on the bed and dives into his furry butt cheeks, tongue first. After teasing his puckered hole with his enormous Brazilian beast Rafael shoves his dick deep inside Rikk and fucks him relentlessly for what seems like hours in every position imaginable. Looks like Rafael takes his time when it comes to fucking hot ass.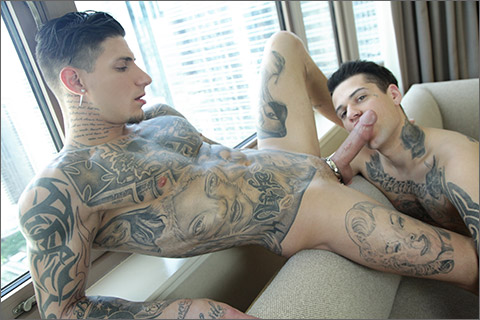 SCENE 4 – COMING TO CHICAGO: Cameron Diggs fucks Mickey Taylor
You can feel the sexual tension in the air when Cameron Diggs meets Mickey Taylor for a day of sightseeing in Chicago. As Cameron points out the local attractions all Mickey can think about is getting back to their hotel suite and wrapping his lips around Cameron's huge cock. Perched in the window overlooking Chicago the hung, tatted studs put on one hell of a show. Mickey gorges himself on Cameron's dick then rolls over and takes it up the ass. Cameron pounds him hard until Mickey blows then sucks a load out of his Playboy tour guide. Thanks for coming!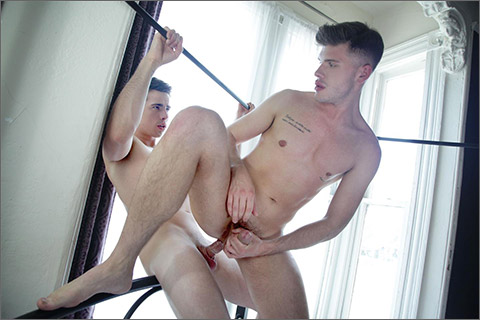 SCENE 5: Brute Club fucks Ken Rodeo
Meet the International Playboys, the most charming, handsome, stylish and well-traveled adult stars in the world. Hailing from around the globe this elite group of horse-hung jet-setters takes you on a sexual journey that covers two continents in four scenes of mind-blowing, over-the-top action. Whether you prefer to make love in London, suck cock in Chicago, or fuck big bubble-butt in New York City, you better pack your bags and have your passport ready. This is one adventure you don't want to miss!

WATCH THIS AND A HOST OF OTHER FILMS AT:
NAKEDSWORD
On-Line Presentation, exclusive to NAKEDSWORD
Members can watch this with a host of other films in the NakedSword Library.