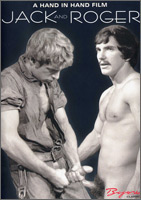 Studio: Bijou / Hand in Hand Films Compilation
Directed by: Jack Deveau
Year of Production / Release: 1980 / 1993
Country of Production: U.S.A.

CAST:
Roger
Jack Wrangler
ADDITIONAL COMMENTS:
Re-Released and Re-Mastered to DVD.
INFORMATION FROM BIJOU WORLD:
This is how porn should be: muscular, handsome, versatile studs who perform with unbridled lust and athletic grace. Jack Wrangler and Roger are two such superstars who more than outclass the competition with the free-wheeling, macho sex excerpted in this six vignette compilation. Slow and sexy is the order of the day in the first segment as Roger kneels and gulps Jack's huge tube after passionate nipple play. Standing them against a mirror, the uncredited director sets the mood with dim lighting and great music. Roger eats Jack like a starving man at a buffet, and even catches his cum in his mouth as he spurts a heavy load. After a hard day on the construction site, Roger comes home to find an audio cassette in his mail. Listening to it, he is pleasantly surprised to find it's a fantastic dirty-talk tape from a horny, window-washing admirer. Lying back in his master chair, he strips to reveal a rippling physique and proceeds to whack his enormous meat as the sensuous, insistent, raunchy tones and poppers he's sniffed drive him onward. Between his half-opened eyelids, he spies blond Adonis Jack Wrangler washing his windows, his audio fantasy come to life, cock thrust forward, mingling with the suds on the pane. Opening the window, Jack boldly enters and strips from his jump suit. Roger is the master of his domain, and he forcefully turns Jack around and bites on his ass. Roger pretends to bang Jack doggie-style, but his limp and juicy member actually is sandwiched between Jack's legs. Jack jerks off and geysers a wet load, then Roger is seen bone-hard and spewing. Next, Roger arrives late for his scheduled hair cut, and has his hole trimmed by his sweet, brunet barber in his chair. With steady strokes, the humpy and slender stylist works his thick pole in Roger's aching cavern, then gradually increases his tempo until he's pumping furiously into the chute. Draining his balls, the barber re-enters Roger and falls into his arms, exhausted. In what surely must be the hottest, energetic, best-filmed segment of this tape, a lean, mustached, red-headed construction worker couples with Roger in an unfinished building in semi-darkness, natural light streaming from the gaping window casements. Red slurps on Roger's stick as he stands above him on steel girders, feeding the horny cock-sucker slow inches of his mammoth meat. Simultaneously, a fluffy-haired, afroed hippie gets it on with a sexy, butch, cropped-haired stud in an elevator, and ends up in his end for spirited and hurried banging. Roger, meanwhile, is face-fucking Red hard and fast. Roger slams his boner into Red's ass, then bends him over and eats him out by deeply burying his tongue in his steamy bunghole. In a now-famous session from Hot House, Jack and Roger romp on rubber sheets and oil each other before heavy-duty 69ing, including Jack rimming Roger. Jack then face-rides Roger and jacks his prong as Roger probes Jack's ass with his tongue. A bearded, bespectacled man joins them as they jerk off side-by-side, becoming the center of attention as they both chew on his thick shaft. After serious rolling around and oral action, the bearded stud gets bathed in a shower of cum and sweat. Finally, in the most artistic and sensual segment, Roger walks in the woods late at night and spies a man in a tent wanking his log and rushes to get some. Stumbling, he twists his ankle and alerts the wanker, who comes to investigate and help him, his big dick flopping between his legs with pre-cum forming drops on his large knob head. Silhouetted against the flickering campfire light, the man sucks Roger's big boner with Roger pumping his face full. After deep kissing and while still pounding the camper, Roger sucks him in a feat of athleticism that sizzles. Both fall back to jerk off, with both delivering thick, huge loads. An incomparable feat of filmmaking from the era when gay film meant gay theater, and a treasure of lust-drenched frolics! A must for any Jack or Roger fan, this compilation is also a great introduction to the superstars. A 1993 BIJOU VIDEO compilation with segments originally shot on film. 61 min.

WATCH IT NOW AT: AEBN / SMUTJUNKIES THEATER