Studio: Titan Media
Directed by: Joe Gage
Year of Production / Release: 2015
Country of Production: U.S.A.

CAST:
Dirk Caber
Layne Nixon
J.D. Phoenix
Nick Prescott
Colby White
Dolan Wolf


[jwplayer mediaid="78604″]

FROM TITAN MEDIA WEB SITE:
A high school reunion, a hotel room, a break from work…who knows when Opportunity Knocks? TitanMen exclusive Nick Prescott and his buds show you how to take advantage of a steamy situation in the latest Joe Gage chronicle.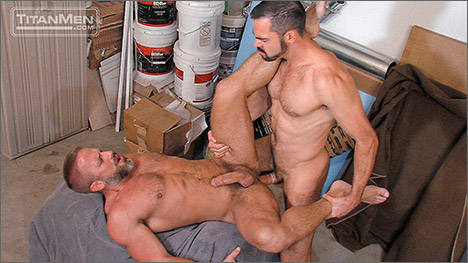 SCENE 1 – WELCOME HOME: Dirk Caber & Dolan Wolf
Dirk Caber gets reunited with high school coach Dolan Wolf—the two finding themselves in a heated verbal exchange in Dolan's garage. "You gonna take your dick out?" asks Dirk, as Dolan is reminded of their past locker room encounters when Dirk would "ask me if you were ever gonna get as big as me, ask if we could compare." Dirk's bulging boner is released from his tight jeans, the two stroking before Dirk gets on his knees. He stares at Dolan's pulsing cock, caresses his sac and rubs his tight stomach before teasing the shaft and underside with his tongue. He engulfs and worships Dolan's beauty, looking up at the stud: "Doin' alright, coach?" Dolan sucks his former student back, Dirk's cock bouncing up with force when released from his mouth. Dolan fucks Dirk, an aerial shot capturing both of their tight muscle bods as the top's cock disappears. Dirk fucks him back doggie style, the two f inally standing as they jack off side by side—Dirk's load landing on the coach's cock.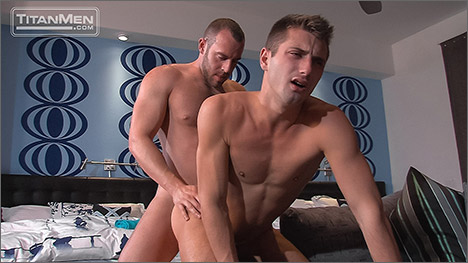 SCENE 2 – SUITE ENCOUNTER: J.D. Phoenix & Colby White
TV star Colby White thanks former brother-in-law J.D. Phoenix—a big league baseball star—for joining him on a press junket. Colby takes a piss but forgets to zip up, his cock jutting out of his fancy suit when he walks back. "It's getting hard," observes J.D., who wants to stay the night instead of driving home. Colby guides J.D.'s hand over to his cock, then dives in for a kiss. In the bedroom, J.D. releases his big slab, then sucks the heartthrob. Colby sucks the trim jock back, the two soon standing head to head as Colby towers over the smoothie: "C'mon, suck it!" he demands, grabbing J.D.'s hair as he feeds him again. Colby munches J.D.'s hole, then fucks him deep. J.D.'s big dick gets bright red as he jacks, the bottom using his hand to brace himself off Colby's hot chest as he squirts while getting fucked—the top soon coating him.

SCENE 3 – THE LANDSCAPERS: Nick Prescott & Layne Nixon
Nick Prescott quickly learns what the hanky in Layne Nixon's right rear pocket means as the two take a break outside. "Take your pants down," says Layne. "Take it out." Nick releases his huge boner, his hot balls resting over his tight jockstrap. The two stroke each other, Nick wanting more: "Do you want me to suck your dick?" he asks, his talented mouth quickly on Layne's shaft. Nick deep throats him repeatedly, hot suck sounds filling the air as his voracious libido raises the temperature each passing second. "You wanna suck this?" asks Nick, showing off his cock. "Suck it then, cocksucker!" Layne opens wide and takes it deep, his nose planted in Nick's big bush. "Yeah, pig!" growls Nick, getting more verbal and turned on. "Look at that fucking cock! You like it? Fucking suck it!" Nick eats and fingers Layne before ramming his hole from behind. ("Nice and deep!" moans the bottom.) Layne then sits on Nick, arching back for a kiss. They squirt, the top's thick load clinging to his own big sac and falling to the ground."

MORE INFO, PREVIEW OR WATCH RIGHT NOW:
TITAN MEDIA
Scenes Premier online prior to DVD release and are available to view anytime in the Member's Area.
Members can watch scenes from almost all Titan Media releases anytime online.
PURCHASE THE DVD AT: TLA VIDEO