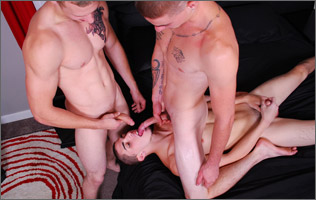 Studio: Broke Straight Boys / Blu Media
Directed by:
Year of Production / Release: 2014
Country of Production: U.S.A.

CAST:
Johnny Forza
Damien Kyle
Cage Kafig


[jwplayer mediaid="65057″]

INFORMATION FROM BROKE STRAIGHT BOYS:
"You're going to get fucked."
   Johnny Forza is looking right at Damien Kyle. Next to Damien is Cage. That sound you just heard was Damien's hole contracting. He's not sure he's ready for all that meat, but Johnny gives him a compliment of sorts.
   "You're going to be the pretty boy bitch," Johnny jokes.
   Can we put that on T-shirt? LOL!
   The boys get rid of their clothes. Cage and Johnny sit next to each other, and Damien gets between Johnny's thighs. The "pretty boy bitch" (PBB!) sucks Johnny and jerks
   Cage's cock. He moves over to Cage.
   "Go all the way down," Cage orders.
   Damien's mouth can't accommodate all of the rod. He returns to Johnny's johnson, even gives those cum heavy nuts a swipe.
   "You want those big cocks, don't you," Johnny asks.
   Damien only moans in response. The PBB goes back and forth, giving both boys oral loving. The two boys want to see how Damien's other hole will handle being filled. They
   throw him on the bed. Johnny keeps the mouth busy, and Cage saddles up behind Damien's ass. He fingers that man pussy as he sucks Damien's dick. Cage is really poking
   that booty, getting it ready for something bigger. Damien would moan loudly, but his mouth is filled with Johnny's cock.
   "You want to put your dick in his butt," Cage asks Johnny.
   Cage is such a polite southern boy. LOL! The New Jersey stud of course wants some of Damien's sweet ass. He pulls the PBB toward him and puts his meat where it belongs. As
   he fucks Damien, Cage puts his tool down PBB's throat.
   "Fuck the shit out of him," Cage says to Johnny.
   Damien is being used from the start, getting the type of filling a PBB needs. All he does is moan and groan.
   "Our little whore for the day," Cage observes.
   Johnny pounds balls deep, and Cage feeds him dick. Does a pass around bottom want anything else?
   Damien is put on his hands and knees, but nothing changes. His booty is being remade by Johnny and Cage makes sure his throat is filled with dick.
   "Fuck yeah," Cage says after he and Johnny high-five.
   Soon it's time for Damien to get Cage's hurricane! LOL! Cage makes sure each of his strokes are balls deep, and Damien groans with Johnny's banana in his mouth.
   "Yeah, suck that dick," Johnny orders.
   Cage's pounding turns more powerful. Damien strokes his own pole. Soon the top studs stand over Damien's mouth. The PBB nuts first. The other two bust all over Damien's
   mouth and face. The used bottom spits out the man milk, even as Cage makes him have a taste.
   "Goddamn," Damien says when it's all over.
   Damn right! LOL!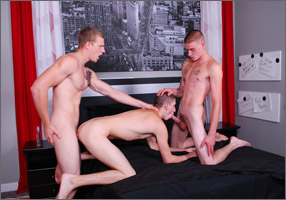 WATCH THIS OR DOWNLOAD THIS AT:
BROKE STRAIGHT BOYS