Studio: Roped Studs / Kenneth Benjamin Media
Directed by: Kenneth Benjamin
Year of Production / Release: 2016
Country of Production: U.S.A.

CAST:
Jordan


INFORMATION FROM KENNETH BENJAMIN / ROPED STUDS:
Age: 21
Height: 5′ 11″ (1.8 m)
Weight: 185 lbs (83.9 kg)
Waist: 33″ (83.8 cm)
Chest: 43″ (109.2 cm)
PART 1
College stud Jordan is roped on his back to a steel ladder suspended in midair by chains. He is one of those boy-men we love so much: thick and muscular, but smooth and boyish at the same time. He whimpers loudly through his tape gag as rope man J.J. rips his shirt open, then caresses his naked torso and the front of his undies with a double-headed, leather flogger. The sight of the whip terrifies him, but the first blow is much – much – more painful than he ever imagined. His cries of pain, as he flexes against his ropes, dangling in mid-air, are lovely. Soon the stud is glistening with sweat and covered with red welts. You'll have to wait another week to see his cock – and, trust us, it is worth the wait.
PART 2
Young stud Jordan is roped to a steel ladder dangling in midair – at just the right height for rope man J.J. to have full access to his beefy body. J.J. shows up with a couple pockets' full of clothespins, placing them one at a time around Jordan's meaty pecs until they are completely ringed with pins. The college boy whimpers and moans through his tape gag as the pins cause a surprising amount of pain. He struggles and shakes, but the ropes are too tight; all he succeeds in doing is getting the ladder to sway back and forth like a pendulum. J.J. especially enjoys Jordan's muffled screams as he places the final two pins on his boy's nipples. Now let's get a look at that cock. Nice! Of course, J.J. doesn't just look: he rings Jordan's ball sack with pins – and then adds an extra nasty one right on the tip of his cock.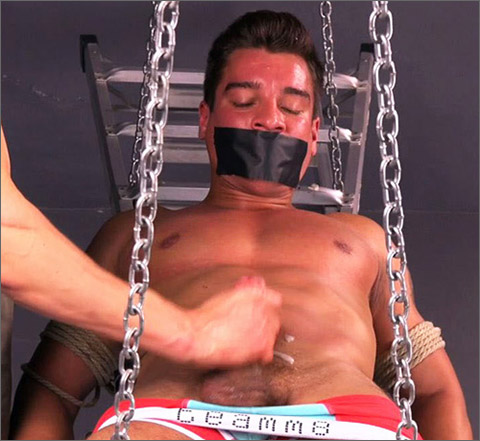 PART 3
College boy Jordan is about to discover that removing a bunch of clothespins that have been digging into his flesh for several hours is even more painful than putting them on – especially when the fresh wounds get smacked with a leather spanker. This young stud looks so good, his muscles trembling as rope man J.J. beats him, then caresses him, then leaves him alone swaying in mid-air, his muscles bruised and twitching. J.J. is so turned on he quickly returns and jerks the kid off, spewing a huge load of boy cum all over his lower abs. Then J.J. goes right back to whipping him again. We love this kid's screams almost as much as watching his cum fly.
PART 4
"Let me outta here! What's wrong with you!" college stud Jordan bellows. Rope man J.J. has him bent over a steel ladder hanging in mid-air, his arms and legs spread wide and roped with tight hemp. "Don't touch me!" he moans, as J.J. gropes him and fingers his asshole through thin briefs. "Oh fuck!" he yells when J.J. spanks his ass with a stout, leather flogger. The blows hurt even more once J.J. tears off the undies. Boy, does Jordan's creamy white ass look good covered with pink welts. Now it's time to fuck him.
PART 5
Muscle-stud Jordan is spanked and slapped with the leather belt, all the while a huge dildo tied into his ass with a dick weight stretching his cock and balls toward the floor below.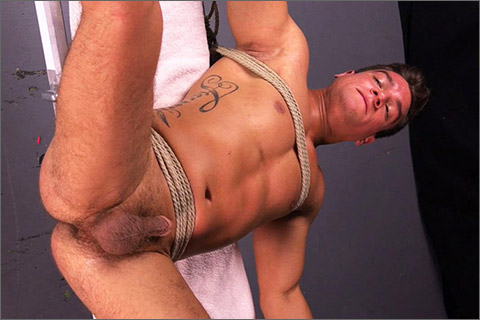 PART 6
Our muscular stud is roped on his back to a steel ladder dangling in mid-air, arms spread wide, legs spread even wider. "Oh fuck!" the frat boy screams. He knows why his legs are spread so wide: He is about to be fucked while bound and helpless. But first things first: Rope man J.J. wants to enjoy the beautiful, supple soles of Jordan's feet. He alternates between tickling them and caning them, eliciting nervous laughter, then shriekes of pain. A little later, J.J. greases up that stretched asshole – and rams in a huge, black dildo. "Fuuucckkkk!" Jordan screams as his ass is drilled.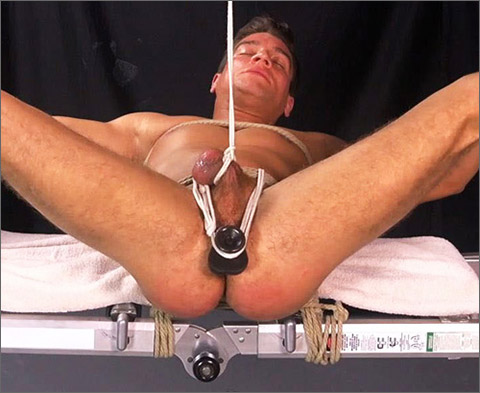 PART 7
Rope man J.J. continues to drill Jordan's frat boy ass while he is roped, spread wide, like a stuck pig, to the steel ladder suspended in midair. "Please….please…fuck, fuck, fuck!" the poor kid screams as the gun-like dildo rams his boy-hole over and over, making him swing back-and-forth on the ladder, tight hemp ropes digging into his chest and waist. After a while, rope man Anthony takes over, pushing the dildo in hard and roping it in place, permanently fucking the roped boy. Then, to make things interesting, Anthony nooses the boy's balls and stretches them toward the ceiling. J.J. is so turned on by Jordan's precarious position, he comes back with his cane and whips the boy's stretched thighs.

WATCH OR DOWNLOAD IT NOW AT:
ROPED STUDS
On-Line Presentation, Members can Download.
Extensive photography of most scenes and models.

Hot or Not? Let us know.
[Total:

1

Average:

5

]
INFORMATION FROM KENNETH BENJAMIN \/ ROPED STUDS: Age: 21 Height: 5′ 11″ (1.8 m) Weight: 185 lbs (83.9 kg) Waist: 33″ (83.8 cm) Chest: 43″ (109.2 cm) PART 1 College...","image":{"@type":"ImageObject","url":"https:\/\/films.gayeroticarchives.com\/wp-content\/uploads\/2016\/02\/589207.jpg","width":200,"height":200},"aggregateRating":{"@type":"AggregateRating","ratingValue":5,"ratingCount":1,"bestRating":5,"worstRating":1},"brand":"","sku":"","":""}