Studio: Lucas Entertainment
Directed by:
Year of Production / Release: 2015
Country of Production: U.S.A.

CAST:
Jake Andrews
Tanner Bradley
Rafael Carreras
Rico Romero
Jimmie Slater
Ethan Stark
Draven Torres
Trey Williams


[jwplayer mediaid="78319″]

INFORMATION FROM LUCAS ENTERTAINMENT:
Lucas Entertainment's "JUST DO HIM RAW" is the studio's tribute to some of its most athletic models that love working up a sweat both in the gym and the bedroom! Exclusive models Jake Andrews, Jimmie Slater, Trey Williams, and Tanner Bradley star alongside Ethan Stark, Draven Torres, Rico Romero, and Rafael Carreras. Have a footwear and athlete fetish? Then don't miss "JUST DO HIM RAW"!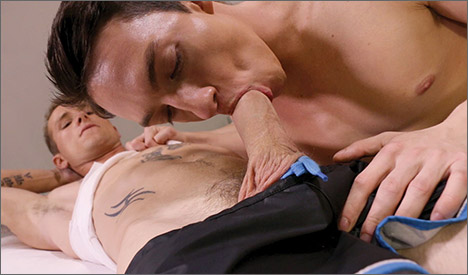 SCENE 1A: Tanner Bradley Rides Trey Williams Cock Bareback
Tanner Bradley rides Trey Williams' cock bareback… I always found Tanner Bradley exceptionally cute since his first scene. Even cuter are the statements he's made in the past about being a top, but he always winds up on the bottom. What can I say — he looks great taking cock. Because of this Tanner was paired up with Trey Williams in his first scene. Trey is a handsome blonde guy with a swimmer's build and a big fat cock between his legs. He's a fan of having guys ride him, and if you check out 13:25 you'll see just that!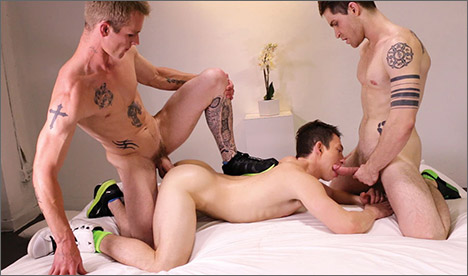 SCENE 1B: Ethan Stark Joins Trey Williams And Tanner Bradley In A Raw Threesome
Ethan Stark joins Trey Williams and Tanner Bradley in a raw threesome! If two wasn't enough, Ethan Stark certainly rounds out this sexual encounter among athletic young men (and might I add, I love the band tattoos on Ethan's bicep and the paw on his cum-gutters). I just hope Tanner can handle another cock so quickly, because he's getting pig-roasted in this scene, and Ethan is a top who enjoys taking his time fucking. But Tanner looks great between two guys — check out 14:05 is you don't believe me!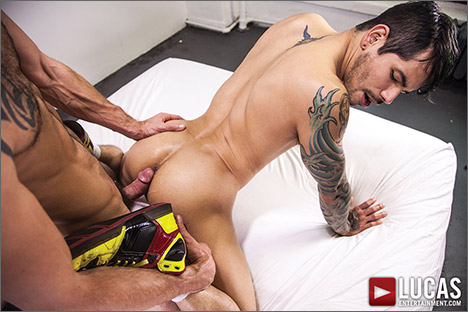 SCENE 2: Jimmie Slater And Draven Torres Flip Fuck Bareback
I've been a fan of Jimmie Slater ever since his first scene: this kid's body is ripped, he has an amazing cock, and most importantly he knows how to use it. If you don't follow him on Twitter, you're doing yourself a disservice. Here he and Draven Torres hook up after a work out, and you really get to see Jimmie and Draven at their best: fucking ass bareback until they blow their loads!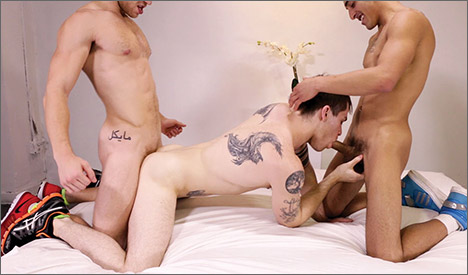 SCENE 3: Jake Andrews, Rico Romero, And Ethan Stark Suck And Fuck Raw
Talk about a strong roster of hot worked-out men: Ethan Stark makes a second appearance (much to my enjoyment) along with the always handsome Jake Andrews and sexy young Latin Rico Romero. Attention everyone who has a wrestling fetish: you get to see Jake and Ethan go at it in singlets. One of my favorite spots in the scene is when Jake and Ethan are taking turns sucking on Rico's uncut cock. It's a great lead-in for the fucking that follows!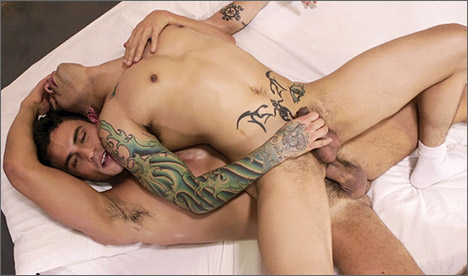 SCENE 4: Rafael Carreras And Draven Torres Have Bareback Sex
Draven Torres might have been flip fucking with Jimmie Slater earlier on, but now he's in the hands of Rafael Carreras, and he takes complete control of Draven. Let's not forget that Rafael has a huge 10-inch uncut Cuban cock, and he shows Draven who is in charge with it!

SEE THIS NOW / MORE INFO:
LUCAS ENTERTAINMENT
Scenes Premier online prior to DVD release and are available to view anytime in the Members Area.
Members can watch scenes from all Lucas Entertainment releases anytime online.