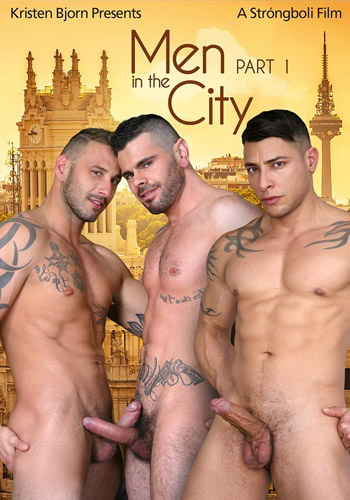 Studio: Kristen Bjorn presents
Directed by:
Year of Production / Release: 2014
Country of Production: Spain

CAST:
William Bravo
Mario Domenech
Jan Faust
Jalil Jafar
Diego Lauzen
Antonio Miracle
Manuel Olveyra
Rainer
Caleb Ramble
Marco Rubi
Wagner Vittoria
Rado Zuska


[jwplayer mediaid="72089″]

INFORMATION FROM KRISTEN BJORN WEB SITE:

SCENE 1 – THE PORTRAIT: Jalil Jafar, Marco Rubi
Marco is taking the wonderful sights of the city when he decides to have his portrait drawn. After the street vendor is finished, Marco realizes that he doesn't have any money with him and invites the artist, Jalil Jafar back to his room so he can pay him. Of course Marco has no money and so the oldest form of payment in the world is used. Marco savors Jalil's hairy pecs and pits with his wet tongue and lips. Jalil pops Marco's throbbing cock free from his shorts and devours every last piece of it. Marco slicks up Jalil's huge cock as both men spit on his cock and Jalil takes Marco's head in his hands and begins face fucking his hungry mouth. Marco chokes down every bit of that huge, wet cock. Marco and Jalil flip fuck each other until Marco ends up squatting down onto Jalil's huge piece of meat. Marco demands more and Jalil delivers all that he desires until Marco can hold back no longer and lets his thick creamy load flow from his straining cock. Jalil continues pounding away at Marco's hot ass until he explodes his famous unending geyser of cum that just keeps on shooting from his throbbing cock. I think Jalil will accept this form of payment, would you?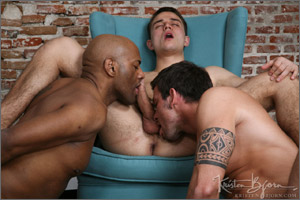 SCENE 2 – REBOOT: Jan Faust, William Bravo, Rado Zus
Rado and Jan are out enjoying the sites of the city when Rado convinces Jan to meet his friend William. They strip Jan down so that William can get a better view of his young, lean body. William then wants to test his talents by having him suck on his mammoth onyx, uncut cock. As Jan ravages William's huge treasure, William works over Rado's raging hard on. Rado then joins Jan as they tag team William's fat cock. Rado knows that he has to have that huge cock deep inside of him so he crouches down as far as he can go before riding it long, hard and raw. As Rado fucks himself fast and furiously, William swallows and sucks on Jan straining cock. Jan is unable to hold back any longer and shoots his huge creamy load all over William's lips and tongue. William loves the taste of Jan's load and sucks every drop from his convulsing cock. Now it is time for Jan to feel the pleasures of two huge cocks tag teaming his raw ass. Rado and William take turns pounding Jan's ass before William coats Jan's pink hole with this thick load. Rado gets so excited watching the hot cream flying out of William's ebony cock that he too blows his huge load all over Jan's pink and creamy ass.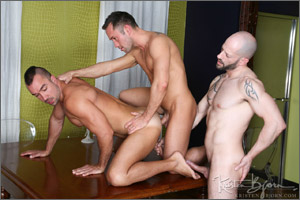 SCENE 3 – TABLE FOR THREE: Manuel Olveyra, Caleb Ramble, Rainer
Manuel and Rainer have invited Caleb over for dinner. But it is not food that is being served up on this dining room table, it is cock and ass. Rainer and Manuel tag team Caleb's huge cock before Caleb eats away at both ass'. Caleb probes his tongue nice and deep into each guy, making sure each ass is amply lubricated with his spit. Rainer then deep throats Manuel and Caleb at the same time while Caleb swallows Rainer's hard cock. Manuel flips over and Caleb slams his hard, raw cock deep into Manuel's wet, pink hole. Rainer is feeling a little left out, so Manuel flips him onto the table and thrusts his raw cock up his hungry hole as Caleb re-inserts his hard cock into Manuel. The raw chain fuck grows with intensity until Caleb blast his hot thick load all over Manuel's beautiful round ass and then shoves his cum drenched cock back into Manuel's hole. The sensation of that hot wet cock in his ass pushes him over the edge and he shoots his load all over Rainer's pink hole and then rams his wet cock back into that hole. Manuel then begins to felch Rainer as he squeezes out the load of cum in his ass for Manuel to eat. As Manuel eats his own cum from Rainer's ass, Rainer explodes his huge load. What is being served on your dining room table tonight?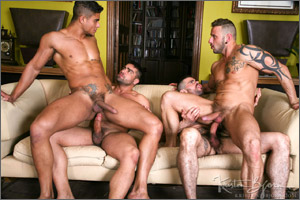 SCENE 4 – SKYLINE: Diego Lauzen, Wagner Vittoria, Antonio Miracle, Mario Domenech
Viewing the city from far atop the highest buildings can give you some of the most incredible views, as with everything the best views are always the most prized. Mario and Antonio invite Diego and Wagner back to their flat after exchanging lured glances at each other. The couples divide and conquer the other with probing tongues, swinging cocks and levels of testosterone shooting through the roof. Antonio gets the party started by sucking on each of the men's huge, fat cocks. The guys then flip Antonio onto his head and begin sucking his straining cock as Diego and Wagner kneel down and fuck Antonio's face with their fat cocks. The guys then switch things up and Diego plows Wagner's hot ass with his raw cock and Antonio dives into Mario's raw ass as well. Time to flip and Antonio squats down onto Mario's raw, pierced and hairy cock as Diego squats down on Wagner's fat cock. Huge cocks are flopping everywhere as the raw ass pounding intensifies. Antonio is the first to blow his huge load with Mario's hard, raw, hairy cock still pumping away at his ass. Diego is the next in the line up to rip off a huge load of cum and Wagner is unable to resist any longer with those tight ass muscles milking his cock, he shoots his first shot and then shoves the remainder inside of Diego's hungry hole. Mario coats Antonio's pucker hole with his creamy load before thrusting his cock back into his lover.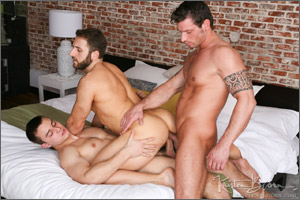 SCENE 5 – DOUBLE MATCH: Jan Faust, Jalil Jafar, Rado Zuska
Jalil is taking in the sites of the city when he finds himself being cruised by 2 hot guys that invite him over. Rado and Jan quickly strip Jalil and begin double fucking his mouth with their huge, hard cocks. Jalil enjoys sampling and licking both cocks in his mouth before positioning himself over Rado. Rado begins tongue fucking Jalil's perfect, pink pucker hole while he and Jan tag team Rado's throbbing cock. Jan then spreads Rado's legs open and slams his raw cock deep into Rado's wet hole. Jalil begins face fucking Rado while Jan pleasures Rado's ass. Jalil takes full advantage of the situation and mounts Jan while Rado takes his ass from behind. Jalil rides both raw cocks as Jan smacks his ass for deeper pleasure. Jan and Rado pound away and Jalil's hungry hole until Rado sprays his wet load all over Jalil's hole and Jan joins in and combines his load with Rado's. Both men shove their dripping cocks back into Jalil and ride him just a little longer. Double your pleasure at every opportunity you get.

WATCH / DOWNLOAD THIS NOW AT:
KRISTEN BJORN
Kristen Bjorn Members can watch / download scenes from this Release anytime. Members get discounts on all DVD and other products.