Studio: COLT Studio
Directed by: Kristofer Weston
Year of Production / Release: 2013
Country of Production: U.S.A.

CAST:
Jessy Ares
Dirk Caber
Adam Champ
Jake Genesis
Bob Hager
Wilfried Knight
Dolan Wolf
INFORMATION FROM COLT STUDIO: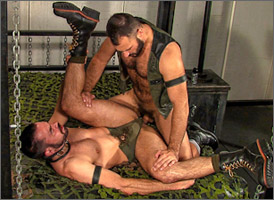 SCENE 1: Wilfried Knight fucks Dolan Wolf
Gagged, cuffed, collared and chained, Dolan Wolf is helpless, bound to a 4-post dungeon bed as leather-clad Wilfried Knight zeroes in on him. Wilfried treats Dolan like prey with intense eye contact, verbal taunting and lots of rough manhandling. Pulling out a key, Wilfried makes a deal with Dolan offering his release, but first he makes Dolan promise to give him "everything" he wants. Dolan hastily agrees with an eager and hungry nod. One by one, Wilfried releases Dolan from his bonds, taking what he wants before demanding Dolan to present himself down on his knees before him. Wilfried makes Dolan polish his boots with his tongue, barking his commands as Dolan readily obeys every order. "Show me that hole," Wilfried demands as Dolan bends over spreading his furry ass for a deep probe. "Yes Sir, Thank you Sir," Dolan says as Wilfried dominates over him. Wilfried gets rough as he mercilessly rams his large, uncut meat down Dolan's throat, forcing him to gag down every inch of it. Ordering Dolan to get back on the bed, Wilfried takes what he wants – With his tongue and fingers Wilfried pries that beefy, jock-strapped ass wide open, preparing his hole for a punishment to come. "Thank You Sir," Dolan moans as Wilfried drives his cock in deeper. With Dolan on his back Wilfried plows his eager hole like a true top master, drilling hard and fast, with angry thrusts that leave Dolan begging for more. Wilfried fucks hard and gives his bottom plenty of orders so that the action is just as he likes it – strong and steady. And when he has taken everything that he wants, Wilfried jacks off his load directly into Dolan's open mouth. As Dolan takes his feeding he strokes a hefty load, spilling his thick cum as he nurses on Wilfried's throbbing cock.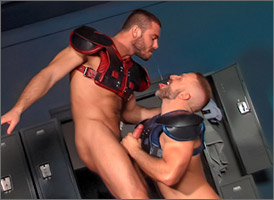 SCENE 2: Dirk Caber & Jessy Ares
After football practice, big man quarterback Dirk Caber hits the locker-room, stripped down to just his basic football gear. Teammate Jessy Ares clad in his shoulder pads and leather jock, comes over for a post-game slap on the butt just as Dirk bends over to strip off his shorts. Dirk smiles and backs his bare ass into Jessy's bulging jock. Ready for a little one-on-one with his sexy teammate, Dirk turns around, reaches in Jessy's jock and pulls out his big and thick uncut cock. Instantly hard, these guys are ready for a little post-game play.
   As Dirk and Jessy lock lips, their cocks fight like dueling swords, two big hard dicks grinding up against each other. On his knees, Dirk goes down deep on Jessy's uncut monster as Jessy grabs him by the back of the head for a good ole face pounding. Jessy gets up on the locker room bench and feeds Dirk his big tool. Turning Jessy around, Dirk wants some of that ass. Spreading those muscled cheeks Dirk buries his face in that beefy butt. Without even touching his own cock Dirk is gushing a thick and steady flow of dick juice. Steams of pre-cum dangle from the head of his cock as he devours Jessy's sweet ass. Then Dirk lays back on the bench, his thick cock stands tall as Jessy licks and strokes him to the edge.
   With lots of ball handling these guys head down the home stretch for one big final play. Dirk hits his knees as Jessy unloads his gushing, white load, sending thick streams of cum down Dirks fury chest. Once Jessy gets his he reaches down under Dirk's balls and probes a finger in the end zone giving Dirk the extra motivation to finish BIG. A white steamy load does the job, draining Dirks balls and leaving both guys ready to hit the showers together.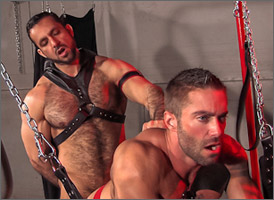 SCENE 3: Adam Champ fucks Jake Genesis
In a darkened dungeon setting and with a man-sized leather sling at his disposal, hairy muscle-god Adam Champ stalks for prey. With his Priape leather pants, harness and a leather hood drawn back behind his neck, Adam looks ready for some serious play. Also lurking by the sling, Jake Genesis is geared up and ready for some hot action. His bare ass exposed in his red COLT jock strap and a Priape leather half-harness, Jake meets Adam with a hot lip lock.
   Lowering to his knees, Jake dedicates his mouth and throat to satisfying Adam's monster uncut cock. Slurping, sucking and stroking, Jake gives Adam's hairy body some much-deserved attention.
   Hot sucking and stroking has both men rock hard and ready for more. Adam turns Jake around and feasts on Jake's hot muscled butt, probing with his tongue he gets Jake's hole sloppy wet and ready for his big tool. Bending Jake over the sling Adam drills his meat deep and hard, grabbing hold of Jake's harness for better leverage and even deeper thrusts. Jake takes it hard and groans with pleasure.
   In the sling Jake lifts his ass for more hard and intense fucking. Adam delivers a power-fuck as Jake strokes his nut-sack full of cum. As Adam dick-drills his ass, a hot load of cum gushes from Jake's throbbing cock. Covered in his own juices, Jake jumps out of the sling and onto his knees. Ready for more hot cum Jake takes Adam's hot load as thick streams of cum shoot down Jake's sweaty chest.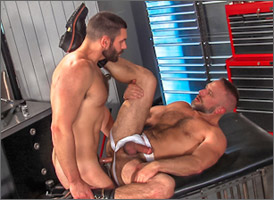 SCENE 4: Bob Hager fucks Dirk Caber
Working in the shop, COLT Man Bob Hager is in his leather mechanic's suit and working hard on a peculiar piece of metal headgear. Hunky assistant Dirk Caber is searching his toolbox for the right tool. When he gets a look at the erotic headgear Bob is working on, Dirk starts thinking of a more manly tool for this job. Sliding his hands into Bob's suit, Dirk leans in for a deep and hungry lip-lock.
   Taking a little play break, Bob pulls out his power sander and uses it against Dirk's bulging COLT Basics jockstrap. The intense vibrations of the padded sander have Dirk's hard cock throbbing. After enjoying the intense stimulation, Dirk shows his gratitude by hitting his knees. Bob unzips his leather suit and unleashes his big meaty tool for Dirk to enjoy.
   After plenty of give-and-take cock slobbering, Bob bends Dirk over and give's that furry jock strapped ass a deep and generous lube job. Probing with his tongue and finger, Bob has Dirk's man-butt ready for some drilling. Taking it from behind, Dirk grunts and groans as he takes a hard fuck. Splitting that hot ass Bob drills, pounds and hammers away. Dirk lets Bob know he is loving every inch of his cock as he flips over and lifts his legs to take it deeper.
   Bob grabs Dirk's meaty dick and jerks him to the edge. As he fucks hard and strokes faster, Bob has Dirk blowing his load in gushes as he continues to take a hard pounding. When Bob is finished draining Dirk's cock he unleashes a massive eruption of hot cum, shooting far and covering Dirk in his man-sized load.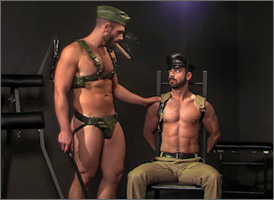 SCENE 5: Bob Hager & Dolan Wolf
Sitting in the hot seat, a shirtless Dolan Wolf looks cautiously into the shadows at his interrogator. COLT Man Bob Hager is a menacing figure, standing in a cloud of his own cigar smoke, bare assed in his army green Priape Leather Jock and top harness. With night stick in hand Bob moves in to begin his interrogation.
   Blowing smoke and taunting his subject, Bob seems intent on getting what he is after. Dolan maintains confident yet obedient eye contact completely at Bob's mercy with total willingness to co-operate. Bob gets up close and very personal as he thoroughly inspects Dolan's exposed torso and growing bulge.
   Knowing what Bob is after, Dolan hits his knees and uses his teeth to unleash Bob's big cock from his leather jock. Dolan slurps and swallows, making Bob moan as he gets that piece of meat throbbing. Satisfied that his subject is willing to co-operate Bob opens up the interrogation further, opening Dolan's leather riding pants for a deep throated investigation of that big tool.
   Face-to-face Bob and Dolan stroke each other's big cocks. Manly grunting fills the air as both men let loose a gushing flow of white hot cum, lips locked as they unload each other of every last bit of dick juice. This interrogation ends with mutual satisfaction.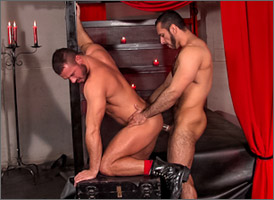 SCENE 6: Adam Champ fucks Jessy Ares
The essence of ARMOUR… two muscled gods clad in thick leather armor, indulging in the lust and passions of amour. The devilishly handsome and hairy chested Adam Champ has met his equal in the dark and debonair charms of muscled stud Jessy Ares. With a dungeon bed as their play-pen, these men come together for a steamy hot session of carnal desire.
   Passionate opened mouth kissing leads Jessy to where his lips yearn to go most… Stripping away the front panel of Adam's leather kilt Jessy feeds his hunger on Adam's swollen uncut meat. His ass is on full display in his leather jock, Jessy gives Adam a view to die for as he services that huge tool.
   Mutual sucking, stroking, rimming and kissing stoke the fires of passion higher and higher. Jessy climbs on top of Adam's hard, hairy and bulging body and impales his round ass on that throbbing hard dick. Grabbing the overhead bars, Jessy uses the dungeon bed like a jungle-gym to ride Adam's hot cock. Adam drills and pounds to his heart's content, delivering a hard and punishing fuck as Jessy moans for more.
   Face to face and mouth on mouth, Adam and Jessy stroke their loads in tandem. Adam's cock spews a thick batch of cum, his foreskin gliding over the head of his swollen meat as his load erupts. Jessy strokes faster and faster until he joins in on the fireworks – a steaming hot jet of cum shoots from his stiff and aching cock.

MORE INFORMATION / WATCH IT / BUY IT: COLT STUDIO

Hot or Not? Let us know.
[Total:

3

Average:

3

]