Studio: Falcon Studios / Mustang
Directed by: ??? and Erik Rhodes
Year of Production / Release: 2010
Country of Production: U.S.A.

CAST:
Andre Barclay
Girth Brooks
Matthew Ford
Conner Habib
Colby Keller
Alessio Romero
Ari Silvio
Clay Towers
Dean Tucker
Christian Wilde
FROM THE FALCON WEB SITE:
2 days notice and only 2 weeks severance pay … what the fuck? Cutbacks, downsizing, mismanagement, overall ineptitude — for whatever reason, pink slips are flying all around. Morale is low; tension is high; and anxiety pervades the air as everyone wonders what's gonna happen next. Desperate times call for desperate measures.

SCENE 1: Dean Tucker & Christian Wilde fuck Ari Silvio
Dean Tucker and Ari Silvio are stunned after getting their pink slips. So when Christian Wilde comes in as security hired to watch they don"t steal anything, Dean blows his top. Driven by rage and frustration, Dean decides he"ll give the guard something to watch. He forces Ari down on his knees and makes him suck his cock. Reluctant at first, Ari soon gets into it, swallowing Dean"s dick all the way down to its base. Christian gets so turned on he pulls his meat out and starts to masturbate. Dean is a dynamo as he guzzles down his buddy"s dick and rims his ass. Then he goes for Christian"s pole, working both men to a frenzy. With his dick stuffed down Ari"s gullet, Dean invites Christian to fuck his coworker"s hole. Ari squeals with delight getting plugged at both ends. Dean and Christian switch places still ramming Ari"s ass and mouth. Then Christian fucks Dean"s hole as Ari eggs them on. Ari and Dean blow their wads and Christian follows, splashing them with his cum.

SCENE 2: Girth Brooks fucks Colby Keller and Conner Habib
Worrywart Conner Habib is running off at the mouth again, fretting about the prospect of being laid off. Annoyed with his non-stop blathering, co-workers Girth Brooks and Colby Keller devise a scheme to shut him up. They immobilize the chatterbox and quickly silence him with Girth"s big dick and then Colby"s stiff staff stuffed down his throat. Then it"s a daisy chain ass-eating session with Colby licking Conner"s hole as he rims Girth"s. Maintaining the middle position, Conner resumes fellating Girth while Colby starts piledriving his ass. Gagging continuously on 2 slabs of monster meat, moaning with Girth"s cock pumped up his hole, then having Colby sitting on his face, Conner is transported to hog heaven, forgetting his troubles for awhile. Then lined up with Girth screwing Colby who"s boning Conner, the three excited employees — linked together by big cocks and office drama — work out their petty differences and end up with three milky blasts of spooge.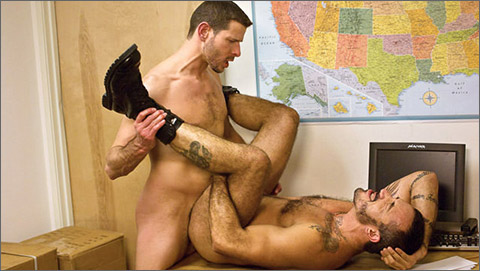 SCENE 3: Clay Towers fucks Alessio Romero
Reporting to Clay Towers"s office, Alessio Romero gets the bad news he"s been laid off. Worse yet, in order to get his severance pay, he"s got to give it up to his sadistic supervisor. Alessio"s no fool and Clay is pretty hot so he submits to his demands figuring that when one door closes another opens up … like his ass and mouth. After some roughhousing when Clay strips down his hunky subordinate, groping, kissing and jerking him about, Alessio gets to work. He slavishly sucks on the boss" dick, guzzling the entire shaft down his throat and encouraging Clay to savagely facefuck him. Still, the big cheese wants more and zeroes in on Alessio"s hole. He dives into his hairy crack to rim him, then shoves a couple of fingers inside his ass, prepping him for the intense buttjamming he"s been planning. And Clay doesn"t disappoint as he pierces Alessio"s ass in a variety of positions with forceful and constant thrusts, culminating with both men unloading copious spurts of cream.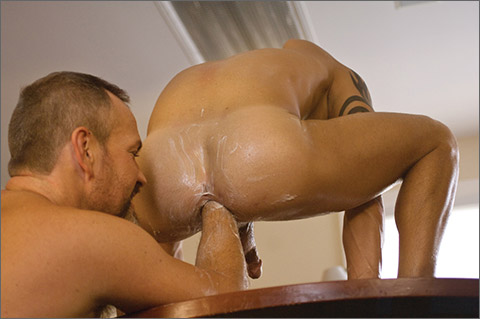 SCENE 4: Matthew Ford fucks & fists Andre Barclay
Hired hand Matthew Ford is damned furious and won"t take any more bullshit from CEO Andre Barclay. In a fit of rage he turns the tables and brutalizes the insensitive manager. Barking orders, spitting, insulting the boss, whatever he can do to drive his point across, Matthew is fearless. He"s got the weasel down on his knees sucking his hard cock, licking his balls, taking his abuse. Yeah, how the mighty have fallen. Matthew then turns around and demands Andre eat his ass. Next the disgruntled employee sits his victim down to show him how a real man services another. He deepthroats Andre"s entire dick, working his tongue up and down the shaft and then nibbles his balls, slobbering all over the bag of nuts. He rims Andre"s ass with hard tongue jabs, jams his fingers inside his tight hole, then fucks him up the ass every which way he can until he pulls out and shoots his load all over him. Then he lets his vanquished leader jerk himself to climax, both of them spent and exhausted.

WATCH IT NOW AT:
FALCON STUDIOS
Falcon Members can watch scenes from this Release anytime online.
DVD Releases debut online prior to DVD Release.