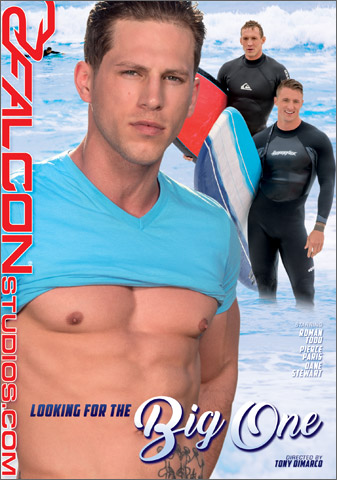 Studio: Falcon Studios
Directed by: Tony Dimarco
Year of Production / Release: 2017
Country of Production: U.S.A.

CAST:
Addison Blue
Michael Del Ray
Casey Jacks
JJ Knight
Alex Mecum
Pierce Paris
Tyler Roberts
Dane Stewart
Roman Todd
FROM FALCON STUDIOS:
When a group of hunky buddies gets together to rent a beach house on the Cali coast for the summer, their season of surf, sex and sand quickly turns into a summer of bliss. What starts out as searching for the biggest wave aggressively turns into a search for the biggest cock, and these studs will never be done 'LOOKING FOR THE BIG ONE'. JJ Knight and Addison Blue pull away from the group of studs to get some one-on-one action. When JJ flashes his uncut monster cock, Addison opens both his mouth and his ass to ride JJ all the way to a creamy finish. Pierce Paris and Michael Delray 69 until Michael opens Pierce's ass with his tongue. The two studs flip fuck and finish up by cumming at the same time all over Michael's tight and toned body. JJ Knight is peeling off his wetsuit by the side of the road after surfing when Casey Jacks walks by and notices JJ's big dick dangling between his legs. After some quick and flirty eye contact, Casey gets on his knees to service the hung surfer and the two strangers suck each other off in the back of JJ's SUV next to the beach. Alex Mecum and Casey Jacks meet up in the back yard on a hot and sunny day. After a passionate session of making out, Casey offers up his tight hairy ass. Alex happily accepts the offer and the two studs fuck outside until Casey is covered in fun. After a day of surfing, Tyler Roberts and Dane Stewart are chilling on the couch. Roman Todd enters and starts up the action by rubbing each of the hung studs. The guys suck each other off before Dane and Tyler take turns tag teaming Roman's tight ass. Summer and surf are always fun, but studs on the beach and big hard dicks will always be number one in 'LOOKING FOR THE BIG ONE'.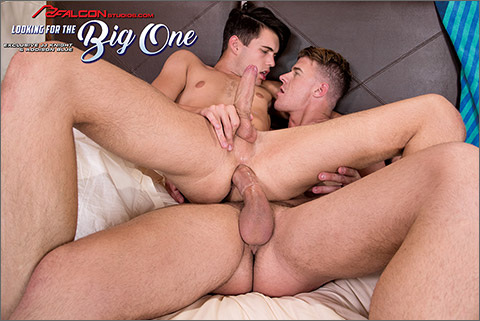 SCENE 1: JJ Knight fucks Addison Blue
JJ can hardly contain himself when he peels off Addison's shirt to reveal his slim beach body. The two studs fall onto the bed and start tangling tongues as they rub their bulges together through their board shorts. "I wanna see your cock," Addison begs with a flirtatious look. JJ is all too happy to give his friend what he wants and unleashes his massive hard-on. Addison can't believe his eyes, and quickly gets on his knees to get the above average appendage in his mouth. JJ is rock hard and needs to give Addison a sample of what his mouth has to offer. He quickly pulls down Addison's shorts and gets to work sucking his buddy's long, uncut dick. He works Addison's stiff one, getting him throbbing hard and ready for the next level before he spreads Addison's legs and feasts on his tight smooth hole. JJ can sense when Addison is opened up and when Addison begs for the massive monster to fuck him, JJ bends him over and slides his dick deep inside. JJ pumps the young stud and fills up his ass with every inch he has to offer. Addison wants a bit of control and takes over doing the work when he switches it up and hops on top of JJ to ride him all the way to the creamy finish. Addison is the first to let go and covers JJ's chest with a big load of satisfaction. The fact that he was able to finish Addison off with just his dick makes JJ ready to follow and he covers Addison's face with pure white pleasure.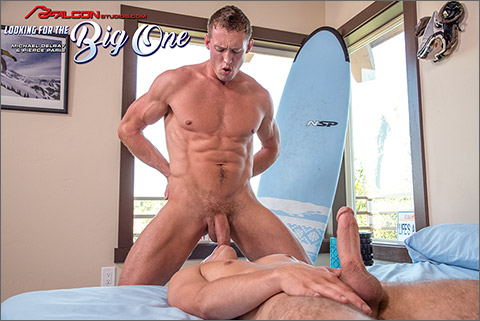 SCENE 2: Pierce Paris & Michael Delray flip-fuck
When Pierce Paris and Michael Delray get in from a morning on the sunny beach, they can't keep their hands off each other. The toned studs kiss and feel each other through their shorts until Michael can no longer keep Pierce under wraps. With the flip of the Velcro crotch on Pierce's board shorts, his swim suit hits the floor and his massive hard dick is revealed. "You're so big," Michael observes as his eyes widen and his mouth opens. He gets down to worship Pierce and his extra thick dick, covering every inch of his manhood with his full dick-sucking lips and his eager tongue. Pierce needs to fulfill his hunger and gently pushes Michael to the bed so the two studs can 69. Michael is no small wonder either and Pierce has a hard time fitting all of him into his mouth. As they suck each other off, Michael follows his instincts and starts rimming Pierce's tight hole. All the ass play gets Pierce ready for action and he bends over to let Michael plow him with his giant dick. Pierce is hard as a rock all the way through Michael's reaming, and after riding Michael for a nice long session, Pierce hops off the big dick and plants his cock firmly inside Michael. Michael loves every thrust his can get and begs for Pierce to fuck him harder. As Pierce picks up the pace, Michael blasts his big white load all over his tight and toned body. Once Pierce sees Michael letting loose, he gives himself permission to finish up and adds his own pleasure to Michael's sticky mess.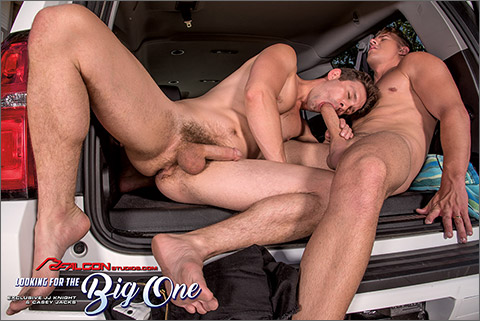 SCENE 3: JJ Knight & Casey Jacks get oral
JJ Knight just got done surfing and when he gets back to his car he peels off his wetsuit. As he pulls it down past his knees, Casey Jacks walks by and notices JJ's giant dick. Casey makes some quick eye contact to signal that he's down to service JJ and when JJ returns the glance, Casey doesn't hesitate to get on his knees in front of the hung surfer. Casey takes JJ in his mouth and can't believe what he's witnessing when JJ never seems to stop growing. It's a huge curvy dick, and Casey knows that this is his lucky day. After a nice long session of getting his dick serviced, JJ needs to get a taste of what Casey has dangling between his legs. Casey happily agrees and lies back in the back of JJ's SUV as he spreads his legs wide. JJ is thrilled with Casey's big hairy dick and gets to work pleasuring the horny hunk. Casey can hardly believe how good JJ is, and the harder Casey gets, the more dick he wants to suck. Casey goes back to servicing JJ's monster and works his thick shaft until JJ moans and gives Casey a giant facial of thick white cream. When Casey gets the full taste of the hung stud, he grunts out and cums hard as he jacks his hairy pole and covers himself with every drop of happiness he can muster.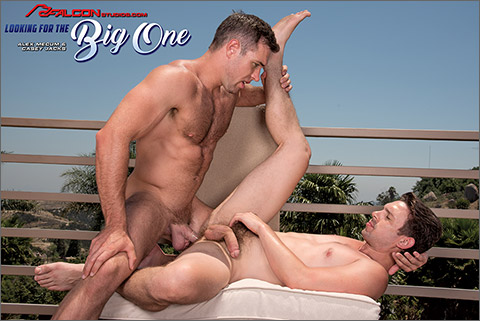 SCENE 4: Alex Mecum fucks Casey Jacks
It's a hot and sunny day at the beach house when Alex Mecum and Casey Jacks hook up in the back yard. Alex gets throbbing hard as the two hunks kiss and when Casey notices how big Alex has become, he can't help getting on his knees and opening his mouth wide. Casey takes his time with Alex and is careful to lick every inch of the hung hairy stud's thick shaft and big hanging balls. After getting Alex worked up to the point of no return, Casey pulls down his shorts and offers up his tight ass by bending over the balcony rail. Alex happily accepts Casey's offering and gets down to eat him out. When Alex is convinced that Casey's hairy hole can take his thick dick, he stands up and slowly slides his big pole between Casey's cheeks before he picks up the pace to fuck his buddy harder. Casey wants maximum penetration and takes Alex to the couch where he gently pushes him down and straddles his hard body. Casey sits on Alex's thick dick and rides it up and down until Alex takes charge and flips his friend around. Alex is ready to blow his load and he knows it will feel best with Casey on his back. Alex was right, and both studs blow their thick loads all over Casey, leaving him a sticky white mess.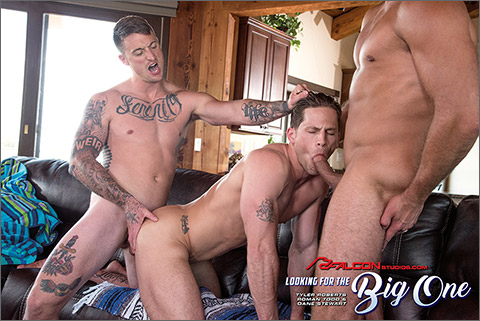 SCENE 5: Tyler Roberts & Dane Stewart fuck Roman Todd
After a day of surfing, Dane Stewart and Tyler Roberts are chilling on the couch watching some football when Roman Todd enters and sits between them. Roman notices that Dane is watching porn on his phone and decides that it's way better than the football. He reaches out and puts each hand on a crotch and soon all three buddies are naked and throbbing hard. The sight of the massive dicks in front of him gets Tyler in the mood to suck and he's the first to go down on Roman. The guys take turns sucking each other off with no one left out of the action. Tyler wants a taste of Roman's sweet hole and spreads his legs for better access to rim him deep. After Roman is fully opened up, Dane steps up to be the first one inside. He slips his dick deep inside and fucks the stud as Tyler gets him from the front. After getting reamed from behind, Roman wants to test the waters with Tyler's big dick. Tyler sits down on the couch as Roman rides him. The studs take turns tag teaming Roman's willing ass and finally, as Dane is is back inside, Roman lets loose and blows his load all over his tight body. When Tyler sees the pleasure that Roman is feeling, he steps up to his buddy and offers up his load to cover the panting stud. Dane is the last to go, and when he finishes, Roman is dripping wet. Now, all three are grateful for a satisfying day at the beach.

WATCH THE SCENES NOW AT:
FALCON STUDIOS
Falcon Members can watch scenes from this Release anytime online.
DVD Releases debut online prior to DVD Release.