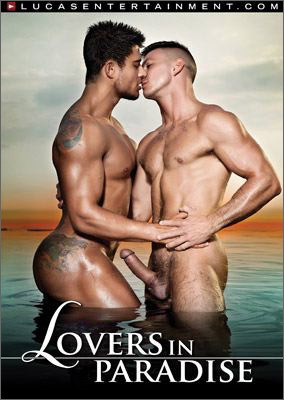 Studio: Lucas Entertainment
Directed by: Adam Killian, Chris Boccard
Year of Production / Release: 2013
Country of Production: U.S.A.

CAST:
D.O.
Tiziano Fuentes
Vito Gallo
Jake Genesis
Adam Killian
Diego Lauzen
Paddy O'Brian
Jesse Santana
Wagner Vittoria
INFORMATION FROM LUCAS ENTERTAINMENT:
Leave behind your everyday troubles and escape with the "Lovers in Paradise" where you'll see the most exotic and passionate sex ever witnessed. In the beginning Vito Gallo and D.O. make love to each other in a candlelit bedroom. Tiziano Fuentes lets go of his inhibitions and gives himself to Wagner Vittoria. Paddy O'Brian and Diego Lauzen have passionate sex under a waterfall. Adam Killian teaches Jake Genesis a lesson in tough love. And Rod Daily whisks Jesse Santana away into a tropical forest for some romance. Once you meet with the "Lovers in Paradise" you'll never want to return!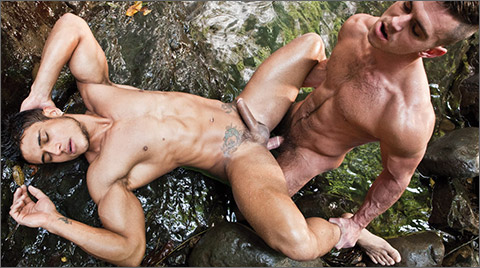 SCENE 1: Paddy O'Brian fucks Diego Lauzen
Sometimes men love each other with the softest touch and other times its rough and heated. Paddy O'Brian doesn't know anything other than rough, so when he and Diego Lauzen run away together into the tropics of Costa Rica their love is lustfully deep. They hike to a waterfall for some long tongue kissing by the running waters; their hands do all of the talking as they caress and rub their muscles. Paddy leans against a tree branch so Diego can pull down his red speedo and swallow Paddy's famous cock; his mushroom head looks particular delicious on this special occasion. Paddy then bends his furry ass over so a hungry lathering from Diego; this leads to Paddy entering his lover and showing him all the strength he has in his body as he has sex with his man!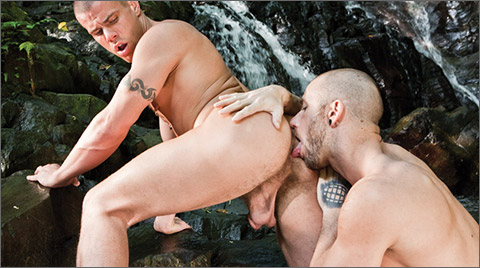 SCENE 2: Rod Daily & Jesse Santana flip-fuck
Jesse Santana and Rod Daily spotted each other at the resort in Costa Rica and became fast friends. They spend a lot of time together, but their feelings for each other go far beyond friendship. One day they hike far and deep into the rainforest and the only thing either one of them have on their mind is making love. They can only do it in secret, so they find a lagoon in the clearing where they strip off their Speedos, go skinny-dipping, and then make out. Once the floodgates are opened there's no holding them back, and they suck cock, eat ass, and fuck each other until they reach climax.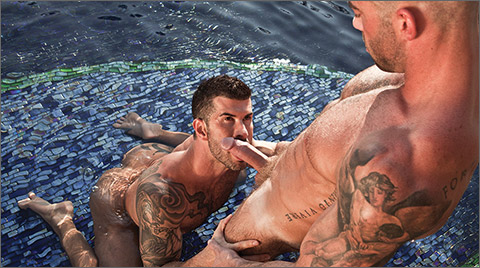 SCENE 3: Adam Killian fucks Jake Genesis
Adam Killian has had his eye on Jake Genesis for a while now, and he's finally figured out the perfect opportunity to seduce him. Adam offers Jake an all-expense paid vacation in a Costa Rican villa. Adam doesn't waste any time letting Jake know what he wants: their first evening together they watch the sunset before moving in for some kissing and swimming in the pool. Adam doesn't restrain himself — he pulls out Jake's hard cock and starts playing with it and sucking it, enjoying his long-sought prize. Jake bends over and offers his ass to Adam, who makes loves to it with the hottest passion possible!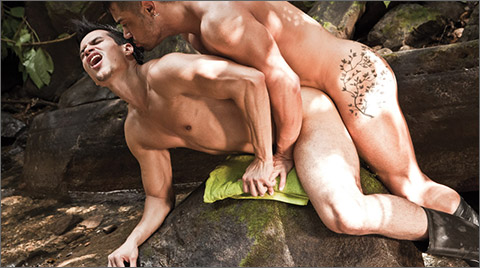 SCENE 4: Wagner Vittoria fucks Tiziano Fuentes
There's love and there's lust — it's a line that Wagner Vittoria and Diego Lauzen blur when it comes to their sex life. That's why when Wagner caught sight of Tiziano he knew he had to have him — with the permission of Diego, of course. Diego gave his okay, so Wager practiced his topping skills on Tiziano after they wandered into the Costa Rican rainforest together. Tiziano provides Wagner's big fat cock with total service, from a wet blowjob to deep-penetrating anal sex. When Tiziano is bent over a rock with his hole totally exposed he's at his best — and that's because Wagner is thrusting deep inside of him!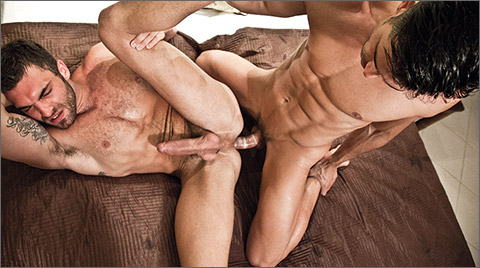 SCENE 5: D.O. & Vito Gallo flip-fuck
Vito Gallo and D.O. escape from their everyday lives on their first vacation together, and it couldn't be better! They travel to Costa Rica where they run and romance each other on the beach. But men have needs and after awhile they return to their private room where they can totally embrace each other. Vito is the first to remove D.O.'s bottoms and start sucking his cock, but D.O. flips the situation and services Vito's massive cock before getting rimmed. D.O. is the first to slide his dick inside of Vito, and while it's a lot to take, Vito gets his stride and is able to enjoy his lover's thrusts. After D.O.'s had his fun, it's his turn to take some dick, and does he have a lot to handle with what Vito is packing in his pants. But they're in love, so it's worth the effort!

SEE THIS NOW / MORE INFO:
LUCAS ENTERTAINMENT
Scenes Premier online prior to DVD release and are available to view anytime in the Members Area.
Members can watch scenes from all Lucas Entertainment releases anytime online.

VIDEO ON-DEMAND: Lucas Entertainment @ AEBN SMUTJUNKIES THEATER
DVDs & ON-DEMAND: Lucas Entertainment @ TLA VIDEO