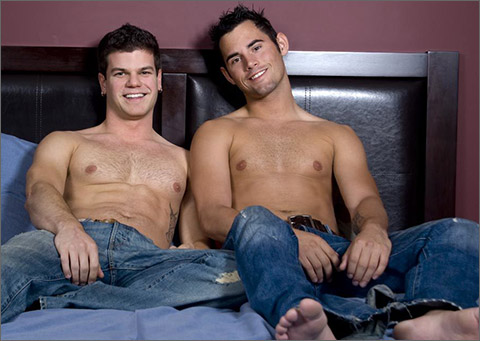 Studio: Randy Blue
Directed by: Randy Blue
Year of Production / Release: 2008
Country of Production: U.S.A.

CAST:
Lucas Vick
Kyle Hennesey
FROM RANDY BLUE:
Lucas Vick has done some great videos with us so far, from his striking solo video to the sexy charm of his appearance on Randy Blue Live and his way hot duo video with Xander. He always gives everything his all and I can tell he's loving every minute of it. But I've been thinking lately that what this sexy straight boy needs is a good piece of ass! Watching him get his dick sucked by Xander was so hot that I knew he'd make a great top. So I called up Kyle Hennesy and asked if he'd like to bottom for Lucas. They hadn't met before but Kyle's usually up for anything I throw at him. The two of them look so sexy together and watching them make out I knew we were in for a good show. Kyle got him in the mood by giving him the kind of blowjob that primes your pumps, not enough to get you off but enough to get you hard and keep you there hungering for more. Well, one good blowjob deserves another and Lucas dropped down and returned the favor. Neither could get enough so they just decided to blow each other. Lucas was having a blast but after a while he really wanted some man ass, so Kyle lowered himself on that throbbing tool of his and gently inducted him in the ways of the man on man fuck. Gay or Straight you can't deny the pleasures your body gets from a nice long fuck and Lucas just gave in to the sensations and went with it. And the thing I love is that he doesn't just get off, he makes sure to give Kyle a nice reach around so he can feel it from both ends. And once he gets used to the feeling he just shifts into overdrive and rides Kyle like a bull in heat until he pulls out and they both cum together and make a nice mess all over Kyle's chest.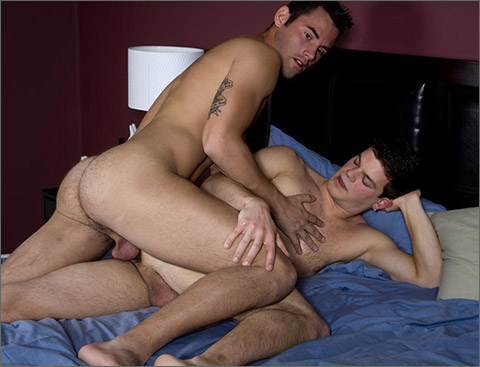 WATCH IT / DOWNLOAD IT NOW AT:
RANDY BLUE
Download or Streaming On-Line Presentations.
Extensive High Quality Photoshoots with each release.
Live Performances and Private Online Shows of your favorite performers.