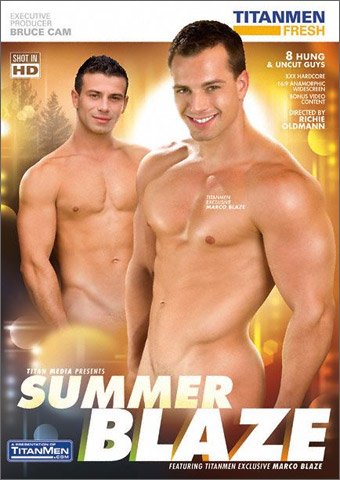 Studio: Titan Media / Titan Fresh
Directed by: Richie Oldmann
Year of Production / Release: 2009
Country of Production: U.S.A.

CAST:
Marco Blaze
Thomas Lee (Marian Borovy)
Paul Brise
Brian Brower
Thomac Cruise (Martin Dejdar)
Marco Mark (Kamil Fox)
John Hill
Otto Roberts
FROM TITAN MEDIA WEB SITE:
Nothing says summer like a bunch of hot, naked, uncut studs fucking up a sweat in the heat of the noonday sun—and that's just what we've got with our TitanMen Fresh adventure, Summer Blaze.
   Beefy and handsome Otto Roberts and his muscular big-dicked boyfriend— TitanMen exclusive Marco Blaze—are lounging over morning coffee, affectionately kissing and cuddling while trying to find someone to take care of the lawn at their country house. Not a lot of grass gets cut on this steamy hot summer afternoon, but the gardeners they hire keep it moist and green by drenching it in sweat and spraying it with plenty of spunk.
   When the first gardeners they hire—sexy John Hill and lean handsome Marco Mark—show up, they don't even get the lawn mower started before they're buck naked and plugging Marco Blaze's muscle butt and eager throat until everybody's covered with sticky sperm.
   When Marco Blaze leaves to visit his mom, handsome Paul Brise and sexy Thomas Lee show up and get into a smokin' hot three way with Otto. Paul and Otto dive dick first into both of Thomas' holes and fuck the cum right out of him.
   Finally, muscle stud Thomac Cruise and hot and horny Brian Brower arrive, but decide to fuck on the picnic table instead of trimming the hedges. Thomac has an irresistibly muscular ass and Brian pounds him in every position until the guys shoot their sperm like sprinklers. Not a lot of gardening's getting done this lazy summer afternoon, but there's definitely a lot of plowing going on!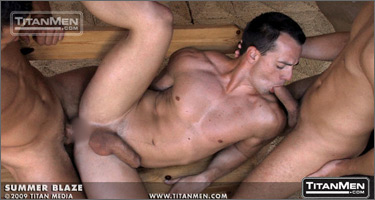 SCENE 1: Marco Blaze, with John Hill and Marco Mark
It's a hot, beautiful summer day and beefy blond Otto Roberts and handsome muscled boyfriend Marco Blaze, both wearing nothing but briefs and tank tops, are outside having breakfast and reading the paper in the garden of their country estate. They decide to have some gardeners come over and spruce up the garden. In just a few minutes, cute John Hill and sexy Marco Mark show up, grab the lawn mower, strip out of their jeans and change into tee shirts and shorts. But instead of getting down to work, they immediately start mauling each other, chewing on each other's smooth tanned pecs, tongue bathing each other's pits and making out. The clothes come off again while Marco Blaze watches from a distance, tweaking his nips and pulling on his big fat cock through his underwear as Marco Mark and John bat their dicks together and stroke each other's cocks.
   As John swallows Marco Mark's rod, Blaze fingers his own hole as he watches the other two. Marco Mark signals for Blaze to come over and join them, and Marco Mark kneels on the grass and strokes and sucks the other guys' cocks while his own big dick bounces up and down in anticipation. Marco Mark stands up and Blaze and John suck on his nips, then Blaze drops to his knees, spit lubes Mark's and John's cocks and deep throats them as the two groan and moan in ecstasy. With Blaze still on his knees, John and Marco Mark stroke their shafts and blast two giant wads of spunk all over Blaze's ripped, smooth pecs; Blaze then digs his fingers deeper into his hole, jerks his fat pole and sprays the green grass with his own white-hot sperm.
   For the next round, the horned-up trio finds a wooden bench; Marco Mark and John kneel down, offering up their beefy smooth asses to Blaze, who goes back and forth licking their cracks, finger fucking them and cramming his tongue up their tight holes while the two kneeling studs make out. Blaze then kneels on the bench and swallows John's throbbing cock while Marco Mark eats out his ass. Marco Mark pulls on a rubber, lubes up and drives his cock deep into Blaze's beefy butt, then he and John switch off so John can pile drive Blaze's ass while Marco Mark fucks his throat. Marco Blaze lies back, Mark pulls on a new rubber, throws Blaze's muscular legs over his shoulders and fucks him hard while John stuffs Blaze's face with his dick. Blaze blasts his load onto his own beefy thighs while Marco Mark sprays Blaze's ripped abs with a massive load of jizz and John jerks his cock and splatters cum all over Blaze's pecs.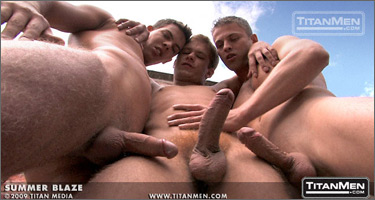 SCENE 2: Otto Roberts, Paul Brise and Thomas Lee
Marco Blaze leaves boyfriend Otto Roberts to run an errand, and handsome dark-haired Paul Brise and cute blond stud Thomas Lee soon arrive. Paul and Thomas head for the wading pool and strip each other down to nothing but their tans while Otto watches from the shade. Thomas swallows a mouthful of Paul's uncut cock and signals for Otto to join them; when Otto heads on over, Thomas drops to his knees and dives down on Otto's and Paul's throbbing dicks, then Paul takes a turn servicing his two pals while they massage each other's pecs. After Otto and Thomas stroke their cocks and drench Paul's muscular chest in gobs of spunk, they towel each other off and head to another part of the estate to continue their fuckfest.
   Paul and Otto tongue Thomas's pits and chew on his nips while their thick cocks throb and bounce, then Paul shoves his tongue up Thomas's ass while Thomas gags on Otto's meat. Otto pulls on a rubber, lubes up his shaft and rams it deep into Thomas's quivering butt while Thomas swallows Paul's cock. Paul climbs on top of Thomas' boner and takes a long slow ride while he feeds on Otto's dick, then Paul lies on his side while Otto skewers his ass and Thomas crams his face full of dick. Otto and Thomas pull out of Paul's holes and shoot their loads all over his pecs while Paul, kneeling between them and groaning in animal pleasure, blasts his pent-up load onto the ground.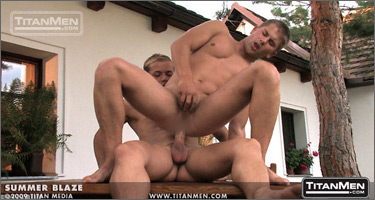 SCENE 3: Brian Brower and Thomac Cruise
Cute Brian Brower and muscle stud Thomac Cruise are another pair of gardeners that Marco Blaze orders up after the first guys failed to get the lawn cut. As soon as the new guys arrive, Otto and Marco leave to do some errands; no sooner are Marco and Otto out of sight than Thomac and Brian strip down to their briefs and start sucking face. Obviously, the guys have more pressing business at hand that mere yard work—some work ethic! Thomas inhales Brian's cock, slobbering on his hard rod and licking and sucking on his balls. Brian returns the favor, gagging on Thomac's thick member while Thomac grabs his head and thrusts his cock down Brian's throat. Thomac takes matters into his own hands and strokes off a load of hot cum, splattering Brian's hard chest while Brian jerks his meat and showers the grass with sperm.
   Thomac lies back on a picnic table and offers up his meaty ass to Brian, who tongues Thomac before rolling on a rubber, lubing up and shoving his cock into the bottom's quivering hole. Brian sits on the table and Thomac climbs on top, riding up and down on Brian's cock, sliding Brian's shaft in to the hilt. Finally, Thomac lies on his side while Brian slides deep into his hole and pounds the cum clear out of Thomac before pulling out and shooting his load all over Thomac's thick, muscular thighs.

GO TO: TITAN MEDIA
PREVIEW OR WATCH RIGHT NOW: TITAN MEDIA ON-DEMAND