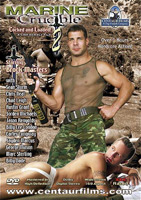 Studio: Centaur Films
Directed by: Chip Daniels
Year of Production / Release: 2007
Country of Production: U.S.A.

CAST:
Billy Dade
Austin Grant
Chad Leigh
Billie Lee London
Carter Longway
Jayden Marcus
George Mason
Brock Masters
Jordan Michaels
Chris Neal
Jason Reynolds
Marc Sterling
Sean Storm
SCENE 1: Carter Longway and George Mason flip-fuck
SCENE 2: Jason Reynolds, George Mason and Sean Storm flip-fuck
SCENE 3: Marc Sterling (top), Billy Dade (bottom), Chris Neal (top), Jorden Michaels (bottom), Chad Leigh
SCENE 4: Brock Masters tops Billie Lee London
SCENE 5: Jayden Marcus (top), Austin Grant (top), Jorden Michaels [Jordan Michaels] (bottom), Jason Reynolds (bottom)
ADDITIONAL COMMENTS:
Available: November 16, 2007
FROM CENTAUR FILMS:
Brock Masters is back in action, and hotter than ever, in Marine Crucible 2: Cocked and Loaded!, an extended-length feature movie presentation by internationally acclaimed Director Chip Daniels. Indulge your sexual appetite with over three hours of hardcore man action. Cum watch Brock and twelve more incredibly handsome and sexy young men in the ultimate outdoor sex adventure ever captured on film. Two teams, Green and Blue, get down and dirty, naked and nasty as they hunt and capture each other in an anything goes paint ball war. And these hung and horny soldiers are motivated to win, since the prisoners have to do what ever their captors want. The action is fast paced and the sex is wickedly wild!
   Our story begins with Carter Longway and George Mason playing Privates Kip Tucker and Damon St. George, who, as always, are the last ones to get out of the showers and get dressed. Damon and Kip are best buddies, and both have perfectly sculpted smooth bods and thick meaty dicks. Some good natured horse play turns into amazing marathon sex as these gorgeous athletes kick off the day's battle with their own kind of skirmish action by sucking and fucking every orifice in their hot bodies, culminating in, not two, but three massive cum loads.
   At 0800 hours the War Games begin. Green Team stalks Blue, and vice versa, in a series of shootout encounters, with both sides winning small victories and suffering their share of losses. One such victory is enjoyed by Green Team member, Jay Jenkins, played by insatiable assed man Jason Reynolds, who has captured Blue Team's Damon St. George, and has led the prisoner into Green's Camp headquarters. Keeping with the game's rules that prisoners have to do whatever their captors' want, Jay wastes no time putting Damon to work satisfying Jay's cock horny hole. Damon plants his rock hard pole into Jay's hot hungry ass right outside the team's tent and rides him long and deep, working that hot hole warm and open. Soon Green teammate Taylor Kicks, played by the ultimate cupcake assed power bottom favorite, Sean Storm, arrives back at camp and happily joins the action.
   The addition of Taylor (Sean) turns this sexual melee into one of the hottest threeways you'll see this year as first he offers up his tasty ass for both Jay and Damon to plow, and then, in a wild twist, slides his own impressively thick hard cock into Damon's sweet hairless ass. Jay wants in too, and so Taylor and Jay take turns back & forth plunging their dicks deep into Damon's tender tush! But of course it gets even more fun, because now Taylor can't wait his turn, and while Jay is fucking Damon, cock hound Taylor slides up right behind Jay for a super hot sandwich fuck. Taylor's swollen meat pounding in and out of Jay's hole drives him to fuck Damon even harder and faster, until everyone is driven into huge creamy explosions of cum!
   Meanwhile, the War Games continue, with everyone cocked and loaded and paint pellets and gobs of cum flying throughout the day! Next, it's Blue Team's turn to win a skirmish and indulge the sexual spoils. The winners this time are Luke, played by lithe, chisel bodied, big meat-blessed Marc Sterling; Kelly, played by smooth twink candy assed Billy Dade; and Nick, played by awesomely handsome and tatted blonde haired blue eyed bodybuilder Chris Neal, who happens to sport an humongous monster cock that is also tattooed and thick as Sean Storms' wrist. They've captured two Green team members and brought them back to Blue Camp. One is Jorden, played by Jorden Michaels, whose young angelic good looks grace a beautiful gymnasts' body and irresistible bubble butt that loves to get lots and lots of dick, and the other is Chas Carlton, played by the ever popular and handsome boy next door lad, Chad Leigh, sporting generous uncut inches of meat and a hot round fuckable ass. Jorden and Chas are eager to service their captors' needs. But they have needs of their own, and soon it's hard to tell who's serving whom, as these sweaty studs suck and fuck one another's brains out, servicing every need, hungry asses taking hard cocks deep fucking them and opening them up completely in an afternoon outdoor orgy of sexual abandon.
   As four of the Marines shoot their man juice, Private Kelly has drifted into the woods for some personal business where, as he strokes his dick to ejaculation, he's captured by surprise and taken prisoner by Green Team's Taylor Kicks. Meanwhile, the War Games continue, as we find 11″ huge-dicked muscular superstar Brock Masters, playing himself as a member of the Green Team, and in pursuit of luscious bottom boy, Billie Lee London, playing Blue Team's Antonio Bacchus. Showing that Brock always gets his man, he hunts Antonio down, chasing him relentlessly through the woods and compound, eventually cornering him in the barracks.
   Brock captures Antonio, who offers his ass and mouth for Brock's pleasure. Brock looks even hunkier than ever, and he lets Antonio feast on his mammoth cock to get it ready for his hole. Then he bends him over and begins to give this young Marine the fuck of his life. The looks on Antonio's face as he struggles to take all of Brock's super thick ramrod are great. But Antonio soon proves that he can step up to the demand, and once his ass is able to accommodate all of Brock's 11×9 inch cock we get to see what great porn is all about! This is the real deal, and Brock literally fucks him speechless, until soon the cum is flying.
   By the end of the afternoon Green Team has captured Blue Team's flag and carried the day! They take over Blue Camp too, looking for more spoils of war. A cooler of cold beers is found and soon all are celebrating their victory! Privates Jorden and Jay are joined by teammates Billy Sloan, played by big-dicked dark swarthy handsome Jayden Marcus, and Dylan, played by blonde haired, blue eyed, hung surfer twink Austin Grant. In celebration of their victory these sex starved Marines suck, fuck, drill, rim, kiss, deep throat, tag team, double fuck one another, and much, much more. Every dick is oversized and boy do these boys' butts get fucked open! But even their aching cock pounded holes beg for more until huge loads of thick juicy cum blast from every engorged cock and all over each other's hard sweaty bodies. You will cum over and over and over again. Enjoy!

AVAILABLE FROM: TLA VIDEO
GO TO: CENTAUR FILMS

MANNET 100 BEST FILMS OF 2007
FILM REVIEW: MANNET