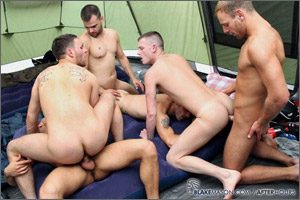 Studio: Blake Mason Afterhours
Directed by: Jason Blake and Adam Mason
Year of Production / Release: 2013
Country of Production: Great Britain

CAST:
Bradley S Bishop
Matt Brookes
Josh Charters
Kai Cruz
Luke Desmond
Fraser Jacs
Josh Jared
Riley Tess
Brez W


INFORMATION FROM BLAKE MASON: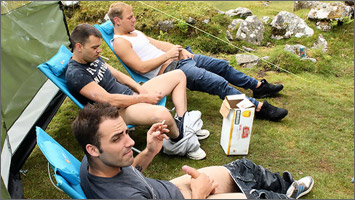 EPISODE 1: BONDING WITH A GROUP WANK
Bradley S Bishop, Fraser, Josh Charters, Kai, Matt Brookes, Riley Tess
Summer's finally here and it's time for a reunion! Bradley, Fraser, Josh, Kai, Matt and Riley arrange to catch up with each other and decide to go away for a long weekend – but due to everyone being skint they're going camping! They pitch the tent and then settle down to drink a few beers and chat with each other about what's been happening in their lives. But the banter soon turns dirty and Matt gets his cock out! Kai quickly follows and soon all of the guys are stroking one out…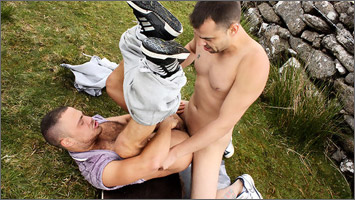 EPISODE 2: MORNING COCK EXERCISES
Bradley S Bishop, Matt Brookes
It's morning and the guys are just waking up. Bradley decides to get some fresh air and go for jog – he invites the others but only Matt is game for some morning exercise. They head out leaving Fraser, Kai, Josh and Riley behind in the tent… Jogging up hill on a blustery morning, Matt's soon struggling to catch his breath so they stop for a rest. It's soon clear that Matt's semi-hard cock is in need of some attention and Bradley eagerly obliges, swallowing it all deep down his throat! But Matt really wants a fuck and soon his hard dick is balls deep in Bradley's hot ass.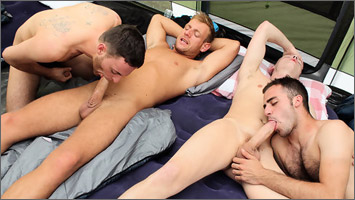 EPISODE 3: CAMPERS COCK SUCKING ORGY
Fraser, Josh Charters, Kai, Riley Tess
With Bradley and Matt out jogging, Fraser, Kai, Josh and Riley are still wrapped up in their sleeping bags. But not for Long – Kai and Josh are soon stroking their hard cocks and teasing Fraser and Riley. Kai and Josh really want a blow job and offer the un-employed Fraser and Riley some cash in return for good head 😉 With a little reluctance Fraser agrees to suck off Kai and Riley agrees to do the same to Josh – happy days! Fraser struggles to swallow Kai's big hard dick but Riley soon proves what a deep-throat expert he really is, even when Kai and Josh insist on face-fucking their blow-job slaves…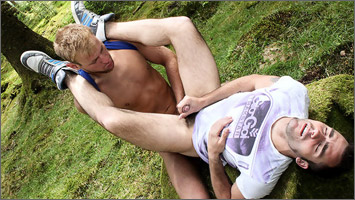 EPISODE 4: JOSH FUCKS SOME HAIRY ASS
Fraser, Josh Charters
It's a beautiful sunny afternoon and all of the guys decide to make the most of it. They've found a lake and decide to strip down to their underwear and play a game of Frisbee… but Kai's in a naughty mood and tackles Fraser in to the freezing water… Needing to go for a piss, Fraser heads off in to the woods and Josh decides to go with him – after seeing him suck off Kai yesterday he wants some action himself! Of course, Fraser's more than happy for a little bit of fun and ends up getting the cum fucked out of him.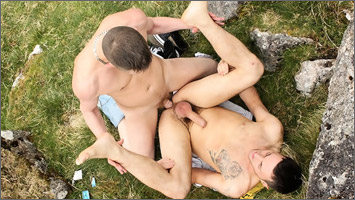 EPISODE 5: ON THE MOORS WITH HORNY GUYS
Kai, Riley Tess
Another morning and all the guys are just about awake, but there's a problem – there's no food left! Bradley, Fraser and Josh get up to go shopping and leave Kai, Matt and Riley in the tent. Knowing they may be gone for a few hours, Kai and Riley head out to find an ice cream van, leaving Matt all alone in the tent. After walking for miles it's clear that Kai and Riley aren't going to find anything to eat up on the desolate Moors. Instead, grumpy Kai asks Riley to give him a blowjob and slowly his mood improves – so much so that Kai gives Riley a really nice fuck and a facial full of home grown cream.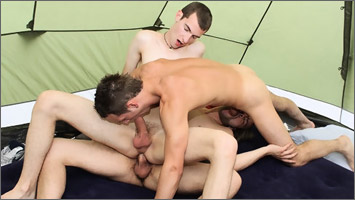 EPISODE 6: MATT FUCKS TWO HUNG VOYEURS
Brez W, Luke Desmond, Matt Brookes
With the tent all to himself, horny boy Matt decides to grab his ipad and enjoy a nice wank. However, it turns out that Brez and Luke are also back on the moors for an anniversary camping trip and they spot a nice big tent! They decide to go and take a look and find Matt jerking off… Matt's not happy when he spots them spying on him and pulls them in to the tent and demands they strip naked! Brez and Luke are lost for words and quickly comply… and the next thing they know they're in a 3 way where they both end up getting fucked.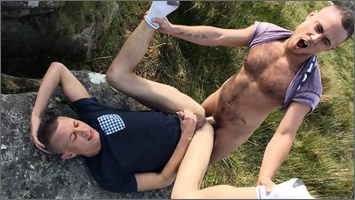 EPISODE 7: BRADLEY FINDS A WANKER TO FUCK
Bradley S Bishop, Josh Jared
Kai and Riley return to the tent (having just fucked) to find Matt naked and asleep on the bed. They wake him up and soon discover that he caught two perverts watching him having a wank and so he fucked them both as punishment! Bradley, Fraser and Josh also return with food and while the guys eat Bradley heads out to get some phone signal… As he climbs to the top of a rocky hill Bradley discovers a random stranger having a wank! Somewhat surprised, the stranger asks him if he'd like to have a play with his cock and Bradley soon finds his mouth sucking on a nice big dick. But Bradley really wants to fuck this hot guy and man, not only does he fuck him but he drenches his face and mouth with cum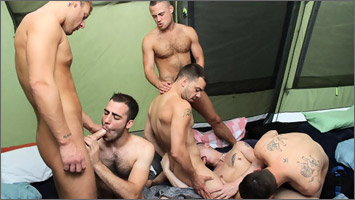 EPISODE 8: AN ORGY TO END A GREAT TRIP
Bradley S Bishop, Fraser, Josh Charters, Kai, Matt Brookes, Riley Tess
It's the last day of their camping trip and the guys wake up to the sound of rain falling on the tent. But Kai's in a playful mood and suggests they should have a game of truth or dare before packing up. He starts of with a group truth or dare and it's a dare – so he makes the guys play the game naked! It's not long before Riley dares Josh to suck Kai's dick, Fraser dares Riley to suck Matt's dick and Matt dares Bradley to suck Fraser's cock! But soon they're all sixty-nining and they quickly end up together on the middle bed in a horny suck off session… and then it turns in to a 6 man fuck fest! What an ending.

WATCH IT NOW AT:
BLAKE MASON
On-Line Presentation. Members can Download from the Extensive Catalog of "Amateur" British Men.