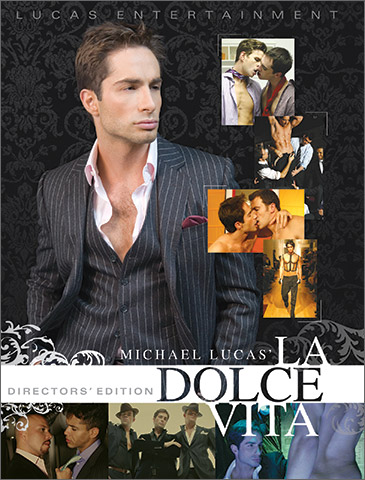 Studio: Lucas Entertainment
Directed by: Michael Lucas & Tony DiMarco
Year of Production / Release: 2006
Country of Production: U.S.A.

CAST:
Model: Ben Andrews
Fashion Designer: Jack Bond
Party Guy: Jamie Donovan
Model: Erik Grant
Himself: Derrick Hanson
Chance Murphy: Chad Hunt
Max Todd: Michael Lucas
Model: Jack MacCarthy (Brandon Monroe)
Model: Harold Pitt
Preston Conners: Spencer Quest
Nick Cameron: Jason Ridge
Rick Arnold: Pete Ross
Corey: Cole Ryan
Club Dancer: Brad Star
Ralph Casanova: Ray Star
Fashion Show Patron: Jonathan Vargas
Bodyguard: Wilson Vasquez
INFORMATION FROM LUCAS ENTERTAINMENT: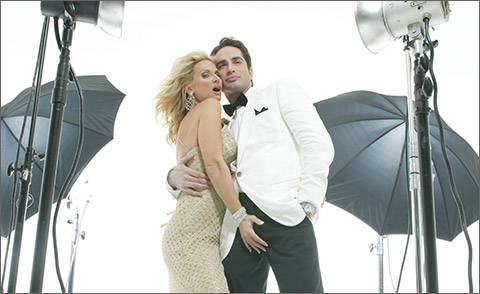 MICHAEL LUCAS' LA DOLCE VITA – PART 1
The setting is Michael Lucas' beloved New York City, rather than Fellini's Eternal City. If anyone knows the underbelly of social climbing New York, it's Michael Lucas, one of the few porn entrepreneurs to regularly appear in the city's gossip columns. Fellini used a stand-in actor to take his highly autobiographical place in his "La Dolce Vita," but Michael Lucas plays his lead here with gusto. He is a fashion writer, on the skids by turning out pulp for a magazine instead of literature. His first stop is a fashion show where gorgeous male models strut the catwalk as New York denizens like Amanda Lepore and Kevin Aviance view the results. The entire first scene is a montage fashion show that looks as crisp and glossy as any coverage of a real fashion show (though the blink-and-miss-it tryst between Ben Andrews and Jack MacCarthy probably wouldn't make it to the pages of "Vogue"). Even the clothes themselves are high evocative in a non-sexual scene that is so populated it makes the finale of "Dangerous Liaisons" look small.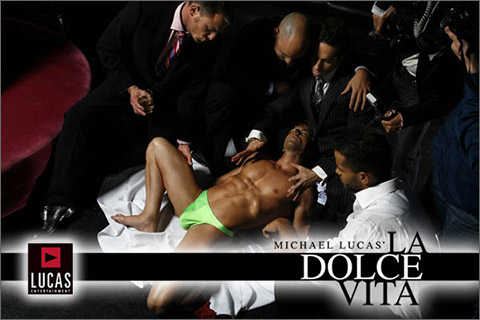 SCENE 1: Jack Bond & Ben Andrews & Jack MacCarthy
The after party of Jack Bond's fashion show sets up many of the characters and how they fit into Michael's life, both past and present. A goateed shaved-headed hottie, sporting an accent that is dead-on for his character, Jack Bond is more than a tad icy when he says hello to the wine-guzzling Michael. It seems Michael has a history of trashing Jack's collections.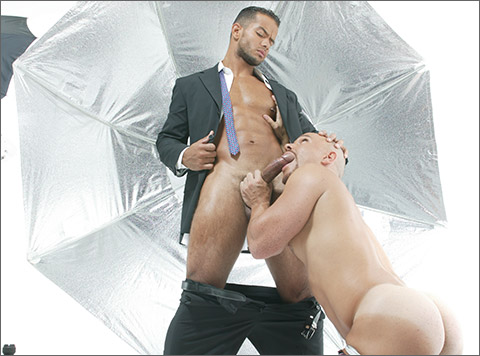 SCENE 2: Jack Bond & Wilson Vasquez
Jack has another reason for his over-the-top behavior, and it comes in the form of a white substance. In the bowels of the building with bodyguard Wilson Vasquez, the ten-tons of muscle Latin hottie who could keep away twenty men with just his piercing eyes, Jack puts the moves in Wilson, who initially refuses. However, his double-digit boner says otherwise, so Jack settles in to suck it. Jack absolutely worships Wilson's cock with a spectacular opening blowjob as Wilson slowly begins to lose his clothing and show off his hard body. Wilson may refuse to kiss his employer, but his throbbing cock, especially with Jack gyrating his ass around it, refuses to go down. Instead, Wilson takes full advantage of Jack's muscular ass and fucks it with his usual quiet force. Jack is a big muscular guy himself, but Wilson never fails to meet his mark and that mark is situated somewhere way deep in Jack's ass where Wilson insists on going. They are working in a very narrow basement hallway, but that doesn't stop this fuck from being big. Michael and cohort Jason Ridge catch these two fucking, laugh brazenly at him, but nothing stops. Not until Wilson is ready to cream giant all over Jack's face. Jack has a hefty load himself.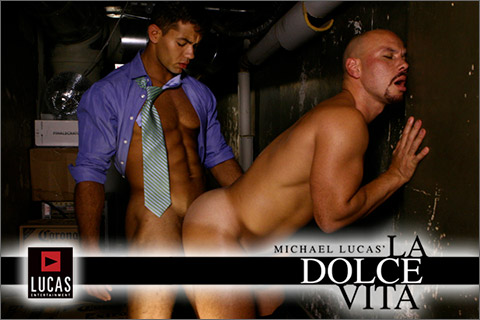 Michael and Jason sprint off in a limo (driven by Will Clark), where Jason expresses his restlessness at living in the city. "Your problem is you have too much money," Michael says to him, to which Jason quips that Michael doesn't have enough. Michael then tries to put the moves on his old flame, but Jason rebuffs him.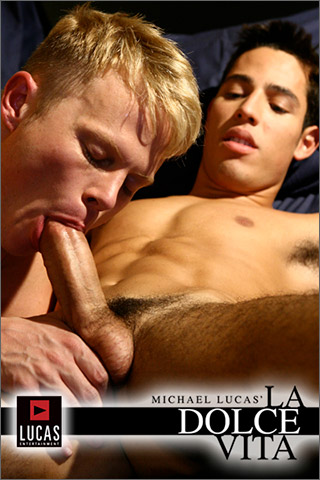 SCENE 3: Pete Ross & Jonathan Vargas
Meanwhile, Jack isn't the only one turned on by his own show. Michael's former assistant, adorable wide-eyed blond Pete Ross, takes home Jonathan Vargas for some "no-talking" sex. Once in the bedroom, they are making out loudly. Bathed in light just bright enough to show what's going on, the two youths really go at it. Brunet Jonathan is first to his knees, doing a rather frantic deep-throat on Pete. Moving to the bed, Pete licks all up and down Jonathan's chest until going in for a much-wanted blowjob. With two trusty hands helping, he totally delights Jonathan's uncut cock with everything from a foreskin tickle to a deep-throat. Both have sexy bubble-butts and Pete licks around Jonathan's, going in deep with the shadows playing night games with what can be seen. A busy 69 finds them in continuing fine form and Jonathan makes sure to spend plenty of time in Pete's ass, spitting and chasing with a slurping tongue. Jonathan rims Pete in every position possible, never tiring of this ass' taste. His reward is a chance to plug the ass, gingerly doing a jackrabbit fuck. Jonathan looked unimposing at first, but when he fucks, he totally turns on. He's energetic to the max, and creative to boot. He has Pete roaring in delight and Jonathan turns out to be one of the best tops in the entire movie. His speed is his best feature and he doesn't tire in the least. His boffo work ends up with a giant load on Pete's face before Pete pulls one out of himself sucking on Jonathan.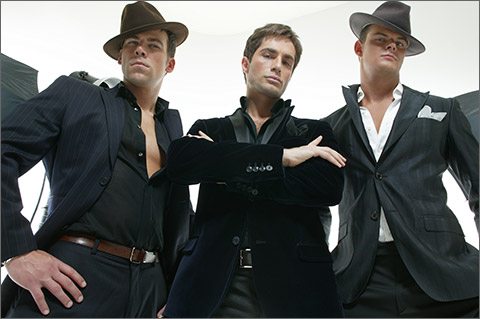 SCENE 4: Michael Lucas & Jason Ridge & Derrick Hanson
Michael and Jason stop to pick up roadside trick Derrick Hanson, who was in the fashion show, and agree to take him home to Brooklyn. The tiny apartment isn't exactly the milieu for a Michael Lucas film, but remember, his character is exploring all the nightlife has to offer as they pass around a joint. Michael starts off as an observer to the scene, as Derrick and Jason make out, but he's soon showing up for active play. Both brunet golden boy Jason Ridge and tattooed Derrick get to show off their fantastic mouths solo, but they then join forces to double-team Michael's cock. Michael joins in sucking Derrick and then has Jason cram his face full of both cocks. Jason is mighty inspired here. Jason draws a lucky card having Derrick deep-throat him as Michael eats his one-of-a-kind ass. This is a major highlight. Michael fucks Derrick, trying to moan big, but his face is too full of Jason's cock and ass to make much sound. Michael easily rattles off a typically strong fuck. The three-way aspect is never forgotten as Jason insinuates himself into some truly cool positions to make Michael and Derrick do more than just fuck. After fucking Derrick, Michael and Jason lick his ass (with Michael also sucking both cocks briefly), before Jason fucks Derrick. Jason takes advantage of the path Michael has opened for him. Turns out Michael has it in mind to do the same thing to Jason's ass, which is a stunning match of two superstars. They work well together, with Derrick moving here and there to participate where he can. Even Derrick gets to fuck Jason. While he does, Michael cums on Jason's face and then the two others finish.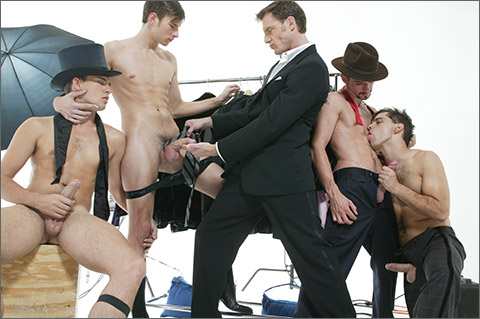 CLOSING OF PART 1
The high life may be costing Michael his relationship with brunet twinky Cole Ryan, who is upset with Michael having been gone the entire night. "What ever happened to your book? It's been sitting there for over a year!" Cole pleads with Michael, trying to get him to regain his focus and return to the important things in life. "You have the talent, you're just lazy!" Cole snaps at him. Returning to Fellini thematically, the lead's life looks rather tacky and inane from outside Wonderland.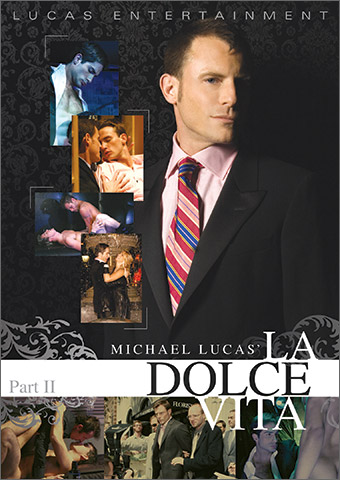 MICHAEL LUCAS' LA DOLCE VITA – PART 2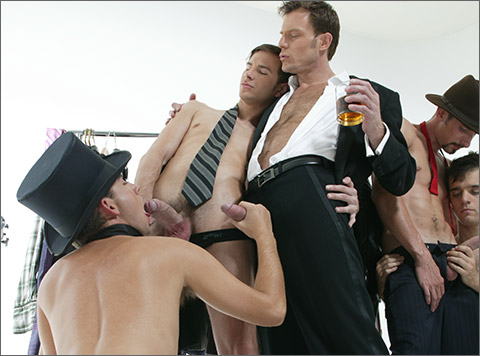 As the second part of the movie opens, glamorous couple Ray Star and Savanna Samson are having a press conference, with reporter Michael Lucas on his cellphone through most of it. Kittenish Savanna and macho goateed Ray give wonderful acting performances, and after the conference, Ray sidles up to Michael in just a robe as the pouty-lipped anti-hero ogles him with desire. The trio then heads off on a Manhattan spree that includes shopping at the actual Marc Jacobs store in Greenwich Village ( http://MarcJacobs.com ). They finish at a swank nightclub where tattooed Brad Star is shaking his pelvis seemingly for the benefit of Ray only.

SCENE 1: Ray Star & Brad Star
Famous movie star Ray engages the private services of blond Brad, who gives him a butt-wagging solo show. Naturally, Savanna, looking like an actually beautiful Jessica Simpson, is not happy at this turn of events, but Michael takes her away from the club to help her forget, leaving Ray all alone with Brad. Ray looks most dazzled by Brad's big butt, and even fully clothed is able to give it a luscious wet rimming. Ray's tongue doesn't find a part of it he doesn't want to lick fully. Swaggering Ray need only lose his pants for Brad to start blowing his awesomely big cock with a fine blowjob made even better by his helping hand. Ray is faithful to Brad's ass, but he also spends some time sucking his equally potent cock. Midway through everything, Ray undresses to only his giant back tattoo and the two continue their alternating suckings while the club's music pounds behind them. Often a plunging top, Brad is the one who takes it up the ass here for his movie star hero. An initial sit-fuck proves awkward, so Ray quickly fucks Brad missionary until Brad cums a fountain shot, the latter part of which is soaked up by Ray's mouth. Brad orally returns that favor.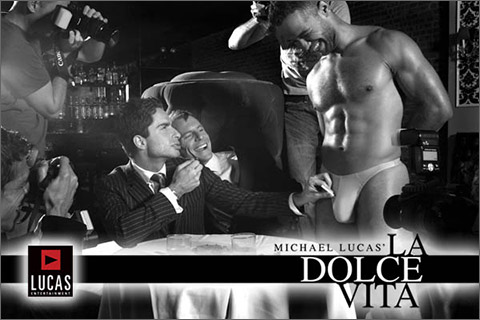 Michael squires Savanna around town, as the two open up about their lives. "I'm surrounded by madness, observing," notes Michael. Savanna even takes time to flirt with an openly-gay Michael, rationalizing his cheating. The well-written scene is only a big tease for fans of Fellini's "La Dolce Vita," who know that as a blond in a black dress stumbles through an empty park, there is a big scene to come. And indeed, in an homage to the 1960 film's most infamous few moments where Anita Ekberg went splashing through a fountain to express her drunken joy, Savanna does the same, and even gets to snuggle with Michael as she does. This is done with total care, but as Lucas and Dimarco have wisely not chosen to do a paint-by-numbers rehashing of a film that can't be remade, this sideline from their story seems like a bit of pandering. Unfortunately, the evening ends on a low note as a furious Ray smacks Michael in front of the paparazzi (a word coined by Fellini in his masterpiece) for squiring around his lady. So ends another adventure for the emotionally starving Michael.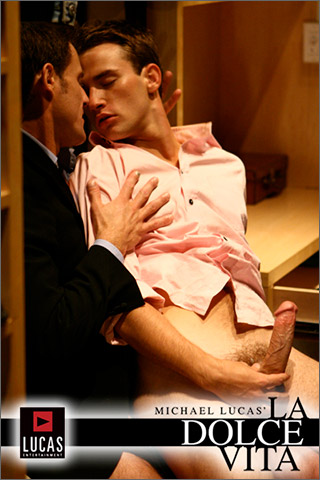 SCENE 2: Spencer Quest & Jamie Donovan
However, there is another party to attend, and this time Cole goes with Michael. "Why do they always look like unhappy rabbits?" Cole opines as Michael hopes to get Cole a publisher for his own work. The party is thrown by a true friend of Michael's, Spencer Quest, who actually has the first real words of advice for Michael before trotting over to very youthful brunet Jamie Donovan. He takes Jamie into a massive closet and begins to make out with this "freshman from Columbia." The mouthwatering dapper Spencer, as solid as any man can be, is an interesting mate for the tiny tempest Jamie. Spencer gets busy on his cock, sensually deep-throating the gorgeous thick piece with a wet mouth. He has a true method to his sucking, a real star turn here. Jamie gingerly sucks Spencer's most impressive shaft, using a hand to help out his plucky mouth. From the moment Jamie shows his pert pale ass, it looks inevitable that it will be raided, and Spencer treats it like the eye-opening discovery of El Dorado when he gently and lovingly licks at it. It doesn't stay merely pretty, as Spencer soon goes at the ass with abandon and then begins to pry it further open with his fingers. Spencer fucks Jamie, and my only complaint at the beginning is that both of them are still way too clothed. Spencer's fuck is ideal. He's playing the role of nonchalant older guy to the hilt, knowing that Jamie is just a momentary plaything. To that end, it's rare that Jamie's face is even captured by the camera. Spencer fucks Jamie and cums in a sadly short time and then makes out with the kid while he finishes.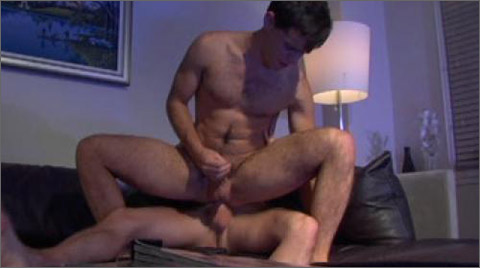 SCENE 3: Chad Hunt & Cole Ryan
At the party, Michael had wanted Cole to meet publisher Chad Hunt. Chad is all over Cole, who finally gives in to the open relationship depravity he has so detested in Michael, especially as Chad disparages Michael while they make out. Cole is way too hot for Chad to really pay much attention. Naturally, once Chad's cock is released from its confines, Cole works on devouring it. Kudos to Cole for doing a splendid job with more inches than most manage. Chad coos in his role as blasé top, letting himself be adored, and hairy-chested Cole isn't arguing at all. He simply finds comfortable positions for his exciting trips down Chad's cock. And when he gets all the way down, well, anyone who has seen Chad Hunt's size knows how great that looks! Ever the ass man, Chad licks at the deep pink hole between Cole's hairy cheeks. He has to give the boy some prep before fucking him. When Chad does, it's silky smooth. Cole isn't a toy bottom, he's the real deal. Chad is able to work him over with absolute depth and a comfortable gyrating rhythm that keeps going even when Cole is in charge and riding, still going to the base. I never tire of watching bottoms excel with Chad, especially when they don't just merely take him, but take him in cool positions and with defining speeds that show just how damn good they are. Cole cums being fucked and then Chad unloads on Cole's stomach.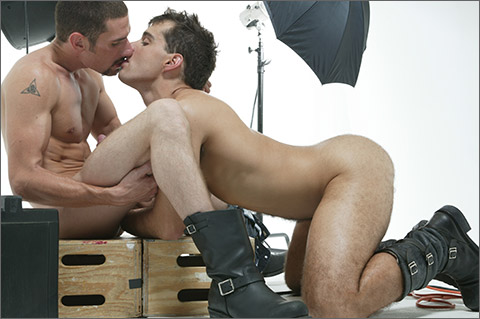 With deadlines at the magazine, Michael is under much stress. His boss, Tom Judson, has even more bad news. It seems that Spencer is going to be arrested for fucking an underage kid, but not Jamie, who is 19 (that's more suitable to porn than infanticide, which Fellini tossed into his script). Even worse, Tom wants Michael to write the story of it. Spencer confesses his problems to Michael, using the myth of Icarus to help him along, and, though nervous, seems quite resigned to his fate.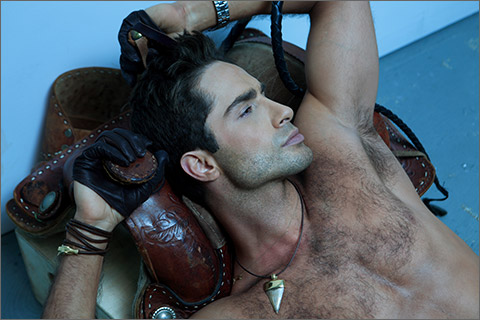 SCENE 4: Michael Lucas & Justin Christopher
And how does Michael respond? He takes to the bottle, and with some fancy editing and camerawork, his confused, increasingly drunken state is revealed. Is "La Dolce Vita" beginning to catch up with the man who lives for it? His travels find him in the pathway of Pete Ross, who decides to follow him. That entails a trip to a sex club, which doesn't seem like a bad place for Pete to find his story. An enormous anonymous orgy is happening all around as the denizens grab for Michael, but he walks by them without paying much attention. He finally settles on a room where he pulls out his cock and decides brunet Justin Christopher is his man. Justin already has someone sucking his cock, but it's a sex club, so I guess there are no rules. Words don't matter either, so Justin simply bends over and starts blowing Michael. Michael's imperious look is permanently plastered on his face, and that helps here, where his character is supposed to lack any register of what is going on while in his daze. Of course, he isn't exactly going through the motions. When he does a 69 with Justin, he works pretty nicely on Justin's enormous uncut cock. As sex happens around them, Michael moves to playing with Justin's ass, making it pucker for his waiting mouth. After another brief trip down Michael's cock orally, Justin becomes the centerpiece of the room when Michael fucks him. Justin seems awfully tight, and because of the dim lighting, Michael doesn't slam all the way inside him, opting instead for a rather elegant fuck. When Justin rides, concerns for all the rest abate, but Michael soon has him on his back, with a director's eye to how it looks. Justin creams with his legs wide open and Michael still ramming at him. As Michael cums, he spots Pete and knows he's in trouble.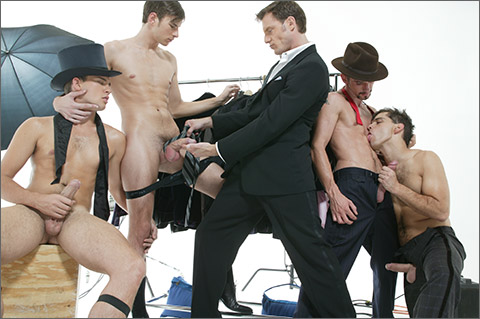 CLOSING OF PART 2 & FILM
A lovingly edited montage at the end not only reviews the debauchery, but also gives clues as to what is to come for Michael and those around him. The viewer is left pondering whether "La Dolce Vita" is actually that sweet, or has it curdled.
   Film writeup courtesy Mannet.com
   Photos courtesy Joe Oppedisano for Lucas Ent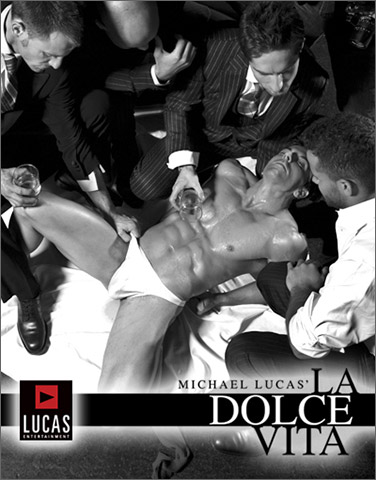 SEE THIS NOW / MORE INFO:
LUCAS ENTERTAINMENT
Scenes Premier online prior to DVD release and are available to view anytime in the Members Area.
Members can watch scenes from all Lucas Entertainment releases anytime online.

VIDEO ON-DEMAND: Lucas Entertainment @ AEBN SMUTJUNKIES THEATER
DVDs & ON-DEMAND: Lucas Entertainment @ TLA VIDEO