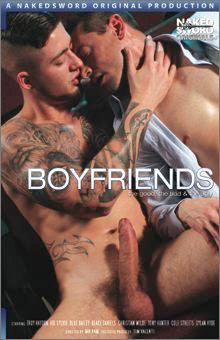 Studio: NakedSword Originals
Directed by: mr. Pam
Year of Production / Release: 2012
Country of Production: U.S.A.

CAST:
Blue Bailey
Blake Daniels
Troy Haydon
Tony Hunter
Dylan Hyde
Ari Silvio
Cole Streets
Christian Wilde
INFORMATION FROM NAKEDSWORD:
Settling down doesn't have to mean settling…does it? Not in BOYFRIENDS, the critically acclaimed mini-series from NakedSword Originals. Real-life partners Blue Bailey and Blake Daniels show how hot a little commitment can be. And while not every couple is as lucky in love as them, it doesn't mean the sex can't scorch. From make-up sex and porn addicts, to cheaters on the prowl, BOYFRIENDS looks at four cases of modern love…and finds a lot of old-fashioned lust.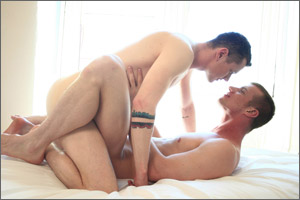 EPISODE 1 – I KNOW WHAT YOU LIKE: Blue Bailey & Blake Daniels
Shot in a sun-filled Victorian overlooking the heart of the Castro, you can hear and see the buzz of the city right below the hot, passionate sex. These boyfriends let us peek into their intimate relationship — it's real, tender, and full of hardcore passion — with lots of cum eating at the end!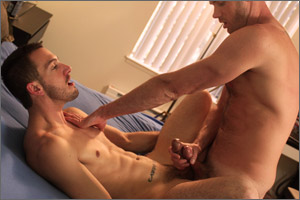 EPISODE 2 – AM I NOT ENOUGH?: Cole Streets & Dylan Hyde
Dylan and Cole have been together for a couple years and, although they love each other, Cole thinks that Dylan is addicted to porn. Dylan just likes watching porn and doesn't see the problem; Cole still feels like he's just not enough though. In the spirit of "if you can't beat 'em, join 'em", Cole surprises Dylan with a video camera and suggests that they shoot their own porn. Watch the steaming hot results!

EPISODE 3 – HE JUST DOES SOMETHING TO ME: Christian Wilde & Tony Hunter
Anyone who's ever been in a relationship knows the best part of getting into a fight is the make-up sex. Exploring another aspect of love that some couples know all too well, these boyfriends work out their issues with each other with a no-holes-barred white knuckle fuck and suck session that will leave you breathless. Christian warms up Tony's meaty ass with whatever implements he can get his hands on in the kitchen. Tony sure wants it bad, but his boyfriend isn't about to let him off easy. Fucking the cum out of him, Christian and Tony's brutally aggressive ass fucking is punctuated with some surprisingly tender moments that might make some couples re-think the need for couples therapy.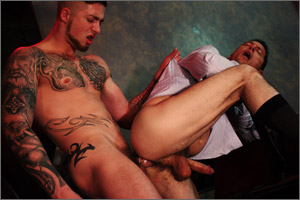 EPISODE 4 – I JUST WENT FOR IT: Troy Haydon & Ari Sylvio
A high-powered executive, Ari Sylvio needed a little break from the office grind by taking lunch at The Nob Hill Theater, a legendary San Francisco institution of sexual depravity. Alone in the dark theater, Ari is enjoying the movie when tattooed British hunk Troy Haydon walks in and starts checking him out. Only one problem: both Troy and Ari are in long-term relationships with other men. But like so many others … they're bored with what they've got. They both find themselves at a crossroads: Do they stay or do they go? As Troy slides into the seat next to Ari, licks his palm and starts jacking him off… it's not too hard to imagine what they both decided: Right off the bat, their sexual chemistry is explosive! Kissing, sucking & fucking in public: not usually the template for a budding romance, but something that afternoon clicked!

WATCH THIS AND A HOST OF OTHER FILMS AT:
NAKEDSWORD
On-Line Presentation, exclusive to NAKEDSWORD
Members can watch this with a host of other films in the NakedSword Library.