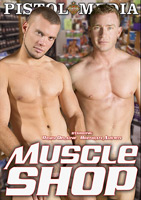 Studio: Raging Stallion / Pistol Media
Directed by:
Year of Release / Production: 2007

CAST:
Brendan Austen
Remy Delaine
Marc Amon
Luke
Karl Rawiri
Seth Williamson
INFO FROM RAGING STALLION:
These days, hot guys can be found everywhere, but if you're looking for a quick pick-up, the gym is one of the best places. What is better than working up a sweat and then working up a boner? Muscle Shop takes these real life situations and brings the fantasy to the forefront. From pumping muscle to pumping butt, this movie takes you inside the gym and straight into hot man-on-man action, Aussie-style.
   We start with Karl Rawiri working his muscles across the floor, flipping and bending and standing on his hands. This flexible, muscled man catches the attention of young Marc Amon. Marc gets Karl's attention and the action begins. They start with a make-out session but quickly move into hot dick sucking. Marc and Karl wrestle down onto the nearby workout mats and Marc is soon bulging in his black jock strap. Karl can't get enough, pushing his nose into Marc's jock and he soon begins eating his balls. Of course Karl is looking for more than balls and Marc's fat uncut cock is the perfect next meal. Both of these men are hungry for dick and Marc wants his turn with Karl's big dick. Both of these men enjoy the taste of cock but they have more than just dick on their minds. Marc reaches with his tongue into Karl's nice butthole. Karl wants to eat butt too and Marc offers up his nice hole to suck on. Marc wants even more, so he lubes up his dick, slips on a condom and shoves his dick up Karl's ass. The gym comes to life with the pounding and smacking sounds of these two fucking. Karl shoots first followed by Marc's huge load that covers his own chest.
   Scene two begins in muscle boy heaven, the supplement shop. The shelves are full of muscle building proteins and testosterone boosters but the customer seems much more interested in the man behind the counter. Brendan Austen quickly steps in to give the customer what he needs. Luke is looking for something to stiffen his erection and Brendan is happy to help. In the middle of the store, these two men strip off their clothes and whip out their cocks. Brendan applies his expert knowledge to sucking Luke's cock. Luke loves the attention but wants to return the favor. He quickly gets Brendan's dick out of his pants and into his mouth. Brendan has a beautifuluncut cock and Luke's mouth brings it to full attention. But Luke isn't satisfied with a dick in his mouth. He wants it up his ass! Brendan warms Luke's ass with his tongue before shoving his dick in. Luke takes it like a pro and Brendan dishes it out, but Luke can only take so much. He puts Brendan's dick back in his mouth and shoots all over the floor while Brendan covers Luke's face in cum.
   Back in the gym, we find another hot man stretching and bending in all the right ways. Seth Williams is warming up and getting some attention from across the room. Aaron Richards watches Seth bend and twist and soon offers a helping hand. Of course Aaron offers more than just a hand and the two begin a hot sex session in the middle of the gym. The sex starts off nice and slow with these two sweaty men just enjoying each other's hot bodies. Aaron is bigger and is obviously the aggressive one, moving from kisses to feeding Seth his dick. Aaron is quite the specimen of Aussie man, broad chest, dark features, and a cock that deserves attention. Seth sucks cock with enthusiasm and Aaron lets him go for it but soon wants some dick in his own mouth. Seth climbs on top and pumps Aaron's mouth, flexing his tight butt and forcing his dick far down Aaron's throat. After a kiss or two more, Aaron is ready for some butt play. He climbs on top, lifts Seth's ass up into the air, and spreads his spit around
   Seth's hot hole with his fingers. After a quick warm-up, in go the fingers. But this is just the beginning! Aaron's fat dick is sheathed and ready to replace his fingers. These men fuck with wild abandon. First, Aaron fucks Seth on his back, then Aaron gets on his back and Seth rides his fat cock. But these two are not done yet. Seth bends over and takes it from behind. Aaron turns Seth around and then bounces him up and down on his dick in mid-air. Worn out and sweaty, the boys go back to kissing and to impressive cumshots (including a beautiful facial).
   Remy Delaine has run out of his vitamins and is having a hard time deciding which ones to pick up. As he peruses the shelves, Brendan creeps by and brushes his hand up against Remy's round butt. A quick glance from the backroom and these boys are going at it. Remy might be hard up for vitamins but he gets real hard when Brendan's dick is in his mouth. While on his knees, he tastes every inch of Brendan's uncut cock. Remy's fat cock is dying for attention and Brendan is happy to wrap his lips around it. Remy has one of the best cocks in porn: big, fat, and uncut. Brendan is an expert cocksucker but Remy's dick is quite a challenge. Remy's huge head and extensive foreskin is a delicious feast and Brendan enjoys every succulent taste. Remy is dick-hungry too and these two men take turns sucking away in the muscle man shop. All of a sudden, Remy bends over for Brendan's tongue. You can see the lights going off in Brendan's eyes as he gets a taste of this young muscle stud's hot hole.
   Once Remy's asshole is wet and slick, Brendan suits up and plunges right in. The tables turn and Remy wants his chance to prove he can fuck like a horse, so Brendan bends over to take it. Remy's dick is big and fat and fills Brendan's ass to the hilt. Remy pounds away, flexing every muscle taut to give Brendan the fuck he's been waiting for. When Brendan can't take anymore he lays Remy down on the floor and shoots cum all over his chest. The smell of seed pushes Remy over the edge and he explodes, covering the spots on his chest that Brendan missed.
   Muscle Shop brings fantasy to life in the gym and in the aisles of a store that every muscle guy knows. Pistol Media brings us up close and personal to the men we all dream of and their unending sexual appetite.

WATCH IT NOW AT: MalePPV / AEBN
GO TO: RAGING STALLION