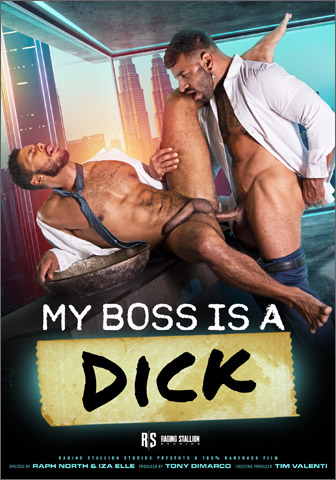 Studio: Raging Stallion
Directed by: Iza Elle & Raph North
Year of Production / Release: 2020
Country of Production: U.S.A. / Canada

CAST:
Ryan Bones
Markus Kage
Thyle Knoxx
Milo Madera
Beau Reed
Teddy Torres
Jason Vario
Mateo Zagal
INFORMATION FROM RAGING STALLION:
Workplace politics, office drama, supervisor power trips, it's all enough to make you say, 'MY BOSS IS A DICK'. But, when co-worker dynamics get settled with unbridled raw sex between sexy subordinates and meaty managers, you'll be saying, take that boss' dick. Directors Iza Elle and Raph North are the directors of HR here at this seedy office where horny colleagues and bareback bosses settle their issues with their cocks and holes. After locking eyes in the office, Markus Kage takes Teddy Torres to the break room to breed his ass. While on a bathroom break, Mateo Zagal follows Milo Madera and pounds his ass. When Beau Reed and Thyle Knoxx fail to meet their deadline at work, their holes pay the price from boss, Jason Vario's meaty dick. While deciding who to promote, Markus Kage and Ryan Bones have an argument that results in them stretching each other's asses. In order not to lose his job for poor performance, Mateo Zagal needs to prove to Jason Vario he's willing to take a pounding to keep working. Even if these studs are thinking, 'MY BOSS IS A DICK', they show you how they do whatever it takes to keep their jobs.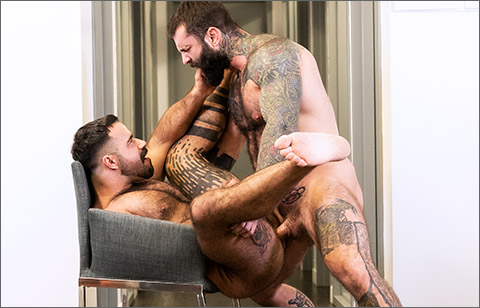 SCENE 1: Markus Kage fucks Teddy Torres
Tatted businessman Markus Kage is doing some work at the office when co-worker Teddy Torres catches his eye. After they become aware of their attraction for each other, Markus signals for Teddy to come to his office. The two studs tease each other through the office's glass walls, until they make their way to the break room, where Teddy swallows Markus' thick, uncut cock. When Teddy has had his oral fill of cock, he bends over the counter to let Markus rim his hairy hole. Eager to fuck, Markus gets off his knees and glides his bare cock straight into Teddy's ass. Teddy takes Markus' meat in multiple positions before laying back and getting pounded bareback while he strokes a load out on his hairy, scruffy torso. Markus makes sure to paint Teddy's face with a thick load before telling him to "get back to work!"

SCENE 2: Mateo Zagal fucks Milo Madera
Mateo Zagal and Milo Madera are working across from each other in the office, checking each other out. When Milo steps away from his desk to use the bathroom, Mateo follows, and soon both are standing side by side checking out each other's cocks. After Milo takes Mateo's advances, the two compare dicks and Mateo kicks it up a notch, hitting the floor and filling his mouth with Milo's uncut cock. Using his tongue, Mateo makes his way from Milo's shaft to his crack to prep his ass for a bareback fuck. Before Mateo can stick it in, Milo makes sure to return the favor my choking down Mateo's thick, uncut fuck stick. When he's ready, Milo turns around, bends over and lets Mateo enter him from behind. Taking Mateo's thrusts all over the bathroom, Milo eventually sits back on the counter and gets pounded until his spills his load all over his abs. When it's his co-workers turn to blow, Milo gets on his knees one last time to take Mateo's warm load on his face.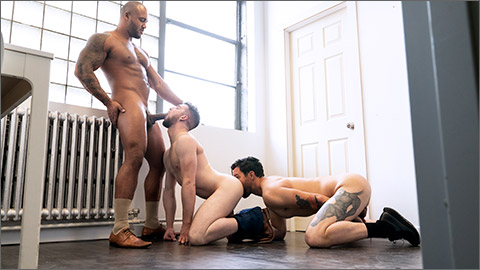 SCENE 3: Jason Vario fucks Beau Reed & Thyle Knoxx
Co-workers Beau Reed and Thyle Knoxx are swamped with work when their boss Jason Vario comes in to check on their progress. When they ask for an extension, Jason lets them know it comes at a price as he locks the door and strokes his bulge. Thyle knows his boss means business as he whips his cock out and Thyle gets to sucking while Beau fights for a taste of his own. Soon, Beau is able to get his lips around Jason's cock while Thyle licks Beau's eager hole. The man in charge takes his position when he bends his employees over a desk side by side and alternates between fucking their holes bareback. Jason keeps control as he moves Thyle to insert his cock in Beau while he stays planted deep in Thyle's crack. Jason takes turns fucking both of his hard workers until both Jason and Thyle breed Beau's hole while he spills his on the floor.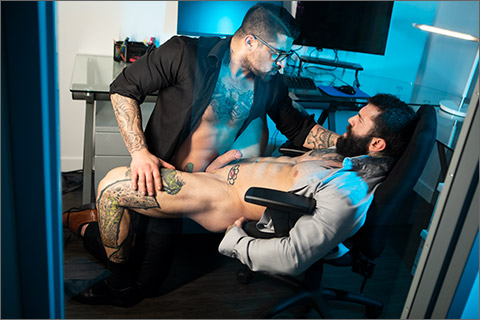 SCENE 4: Markus Kage & Ryan Bones flip-fuck
During a heated argument about who to promote next, Markus Kage and Ryan Bones figure it's better to settle their debate with their clothes off. Ryan pulls his cock through his dress pants fly and quickly asserts his dominance, bending Markus over and sliding his cock in Markus' ass. After getting his ass fucked, Markus whips his cock out and Ryan gets straight to servicing the thick meat. Ryan takes his time deepthroating Markus' hefty dick, making sure to lick up and down his shaft and around his balls. Now that Markus has had Ryan's mouth, he wants his hole as he bends his co-worker over and works his pole deep into Ryan's ass bareback. The ass stretching doesn't stop until Markus sits back and gets blasted with Ryan's load as he erupts with his own that oozes down his cock.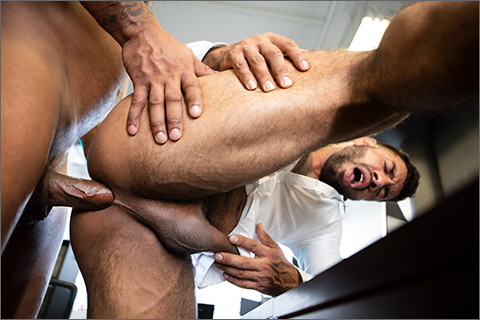 SCENE 5: Jason Vario fucks Mateo Zagal
The 'big' boss Jason Vario catches Mateo Zagal wasting time on his phone. When Jason explains that Mateo' s work ethic isn't cutting it, Mateo says he'll do anything to keep his job. Jason smirks and unzips his pants to let Mateo prove he wants to stay with a sopping wet blowjob. Mateo needs this job and strives to be the best cocksucker Jason has ever had. Things heat up when the focus turns to Mateo, bending over his desk and getting his cock and hole sucked from behind. Jason lubes up Mateo's ass with some more spit and delivers a bareback dicking, going balls deep into his employee. From doggy-style to riding Jason's pole, Mateo takes his anal stretching in multiple positions before laying back and stoking his load out onto his abs, while Jason licks his balls and cums on his hole.

WATCH THE SCENES AT:
RAGING STALLION'S MEMBERS SITE
Members at RAGING STALLION'S MEMBERS SITE can watch these scenes and download extensive Photo Content from this production and get discounted pricing on all DVD and Print purchases.