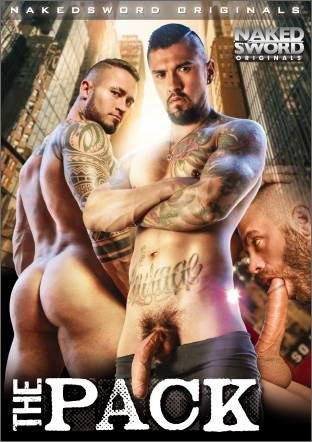 Studio: NakedSword Originals
Directed by: mr. Pam
Year of Production / Release: 2014
Country of Production: U.S.A.

CAST:
Rafael Alencar
Blue Bailey
Boomer Banks
Cam Christou
Seven Dixon
Leo Forte
Marcus Isaacs


INFORMATION FROM NAKEDSWORD: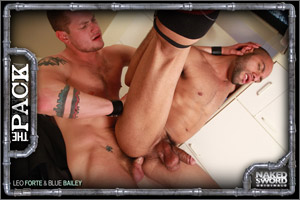 EPISODE 1 – DERAILED: Blue Bailey fucks Leo Forte
How far should you go to belong? In NakedSword's The Pack, Cam Christou is about to find out. On a New York subway car, tense newcomer Pony (Cam Christou) sees two hot guys (Leo Forte and Blue Bailey) making out. He wants to join them, but he misses his chance when they get off the train. Maybe it's for the best — after all, these boys aren't messing around. In a dark and powerful scene unlike most anything you've seen before, the boys fight for dominance in the kitchen of their apartment. Blue wins the first round, fucking Leo's hungry hole, but Leo isn't one to submit (at least not easily), and soon he's showing who's really in charge. A scene you have to see to believe!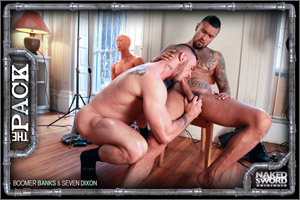 EPISODE 2 – BACKDOOR FITTING: Boomer Banks fucks Seven Dixon
How far would you go to belong? For Cam Cristou, it might be farther than he'd like. In the second scene from NakedSword's The Pack, Cam spies on Boomer Bank's sex crew as they suit up for the legendary Black Party. In the back of a fetish shop, Cam sees Boomer exercise his power, punishing a disrespectful Marcus Isaacs — before heading off to dominate Seven Dixon's beautiful ass in the basement. And with Boomer's massive cock, who wouldn't want to submit? But Cam's prying eyes are about to get him in trouble. Is he really ready?

EPISODE 3 – LUCKY NIGHT AT THE BLOC: Rafael Alencar fucks Marcus Isaacs
Leo Forte invited Cam Cristou to a private event at New York's Eastern Bloc bar — for an initiation. But in the third scene from NakedSword's THE PACK, Cam learns that desire isn't destiny. Arriving at the bar, Cam sees hung Adonis Rafael Alencar dancing seductively. But his initiation? Cleaning up the mess — after Rafael fucks Marcus Isaacs. And fuck him Rafael does, splaying the furry bottom with his enormous cock, and drenching him in a shower of cum. Will Cam ever get his chance to become part of "THE PACK"?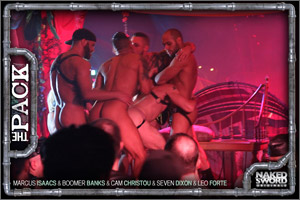 EPISODE 4 – RITE OF PASSAGE: Boomer Banks, Cam Christou, Leo Forte, Marcus Isaacs & Seven Dixon
Lucky Cam Christou! He is finally excepted by the members of THE PACK, and his consolation price? A super gang bang that was filmed live, on-stage, during Black Party in NYC. The finale scene of the pack has sex that is so hot and so real, you'll wish YOU were Cam during his intiation with the gorgeous Pack studs – Boomer Banks, Leo Forte, Marcus Isaacs, and Seven Dixon! Grab your "packs" and head over to the affiliate blog (affiliates.nakedsword.com) for a special interview from the Leader of the Pack, Boomer Banks! Enjoy your weekend and this special scene.

WATCH THIS AND A HOST OF OTHER FILMS AT:
NAKEDSWORD
On-Line Presentation, exclusive to NAKEDSWORD
Members can watch this with a host of other films in the NakedSword Library.

INFORMATION FROM NAKEDSWORD: EPISODE 1 – DERAILED: Blue Bailey fucks Leo Forte How far should you go to belong? In NakedSword\u2019s...","image":{"@type":"ImageObject","url":"https:\/\/films.gayeroticarchives.com\/wp-content\/uploads\/2014\/04\/583050.jpg","width":312,"height":442},"aggregateRating":{"@type":"AggregateRating","ratingValue":5,"ratingCount":2,"bestRating":5,"worstRating":1},"brand":"","sku":"","":""}