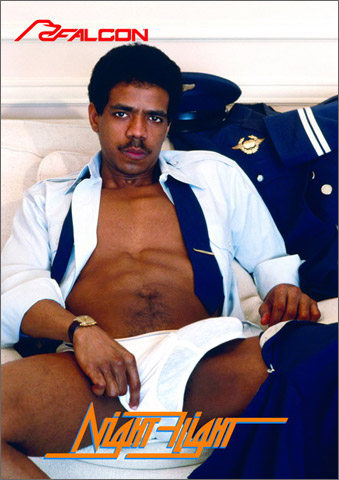 Studio: Falcon Studios
Directed by: Bill Clayton
Year of Release / Production: 1986
Country of Production: U.S.A.

CAST:
Buster
Melchor Diaz
Leigh Erickson
Joe Gere
O.G. Johnson
Kurt Marshall
Mark Miller
Ron Pearson
FROM THE FALCON WEB SITE:
Flying Sky America tonight are some of the hottest, horniest studs on both coasts. Ignore the "occupied" sign and check out the airplane's lavatory. That's where the action is! Once you're on the ground at SFO, you'll want to tag along with Captain Joe and Steward Mel to baggage lost and found. Tall, handsome Leigh can be very helpful when it comes to straightening out passengers' biggest problems. He's got a drawer full of solutions. Kurt's had a long wait, keeping the homefires burning; but it's worth it once his flyboy lover finally lands in their bed. That is, until an uninvited visitor arrives at dawn and Joe is forced to put his asshole where his mouth was earlier. With all these exciting sex machines and so much amazing non-stop action, this is among Falcon's very best.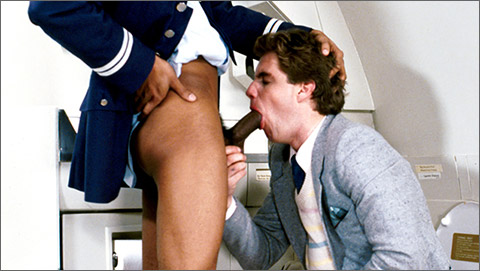 SCENE 1: Buster and O.G. Johnson
Buster is in the Rest Room Jacking Off while by accident O.G. Johnson walks in. Johnson whips out his dick and Buster starts chowing down on his large uncut dick. Buster quickly gives up his ass to Johnson in several positions. While riding Johnson, Buster comes. Melchor enters, "I see you started without me." continued in SCENE 3.
   Joe Gere fantasizes about Kurt Marshall waiting home.

SCENE 2: Ron Pearson and Mark Miller
Ron Pearson offers up a new in-flight refreshment to Mark Miller, himself. Ron sucks Mark's Jeans Cock, and then they move to an empty part of the plane where Pearson continues his oral attention. Pearson cums and soils the upholstery, but alas Miller never delivers the money shot in this scene.

SCENE 3: Buster, O.G. Johnson and Melchor Diaz
With Buster catching a few peaks between the seats… Melchor gets his turn with O.G. Johnson, and proves he is quite a good cock-sucker. Melchor disrobes, and shows off that great body, while Busters slyly slips his dick up Melchor's ready ass. Melchor just keeps sucking Johnson during his ass-pounding. Buster and Johnson magically switch positions, then jack themselves off onto Melchor who then cums on Buster's leg.

SCENE 4: Joe Gere, Leigh Erickson and Melchor
Joe Gere can't find his baggage, but Leigh Erickson finds a package between Gere's legs. Melchor, out looking for a snack, joins in for a tasty treat. Erickson then fucks Melchor on the desk, but Gere wants his turn with Erickson as well. Joe gets fucked by Erickson who then whips out a dildo and stretches the blondes ass-hole even wider. Melchor cums all over himself and Gere, Gere delivers a dribbler cum shot. Erickson, turned on by the ass play, shoot all over himself, messy.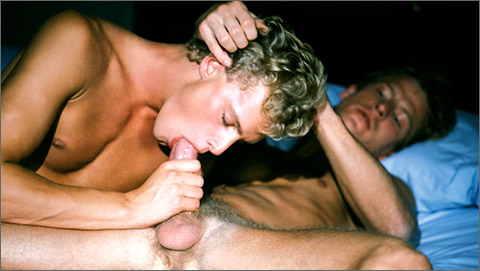 SCENE 5: Joe Gere and Kurt Marshall
Joe Gere returns home to a romantic evening of sex with Kurt Marshall. These blonds are all over themselves, with a good deal of ass play and munching. Kurt Marshall shoots a load in the middle, then continues to on to fuck Joe. Marshal cums on Gere's ass and then uses it to lube up some near fisting of Joe's butt-hole. Gere likes that hand up his ass, and dribble out another cum shot.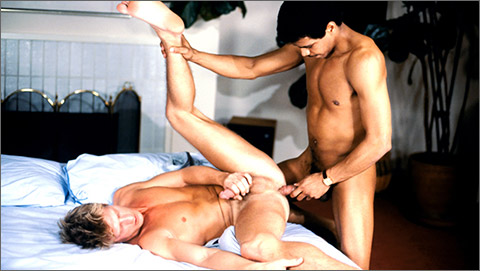 SCENE 6: Joe Gere and O.G. Johnson
O.G. Johnson barges into Joe Gere's home late at night. It seems Johnson wants to explore his gayness further, and Gere is one to explore. Gere is forced to choke down Johnson's gorgeous dick, and takes it well. Then O.G. throw's Joe onto the bed and fucks him hard. Gere gets flipped onto his back and delivers a shootin' shot while Johnson keeps pounding away. Johnson pulls out and shoot all over Gere's belly and balls.

WATCH THE SCENES NOW AT:
FALCON STUDIOS
Falcon Members can watch scenes from this Release anytime online.
DVD Releases debut online prior to DVD Release.

WATCH IT AT: AEBN / SMUTJUNKIES THEATER
BUY IT / WATCH IT AT: GAY HOT MOVIES