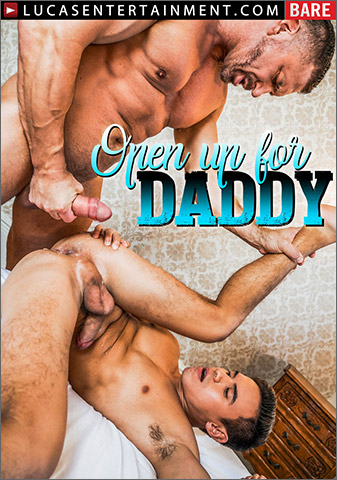 Studio: Lucas Entertainment
Directed by: Michael Lucas
Year of Production / Release: 2021
Country of Production: U.S.A.

CAST:
Sean Austin
Ben Batemen
Tomas Brand
Oliver Hunt
Dylan James
Freddy Miller
Manuel Reyes
Manuel Skye
INFORMATION FROM LUCAS ENTERTAINMENT:
Go on, be a good boy and OPEN UP FOR DADDY… you know you want to! Oliver Hunt certainly does, and Tomas Brand has the honor of fucking the hell out of him… until Oliver turns Tomas around and bangs him. Sean Austin takes Freddy Miller's daddy dick straight up his ass. Manuel Reyes offers up his hole for Tomas Brand's second round of fucking. And Manuel Skye shares Ben Batemen with Dylan James.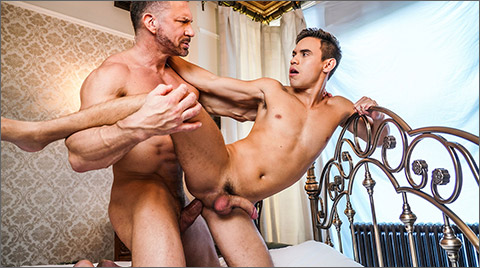 SCENE 1: Tomas Brand Fucks The Hell Out Of Oliver Hunt
Tomas Brand fucks the hell out of Oliver Hunt on Lucas Entertainment! Out of all of Oliver Hunt's incredible features, it's his smirk youthful smirk that will grab your attention first. It's that devilish little smile of his that first pulled in Viktor Rom and Andrey Vic, leading to them both spit-roasting Oliver Hunt in the mouth and ass in his first Lucas Entertainment scene. Oliver has a strong attraction to men older than him in general… he has a fixation on daddies, and it's that fixation and his youthful good looks that draws the attention of Tomas Brand, the King of All Muscle Daddies. Tomas Brand strips down and reveals his Atlas-like physique to Oliver Hunt, who immediately starts working extra hard to open up for daddy! But Oliver soon shows a side many don't see, and with the cameras rolling, he spins his hulking muscle-daddy around and mounts him. After all, it's important for a daddy to know he's taught his boy well!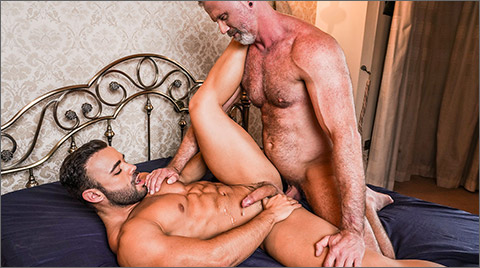 SCENE 2: Sean Austin Takes Freddy Miller's Daddy Dick
Sean Austin takes Freddy Miller's daddy dick up his big muscular ass on Lucas Entertainment! Freddy Miller first tore up the young and handsome Ken Summers, who proved himself to be an obedient bottom boy in bed. But Freddy Miller is not done, and he's on the hunt for another bottom taker who can handle the rough fuck he's hot and horny to give. Sean Austin is the perfect candidate. This guy might be worked out with rock-hard muscles, but in the bedroom he's never disappointed his lovers with the pure submission he offers them. He purses his juicy lips and arches his back to accentuate his sculpted ass cheeks, which is exactly the invitation Freddy Miller is looking for!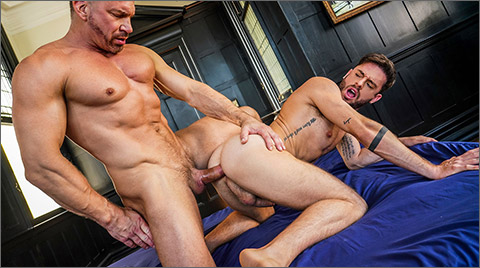 SCENE 3: Manuel Reyes Opens Up His Butt For Tomas Brand
Manuel Reyes opens up his butt for Tomas Brand, the King of All Muscle Daddies, on Lucas Entertainment! Tomas Brand might be a daddy, but don't let that fool you. This man's sexual stamina is unmatched, which is exactly why he earned and maintains his title as the King of All Muscle Daddies. Even though Oliver Hunt was an exceptionally good bottom boy for Tomas Brand, who thoroughly pounded him out (before Oliver got his turn and fucked Tomas good), when Manuel Reyes started flirting with everyone's favorite Daddy, he was powerless to turn down the advances. And as soon as Tomas feels how warm and tight Manuel Reyes is, he instantly falls for the young man!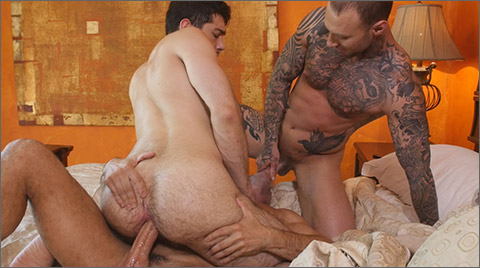 SCENE 4: Manuel Skye And Dylan James Fuck Ben Batemen
Manuel Skye and Dylan James fuck Ben Batemen on Lucas Entertainment! Manuel Skye is another man among the Lucas Men who is known for his top-daddy prowess. And while Dylan James isn't exactly a "daddy" by the standard definition, he does have a "big bro" quality about him… a big bro quality of a guy who just got out of the military and is super horny to fuck! The handsome-as-hell jock, Ben Batemen, quickly seduces both Dylan James and Manuel Skye with his hot (albeit snarky) grin. But worry not, they give him a pounding he won't soon forget!

SEE THIS NOW / MORE INFO:
LUCAS ENTERTAINMENT
Scenes Premier online prior to DVD release and are available to view anytime in the Members Area.
Members can watch scenes from all Lucas Entertainment releases anytime online.

VIDEO ON-DEMAND: Lucas Entertainment @ AEBN SMUTJUNKIES THEATER
DVDs & ON-DEMAND: Lucas Entertainment @ TLA VIDEO