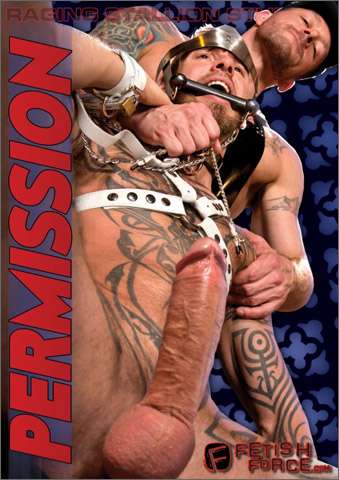 Studio: Raging Stallion's Fisting Central / Fetish Force
Directed by: Steve Cruz, Scratch Hunter, Tom Moore
Year of Production / Release: 2015
Country of Production: U.S.A.

CAST:
David Benjamin
Mike De Marko
Hugh Hunter
Logan McCree
Seamus O'Reilly
Dallas Steele
Rocco Steele
INFORMATION FROM RAGING STALLION's FISTING CENTRAL / FETISH FORCE:
Everything except "PERMISSION" given in this ass pulsating adrenaline ride that leaves your cock hard and your balls empty! Director Steve Cruz co-directs with Scratch Hunter and Tom Moore to deliver this hot, fetish driven fantasy we all dream of. With superstars like Logan McCree, Rocco Steel David Benjamin and more, these seven testosterone driven hunks will help you fulfill your most sensual urges. Jokester Seamus O"Reilly attempts to play a joke on daddy Rocco Steele when it backfires and he is left as Rocco's personal toy for fucking. David Benjamin binds Logan McCree to a rustic table to use his hole before Logan bends him over and plows David's ass hard. Submissive pup Mike De Marko is released from his cage in full gear to service and please his master Dallas Steele. Logan McCree returns and submits fully to Hugh Hunter fully for a toy filled adrenaline rush of ultimate pleasure. Fetish Force's Permission comes at you full force to fulfill all of your hardcore, cum worthy needs!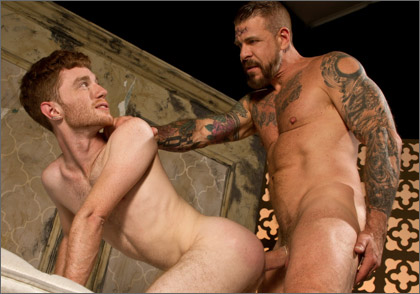 SCENE 1: Rocco Steele feeds dick and fucks Seamus O'Reilly
Buff super daddy, Rocco Steele is passed out on a tattered mattress when sexy ginger pig boy Seamus O"Reilly sneaks up and binds Rocco's hands with duct tape and writes 'cock sucker" on Rocco's forehead. Giant Rocco wakes up enraged and takes off after Seamus pinning him to the ground. After ripping Seamus" clothes off of his smooth body, Rocco bends him over the bed, holds him down and stuffs his used sweaty jock in Seamus" mouth. Grabbing Seamus by his cock and balls, Rocco spanks his bubble butt. Rocco strokes Seamus" cock, edging him before finally letting him cum all over his hand. Rocco's written "MINE" on ginger Seamus O"Reilly's tight ass. Before he fully claims it, Seamus is faced with the task of sucking on Rocco's fat daddy dick. Rocco feeds his meat to Seamus then conducts him to ride his cock reverse cowboy style. Seamus" ass takes Rocco's hole-stretching cock with ease bouncing up and down before bending over for his daddy. Seamus lays face down on the bed as Rocco pulls his cock out, then shoves it back in over and over again. Rocco holds his boy by the hair as he drills his ass and spanks his ass cheeks red. Dripping in sweat, Rocco puts Seamus" legs on his shoulders so he can jack out a creamy load onto his stomach where Rocco adds to the mess with his warm load.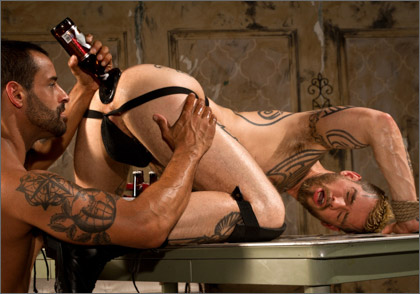 SCENE 2: Logan McCree fucks David Benjamin
Muscle stud David Benjamin and tattooed hunk Logan McCree and sitting at a table drinking beers and playing cards when David Benjamin decides he wants to have another kind of fun. David goes in for a sloppy kiss and the two spit back and forth into each other's mouth. Turning things up, Logan gets on his hands and knees atop the table, and surrenders each limb to David to be tied down to the table with rope. Once Logan is completely bound, David pours what's left of his beer on Logan's back and dives straight into Logan's ass with his long, talented tongue. Logan gets his ass spread apart and fingered to make way for the big, black dildo that David slides into his hole. Using toy after toy, David settles on a transparent anal dilator, and works it into Logan's ass. With the inner linings of Logan's asshole exposed, David pours beer into the hole and drinks it up and it streams out of Logan's ass. Keeping the dilator inside Logan, David finally releases Logan's cock from his jock and sucks him off until Logan can"t take it anymore and releases all over the floor. David gets on his knees and deepthroats Logan's uncut meat, taking it all the way down to his balls as Logan face fucks him. Logan maintains dominance when he bends David over a table and shoves his huge, inked rod into David's hungry hole. David screams "fuck yea! Give me that big dick" with each powerful thrust from Logan. Switching positions, Logan puts David on his back and plows his hole until Logan pulls out and synchronizes his cum shot with David's as they blow their wads all over David's rock hard abs.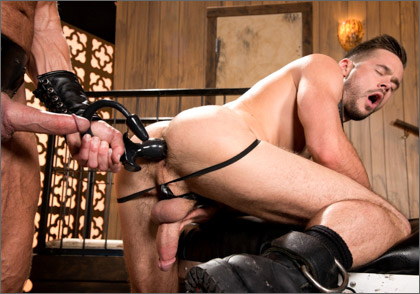 SCENE 3: Dallas Steele works over and fucks Mike DeMarko
Mike De Marco is confined to a cage, fitted with puppy gear complete with a tail, a puppy hood, collar and puppy paw pads. His master Dallas Steele releases Mike from the cage and leads him by leash to a waiting water bowl. When pup Mike spills his water, Master Dallas is not pleased and needs to discipline his pup. Dallas perches Mike onto a padded Lazy Susan and punishes his pup with a variety of toys. To start, Dallas lubes his pup up with some oil and pets him as Mike barks and wags his butt plug tail. Removing the butt plug, Dallas quickly replaces it with a paw shaped dildo into the pup's eager hole. After opening up his hole, Dallas switches it up and disciplines Mike by spanking him with a rolled up newspaper, a cat of nine tails and a riding crop. Taking things to another level, Dallas uses a violet wand for an electrifying rush up and down his pups back. When Dallas feels his pup has had enough he put him back in his cage and jerks out a squirting load onto Mikes back. Slim dark haired pup, Mike De Marko is lead straight to his master Dallas Steele's cock by leash. Mike attempts to give Dallas a sloppy hummer but keeps gagging on his hefty length so Dallas bends Mike over and shoves his cock in his pup's hairy hole. Pounding him "doggy" style, and then on his back, Master Dallas digs deep into his pup's eager hole. Switching from ass fucking Mike to face fucking and back into his ass, Dallas pulls out and shoots his load all over Mike's face. The two share a cummy kiss as they both drip with sweat.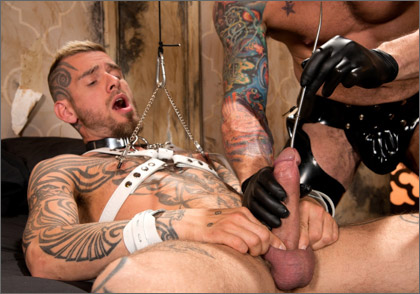 SCENE 4: Hugh Hunter does Logan McCree
Covered in his signature tattoos, Logan McCree is harnessed, and restrained. He's led by leash and bridle by Hugh Hunter wearing only a butcher's apron. Hugh slaps and teases Logan's hard, horse-hung cock and goes down on it, spitting all over his meat and sucking it hard. Hugh lays Logan on the bed and attaches nipple clamps from a suspension in the ceiling pulling his nipples taut. If that wasn't enough, Hugh chains Logan's feet to the bed and proceeds to bring a table of sounding rods bedside and carefully selects the perfect tool for Logan's dick hole. As Logan strokes his foreskin over the head of his cock, Hugh keeps sliding the rod in and out of Logan's dick slit. With the sound tied inside Logan's cock, Hugh uses a blow torch to melt candle wax that's suspended from the ceiling, letting it drip down until Logan is covered in hot white wax. Logan is freed of the restraints and removed the wax from his body so he can show off his expert cocksucking skills. He goes balls deep on Hugh's fat cock. After getting his throat drilled, Logan climbs on top and rides Hugh's dick. The ecstasy builds when the two engage in an acrobatic fuck. Reaching new depths in Logan's ass, Hugh pounds away making Logan scream and beg for more. Logan can"t take it anymore and shoots a huge flailing load onto the bed and Hugh busts his load on Logan's face and beard.

WATCH THE SCENES AT:
RAGING STALLION'S FISTING CENTRAL / FETISH FORCE