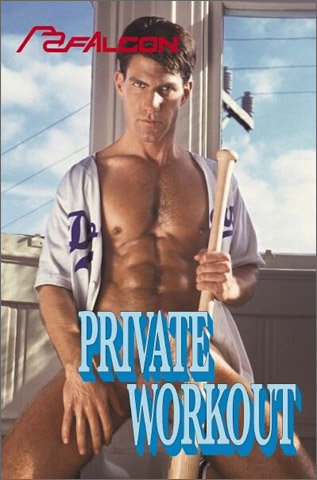 Studio: Falcon Studios
Directed by: Uncredited / Steven Scarborough
Year of Production / Release: 1990
Country of Production: U.S.A.

CAST:
Mark Baxter
Luke Bender
Greg Conrad
Lee Jennings
Rick Racer
Rappalo
Chris Stone
Neil Thomas
Michael White
SCENE 1: Neil Thomas tops Rick Racer several times
SCENE 2: Michael White tops Rappalo
SCENE 3: Greg Conrad tops Lee Jennings who tops Chris Stone
SCENE 4: Luke Bender works over and tops Mark Baxter
FROM THE FALCON WEB SITE:
"Dick of the Century" Greg Conrad and all-American Mark Baxter head-up this cast with Luke Bender, Rappalo, Lee Jennings, Neil Thomas, Michael White, and Rick Racer.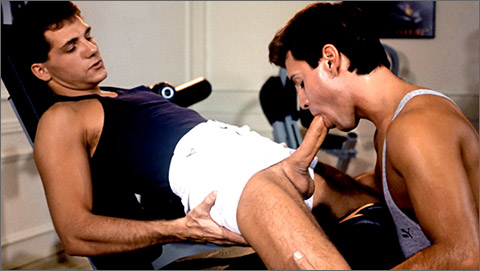 SCENE 1: Neil Thomas tops Rick Racer several times
At the local gym Neil Thomas and Rick Racer are both working out. Rick is on the bicycle when he notices that Neil is rubbing one big muscle that needs attention. Rick does not need to be asked and starts trying to help that muscle with his warm, wet mouth. He does such a good job that he is rewarded with Neil's stiff love muscle up his tight hole.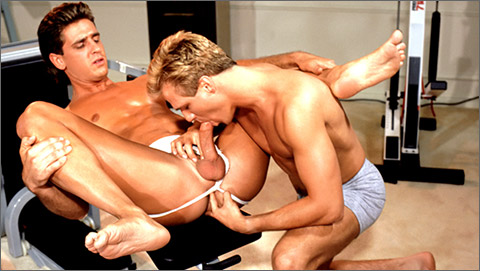 SCENE 2: Michael White tops Rappalo
Rappalo is working out when he pulls a muscle in his neck. Michael White comes in while Rappalo is dealing with his discomfort. Michael is not a professional but offers to give a much needed massage to Rappolo. Rappolo agrees and Michael gets to work. Michael is rebuffed the first few times that he tries to make the massage more exciting, but finally Rappolo tells him to lock the door. Soon Rappolo is on the bench press in nothing but his jock strap. Michael starts teasing Rappolo's ass with his finger and the jock strap is soon off. Rappolo's neck is feeling much better now and he can take Michael's dick in both his holes. (Please note: While all other scenes in this production are bareback–or "pre-condom"–this scene is not.)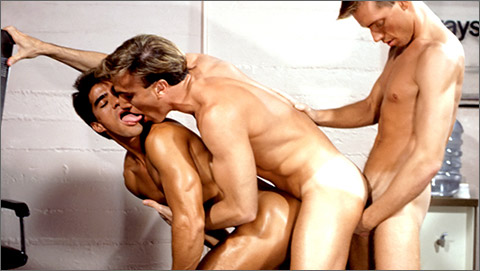 SCENE 3: Greg Conrad tops Lee Jennings who tops Chris Stone
Lee Jennings is working the front desk when Greg Conrad and Chris Stone come into work early. Greg wants to work on his tan and Lee asks Chris to wipe down some of the machines. Lee can't wait to get his mouth on Greg's big cock and is right between his legs when given the signal. Soon Chris comes in and Greg has two mouths working him over. Chris is really busy being sandwiched between the two. Both Chris and Lee get to feel what it's like to have Greg inside.

SCENE 4: Luke Bender works over and tops Mark Baxter
"Master's Massage": Mark Baxter has stopped by the health spa for a full body massage and finds himself in Luke Bender's hands. Luke works over the tense muscles of this rock-hard jock with a variety of vibrators, taking his time on Mark's tense buttocks, relaxing his asshole for the upcoming workout. Baxter is so turned on by Bender's chiseled body and feverish touch that he begins to writhe on the massage table, hoping that Luke will explore the depths of his up-turned ass. Luke dons a pair of rubber gloves and begins to penetrate his hands into the taut twitching hole. Baxter's ass is receptive, opening wider and deeper for Bender's black-gloved hands. Luke pulls a leather dildo from his supplies and zeros in on Mark's ass, ramming the open hole wider and deeper with every thrust, causing Mark to growl from deep within. A giant latex dildo is next and Mark's ass manages to suck in the entire long thick shaft. Mark begs Luke to give him the real thing…Luke's huge thick rod. Luke pulls the dildo out and plugs Mark's hole, pummeling it mercilessly until the excitement climaxes in a steady flow of hot cream spewing forth from the two studs' hot, hard pricks. Mark got a total massage all right, inside and out!

WATCH IT NOW AT:
FALCON STUDIOS
Falcon Members can watch scenes from this Release anytime online.
DVD Releases debut online prior to DVD Release.