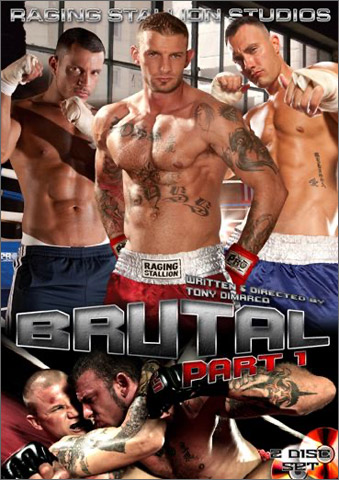 Studio: Raging Stallion
Directed by: Tony DiMarco
Year of Production / Release: 2010
Country of Production: U.S.A.

BRUTAL PART 1 – CAST:
Jason Adonis
Race Cooper
Drew Cutler
Trent Diesel
Alexsander Freitas
Angelo Marconi
Spencer Reed
Ricky Sinz
Rusty Stevens
Draven Torres
Park Wiley
Brenn Wyson
SEX SCENE 1: Spencer Reed and Jason Adonis fuck Trent Diesel
SEX SCENE 2: Alexsander Freitas fucks Draven Torres
SEX SCENE 3: Angelo Marconi and Brenn Wyson flip-fuck
SEX SCENE 4: Race Cooper fucks Park Wiley
SEX SCENE 5: Ricky Sinz fucks Drew Cutler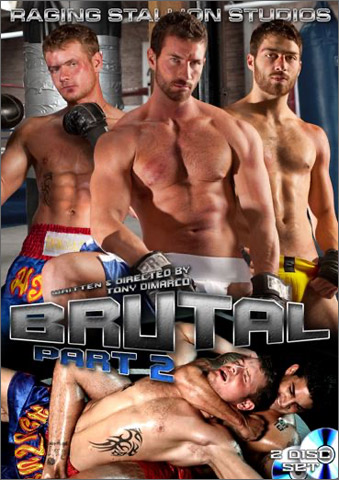 BRUTAL PART 2 – CAST:
Brandon Bangs
Tommy Defendi
Trent Diesel
Angelo Marconi
Hugo Milano
Phenix Saint
Ricky Sinz
Gavin Sovet
Rusty Stevens
Brenn Wyson
SEX SCENE 1: Trent Diesel and Hugo Milano flip-fuck
SEX SCENE 2: Gavin Sovet solo
SEX SCENE 3: Phenix Saint and Brandon Bangs fuck Angelo Marconi
SEX SCENE 4: Rusty Stevens and Tommy Defendi flip-fuck
SEX SCENE 5: Ricky Sinz and Brenn Wyson flip-fuck

ADDITIONAL COMMENTS:
Release Date: Early November, 2010
Winner Best Gay Release, XBiz 2011

SCENE BY SCENE – BRUTAL PART 1:
A man's world is world of aggression. He wants to conquer and take what he wants, in life and in sex. That struggle makes a man decide who he's going to be. Thrust in the face of total domination some men submit, some men fight back and some men champion!
Ricky Sinz former MMA champion and owner of the South Side Gym gives a pep talk to his fighters. "You got to want it!" "You need to work in order to win". He pumps up his prizefighter Angelo Marconi getting him ready for the upcoming National Championship. Meanwhile sexy-tattooed Draven Torres wanders into the gym with a black eye. Determined to take no more, he's looking to learn how to fight back. "You've came to the right place," Drew Cutler replies and takes him under his wing.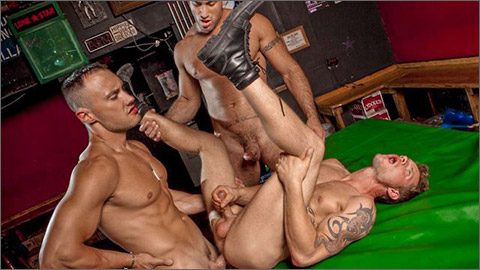 SEX SCENE 1: Spencer Reed and Jason Adonis fuck Trent Diesel
Trent Diesel is a shit disturber with a twisted fetish. He's one hell of a fighter. Sure, he can really kick some ass but Trent also has another side— he loves to get his ass kicked. Trent will pick fights just to have aggressive sex with hot guys. Fucking and Fighting, Fighting and fucking is Trent's mantra. Late one night he follows Spencer Reed into the urinal and comments on the size of his member. "For a big guy you got a little cock". Spencer is not pleased but lets him off with a warning, so Trent does not relent. Spencer's buddy, muscle bound Jason Adonis has had enough and they exchange blows. Spencer and Jason hold Trent down on the pool table to teach Trent a lesson. "You think this cocks to small," says Spencer holding onto his large erect cock. "I'll show you what's small. Spencer shoves his fat cock into Trent's tight ass. Trent squirms is pain as Jason holds him down. Spencer rides him hard, they switch off and Jason fucks Trent hard with Trent enjoying every minute of it. Then Jason pulls out and forces his cock into Trent's mouth, he fucks his mouth with the same gusto forcing the cock in and out. Spencer then takes front position and fucks Trent's mouth as well swapping back and forth between the two big cocks. They force him back on the table and takes turns fucking him again till cum is flying from all other them. It may look like Trent lost the fight, but then again did he?
Angelo Marconi has been training hard but its Ricky Sinz' style to push him that much harder. When Angelo makes an illegal move Ricky lays into him. Angelo gets pissed off and walks out. Draven watches this unfold from the distance reminding him of what his home life is like.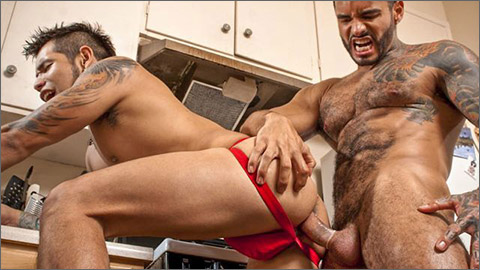 SEX SCENE 2: Alexsander Freitas fucks Draven Torres
Draven Torres joins the South Side Gym to learn how to defend himself, not from the bullies on the street but with the bully he lives with— his boyfriend Alexsander Freitas. Draven comes home after a long day of training to find his boyfriend at home watching TV. Alexsander is not happy that Draven has been spending so much time at the gym. As Draven is making food in the kitchen, Alexander will not be ignored and takes what he wants. He wants Draven's ass and he wants it now. He comes up behind Draven pulls down his sweat pants and stars grinding his already hard cock against Draven's hot ass. He bites him on the back of the neck and grabs his body hard. He forces Draven down on to his knees and fucks his face with his hard tattooed dick. He the bends him over the stove and shoves his cock fast and hard into Draven's ass and begins plowing him up against the stove. Draven wincing in pain but he knows he can't complain. Alexsander fucks him standing up then on all fours then pushes his face down and fucks him into the floor. He pounds Draven relentlessly until they both shoot big loads. Alexsander when finished slaps Draven's ass hard and sends him in to fetch him a beer.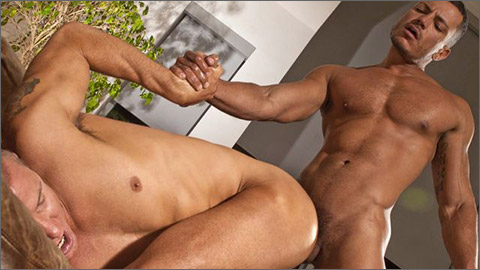 SEX SCENE 3: Angelo Marconi and Brenn Wyson flip-fuck
Angelo Marconi has been pushed to the breaking point before, but training with Ricky Sinz may have pushed him too far this time. He thinks, 'Maybe I oughta' see what Ricky's rival, trainer Brenn Wyson has to offer.' Brenn is surprised to see him and invites him in and offers him a beer. He shows Angelo a few key moves but it's not long before Brenn starts grinding his big hard cock into Angelo perfect ass. He kisses him deeper then the two are tangled in a new sort of position. Brenn sucks on Angelo thick cock then turns him over and fucks him on the carpet in several wild positions. To Angelo's surprise Brenn wants to be fucked. Angelo obliges and fucks Brenn's hole until he is moaning in pleasure. Then Angelo rides Brenn's cock one more time until the cum is spewing out of him, Brenn's stands up and shoot a nice creamy load all over Angelo's chest.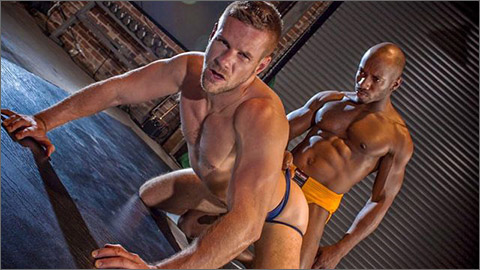 SEX SCENE 4: Race Cooper fucks Park Wiley
Race Cooper brings a "buddy" over to show him the gym after hours bumping into Angelo on the way out. Race and his buddy Park Wiley wrestle on the mat. Race pins Park but then Park pulls a reverse on Race and has him in a hold. It's not long before they are holding onto each other cocks. Park sucks on Race's fat dick as Race fucks his face. Race then puts Park on all fours and fuck his tight hole. The two flip flop fuck all over the wrestling mat before they shoot their hot loads all over each other. Being the training assistant has its benefits. All access to hot man sex.
Angelo comes back to South Side Gym wearing a big grin and a bigger hickey on his neck. Ricky goads him to get on the mat and fights him. He asks him where did he get the hickey from, Angelo ignores him. They spar on the mat Ricky pressing the issue until Angelo revels who his was with last night. Angelo tells him it was Brenn, Ricky's arch-rival. Ricky pins Angelo in a split second and gets him in a choke-hold. Angelo taps-out but Ricky doesn't let go. Several guys from the gym have to pull Ricky off from of Angelo. Ricky storms off, Angelo tries to catch his breath, what just happened?
Ricky's boyfriend/assistant trainer (Drew Cutler) follows behind to see what's up with Ricky. Ricky warns him to back off. Drew pushes the issue, he asks if this had something to do with his ex-best friend and rival Brenn Wyson. Ricky snaps and clocks Drew right in the jaw. Drew storms off downstairs followed by Ricky only to find that Brenn is downstairs to pay a visit. Ricky tells Brenn to get the fuck out of there and a scuffle ensues so large that the entire gym has to tear the guys off each other. Ricky blow through the gym like a speeding freight train. Agitated Ricky gets into another scuffle with two big truckers who kick the shit of Ricky.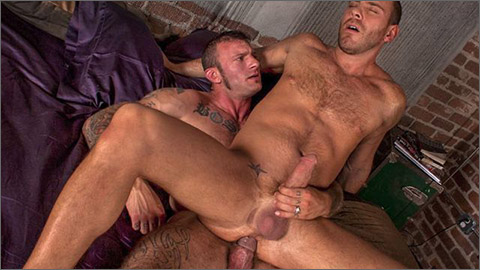 SEX SCENE 5: Ricky Sinz fucks Drew Cutler
Betrayed and beaten down, both emotionally and physically, he seeks refuge with his partner Drew Cutler. Drew asks what's happened already knowing what has transpired. Drew tries to make Ricky feel better and rubs his wounds and kisses his bruised face. Drew rubs out Ricky's aching body, pushes him back on the bed and tries to make Ricky forget the day by giving him a nice long blow job. Ricky reciprocates and savors the musty man scent of his lover— he grabs his balls and works Drew's cock with his hand and mouth. Next Ricky turns Drew over on to the bed and mounts his ass from behind. It's not long before Ricky is pounding his frustrations out on Drew's hot man ass. Ricky pounds him good and hard. Drew loves to get fuck as he pivots his hips back fast and hard with a wild motion to get more of Ricky's rock hard cock. Drew flips over and rides Ricky cock hard. Drew becomes the insatiable bottom riding with reckless abandon as his throbbing fat member flops around in his own lap. Ricky turns Drew over onto his back and pound Drew once more sending him into a white creamy orgasm. Ricky pulls out and add to the load with his own hot load. First round is over but the battle is just beginning. To be continued…

SCENE BY SCENE – BRUTAL PART 2:
Fighting and fucking, fucking and fighting! The saga continues in Brutal, part 2 the conclusion.
Angelo Marconi slinks back to the gym with his tail between his legs and apologies to owner and trainer Ricky Sinz. The two have been though some bouts but now are ready to get down to business. "Are you ready to take this fucker down" ask Sinz; "I'm ready" Marconi replies.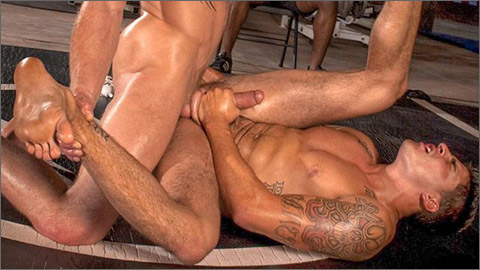 SEX SCENE 1: Trent Diesel and Hugo Milano flip-fuck
Race Cooper is training two up and coming fighters, Trent Diesel and Hugo Milano. Race coaches them through a few moves and they kick, punch and grapple on the mat. Race stares at them as their hard sweaty bodies press against each other. Race's mind begins to wonder… he envisions Trent's ass grinding on Hugo's crotch. In his fantasy, Trent kisses Hugo deeply plunging his tongue into the Latin studs mouth. He kisses down his body pulls down his shorts and envelopes his thick hard cock between his wet lips. Trent sucks up and down Hugo's thick shaft tasting his salty sweaty musty man cock. Hugo moans in pleasure as his buddy sucks him hard and deep. Hugo grabs Trent hair and fucks him in the mouth. After getting Hugo's cock all wet Trent gets' up and shoves his cock into Hugo's mouth. Hugo sucks and tongues his cock till its drenched in spit. Trent can't wait to get at Hugo's hot hairy ass, so he bends over in a 69, and eats out his hot Latin buddy's hole. Hugo follows suit and soon they are rimming each other ass. Hugo wants more than just a rim job he pushes Trent down on all fours and shoves his cock up Trent's wet hole. Hugo pounds Trent's ass from behind. Trent loves the feel of this fat Latin cock moving in and out of his quivering hole. But now Trent wants his turn, he flips Hugo over in one quick move and, like that, he's on top! Trent takes his hard cock and slides it up Hugo's wide open hole, pounding him deep and hard. It's a struggle for dominance— Hugo flips Trent back onto his once again taking control pounding deeper until Trent can't take it longer… he shoots a big load that flies though the air hitting him in the mouth. Hugo pulls out and jerks his cock until he erupts all over Trent's cum stained torso. Hugo comes down hard on top of Trent and it's reality again as Hugo pins Trent to the mat. Race is a good trainer, but his imagination is even better a workout.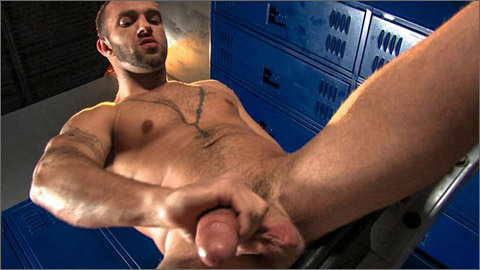 SEX SCENE 2: Gavin Sovet solo
Across town over at the rival City Gym Gavin Sovet is all worked up even before he starts his workout. Gavin drops his bags then reaches into his jockstrap and begins to give his cock a workout. He massages his cock though his sweat stained jock. He works his cock through the cloth then he drops his pants revealing his huge engorged cock. Gavin pulls on his large member elongating it even more. He works up his dick getting it all hard, he drops his draws and picks up some lotion and massages it into his cock. Gavin sits back and picks up the pace of his stroking. He leans back pumping his cock hard until he shoot a huge load of his manjuice all over his lean torso.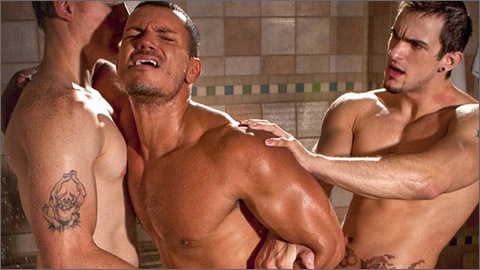 SEX SCENE 3: Phenix Saint and Brandon Bangs fuck Angelo Marconi
After a hard work out Race Cooper comes into the looker room and begins to roughhouse Angelo Marconi, this sets Angelo off, he snaps and yells at Race, obviously hitting a nerve. In his mind, Angelo is transported back to a painful memory from back in his college days when he was raped in the shower. On that day it was his teammates Phenix Saint and Brandon Bangs that came into shower all pissed off and jealous of Angelo, the team's star player. 'Some people think there shit don't stink.' Phenix has had enough and pushes the Angelo up against the wall, he yells at Brandon to hold him down. Phenix tells Angelo he going to get what he deserves. That's when he shoves his hard cock into Angelo's ass. Angelo cries out in pain as his teammates ravage his hole. Phenix fucks Angelo hard and fast fucking as if trying to fuck some sense into his teammate. Phenix pounds his hole then switches off so his buddy can take his turn. Brandon jumps in and pounds Angelo's smooth ass. 'Look he likes it, he's hard!' Phenix yells to his buddy. Phenix grabs Angelo's cock and strokes it. While Brandon pounds Angelo's ass Phenix pumps his teammate Angelo's cock until he spews cum all over himself. After Angelo cums Phenix has no mercy, he switches places with his buddy and rams his hard cock back into Angelo's tightened hole— Angelo's screams echo in the tiled room. Phenix fucks with aggressive furor taking out his frustration on Angelo's hole. Phenix explodes an angst-ridded load all over Angelo's back. He then pushes Angelo to his knees as his buddy Brandon shoots all over Angelo's face. Brandon has one last lesson to teach his teammate and that is his fist across his jaw. Brandon clocks Angelo square in the mouth sending him smack down on the cold wet tile. Angelo spits blood as his teammates step over him.
Both Angelo and Rusty are getting ready for the up coming battle. Their coaches Ricky Sinz and Brenn Wyson pushing their hopefuls to the limit. Hard strikes, power kicking, gruling matt work, these guys are work out and worked up. New gym recruit Draven Torres is also getting the lessons he's came for improving day by day, faster, stronger. When his abusive lover Alexsander Freitas tries to force sex, Draven strikes back, Fuck you! Draven has gained control of his life and the courage to leave this abusive home.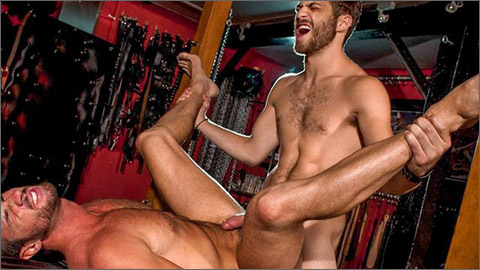 SEX SCENE 4: Rusty Stevens and Tommy Defendi flip-fuck
Rusty Stevens is poised to win this year's MMA title against Angelo Marconi, Rusty trains hard but he also has a dark side. Rusty likes rough sex and he looks in many unsavory places to find it. Rusty drives the streets with his pent up lust. He pulls into a local rest stop and popular cruising ground. He enters the empty bathroom knowing that in a short amount of time he will find his prey. He pulls out his cock and waits. Rough-trade truck driver Tommy Defendi enters with one desperate need that is to draining his piss-engorged cock. Tommy pulls out his thick member and unleashes a hot hard stream of piss. Rusty can't help but notice. The men lock eyes and Rusty knows he can proceed. He reaches over and shakes out the last drop of piss from Tommy's cock before sinking to his knees and taking his growing cock into his mouth. Tommy grabs the back of Rusty's head forcing his cock down Rusty's throat. Rusty lures Tommy back to the dark dungeon bedroom. Tommy squirms in pleasure as Rusty works his hole until it's sufficiently wet and open. Rusty flips Tommy over so he can feed on his fat cock. Rusty chows down on his thick saliva coated tubesteak. He works Tommy up then he goes up and feed him his throbbing cock. Tommy sucks Rusty cock greedily. Rusty then pulls Tommy's ass up in the air and switches between sucking his cock, his ass and fingering his hole. He gets Tommy hole open and ready then he stand up and burries his cock deep into Tommy's hole. He rides him trusting his cock down deep into Tommy. He then turns Tommy over and fucks him from behind while Tommy holds onto hanging restraints. Rusty pounds him hard for a while before they switch poison and Tommy takes his turn and fuck Rusty on his back. Tommy's thick cock plows in and out of Rusty tight hole. Tommy picks up the pace of his pounding sending Rusty over the edge. Rusty jerks his cock hard and the pounding increases. Rusty's cock erupts sending clumps of hot white seamen splashing down all over Rusty hairy stomach. Tommy pulls out his cock and spews his load all over Rusty's cum filled body. The itch may have been starched if only for a moment.
The bell ring and Rusty Steven and Angelo Marconi come out swinging hard. Angelo hard fist comes in contact with Rusty face, Rusty counter reacts and swing back hard. Angelo tackles Rusty sending him to the ground. He mounts Rusty chest as he pummels his face Rusty throws him off and the battle has begun. The two men go head to head full steam, out to annihilate his opponent. Ricky and Brenn yell commands from the sidelines coaching their leader on. Rusty gets in an Angelo in headlock submitting him to defeat. Angelo taps out. Hopes of winning are deflated. The dream is over as quickly as it came. Ricky screams as his one hope at defeating his rival has failed. After the match Brenn gloats over his victory. Ricky calls him out "yeah he had a lucky shot, just like you did" referring to Brenn defeat over Ricky for the championship years back. "A lucky shot, I won that fair and square" Ricky and Brenn decide to settle it once and for all.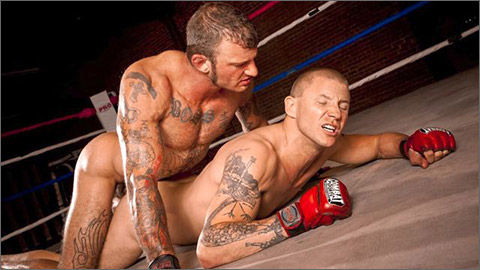 SEX SCENE 5: Ricky Sinz and Brenn Wyson flip-fuck
Ricky and Brenn meet at Ricky's gym and square off in the ultimate battle. These two giant's go head to head, both stronger than they once were… they beat each other with no mercy. The gloves come off and its fucking Brenn in the ass giving him the ultimate defect submitting his opponent with his cock. At first Brenn seems to suffer total defeat loosing to his rival and getting it in the ass, but then Brenn gets the upper hand and fucks Ricky. Were these two more than just opponents? Ricky picks Brenn up and fucks him against the ropes getting out every last ounce of redemptions from his body. Enter Drew Ricky lover and assistant coach. Drew sees more than he wants to and splits the scene —for good. Ricky pounds Brenn's hole until he cums all over himself. Ricky jerks his cock sending his hot white cum all over Brenn's chest. The feud may have been settled once and for all but not before lots of sweat and cum.

WATCH THE SCENES AT:
RAGING STALLION'S MEMBERS SITE
Members at RAGING STALLION'S MEMBERS SITE can watch these scenes and download extensive Photo Content from this production and get discounted pricing on all DVD and Print purchases.