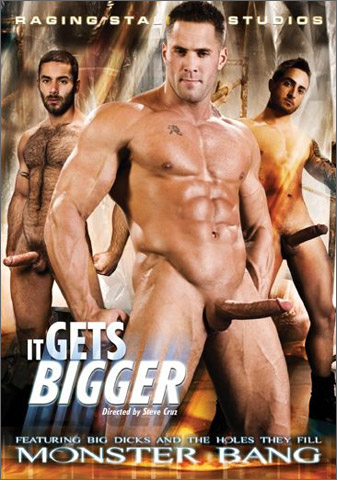 Studio: Raging Stallion
Directed by: Chris Ward & Tony DiMarco
Year of Production / Release: 2012
Country of Production: U.S.A.

CAST:
Spencer Fox
Alexander Garrett
Lawson Kane
Jason Michaels
Shay Michaels
Spencer Reed
Erik Rhodes
Bryce Star


[jwplayer mediaid="40537″]

INFORMATION FROM RAGING STALLION:
The hotter the action, the bigger the cocks get. And, in It Gets Bigger, they get huge! When you start off with a group of eight hung studs, you're bound to see major growth when these horny guys get busy. Appreciate these fine pieces of man meat, as they get the attention they deserve in steamy glory hole action, a magnificent three-way and off-the-dial sucking and fucking. As you watch these tools at work, you'll notice It Gets Bigger.

SCENE 1: Erik Rhodes fucks Spencer Fox
Erik Rhodes and Spencer Fox, both hung with monster cocks, crash into each other kissing and groping like the hungry sex fiends they are. Spencer falls to his knees to guzzle Erik's hard big one, nursing on its impressive firmness. Before long, Erik hoists his partner onto the table and begins to suck his dick letting his mouth slide up and down the rigid staff. Spencer coos with pleasure as Erik services him, jamming fingers in his ass for good measure. It's not long before Erik screws Spencer fast and hard. They continue fucking as Erik lifts his partner up in a bear hug with his dick still stuffed inside Spencer's foxhole. The young man clings to his partner's neck as he bounces up and down Erik's boner. Then they fall back down on the table to fuck doggie-style. Erik pulls out and peers into Spencer's gaping asshole; then he spits and blows into the orifice before plugging it some more. He finally unloads onto Spencer's rump and after licking up his spilt spooge, Erik lays back letting Spencer jerk off all over his face.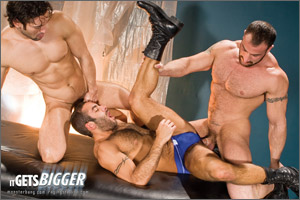 SCENE 2: Alexander Garrett & Spencer Reed fuck / spit-roast Jason Michaels
Mesmerized by a wall with cutout glory holes, well-hung and furry Jason Michaels faces a pair of big boners popping in and out. He attacks the two monster cocks with his mouth, nursing on one before switching to the other. These super-sized cocks are attached to Alexander Garrett and Spencer Reed , who peer over the wall and watch the energized Jason eagerly sucking their cocks. They come out from behind the wall to get more aggressive with their big fan jamming their two power tools down Jason's throat. Alexander moves to the back to shove his big uncut dick inside Jason's tight crack, yielding this power position to Spencer only when they decide to trade places at both ends of their prey. The happy trio continues to rock out on the table top with Jason down on his back getting plugged in his asshole by Alexander while still feeding on Spencer's dick. The two big guys switch places again but it doesn't faze Jason as he rolls along with the program that finally climaxes with all of them blasting their loads.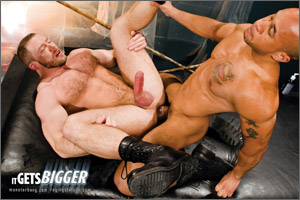 SCENE 3: Lawson Kane fucks Shay Michaels
Shay Michaels and Lawson Kane waste no time getting hot'n'horny as they smother each other with soulful man kisses. Then Shay begins sucking on Lawson's gargantuan candy cane nursing on the thick pole with gusto and sensing his efforts are overwhelming his partner. Lawson is quick to return the favor and when he gets his chance to suck his partner's cock, he works in a steady rhythm pushing Shay farther and farther off the edge. The action intensifies Lawson starts rimming Shay's ass and finally fucks him, it's magic. Shay bucks up and down as he rides Lawson's dick letting his own cock and balls swing wildly with every bounce. The muscles in his chest and abs strain and he glisten with sweat as he works himself into frenzy, grunting with pleasure as Lawson pumps his hole fast and furious. Shay is then down on his back crying out his approval as his hole gets drilled nonstop. The men finish themselves off by kissing and jerking until they blast cum all over.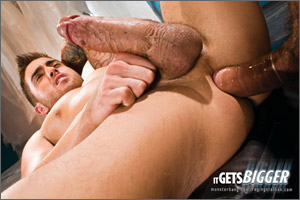 SCENE 4: Spencer Reed fucks Bryce Star
Spencer Reed grabs his cock and feels it get bigger and harder with every stroke. He's a magnificent specimen of virility and Bryce Star is quickly lured into his orbit. The hungry cub devours Spencer's cock deepthroating the big, meaty spear. Spencer, the burly stud, takes his turn to show off his oral expertise. He opens wide and swallows Bryce's chubby with ease exciting the young man immediately. Desiring more man play, Bryce then backs himself up against the glory hole in the makeshift wall and pushes his butt through. Spencer plays with the prized booty spitting into the crack and poking a couple of fingers inside to prep it so he can slide his cock in. They fuck sweet and hard; then Spencer lifts Bryce up and impales him on his cock. They continue fucking until Bryce ends up atop the table flipped onto his back squeezing out a load of cum from his own dick. Spencer smiles as he jacks himself off onto Bryce's mug and then licks the gooey cream all up before the two kiss.

WATCH THE SCENES AT:
RAGING STALLION'S MEMBERS SITE
Members at RAGING STALLION'S MEMBERS SITE can watch these scenes and download extensive Photo Content from this production and get discounted pricing on all DVD and Print purchases.

VIDEO ON-DEMAND: AEBN SMUTJUNKIES THEATER
DVDs & ON-DEMAND: TLA VIDEO