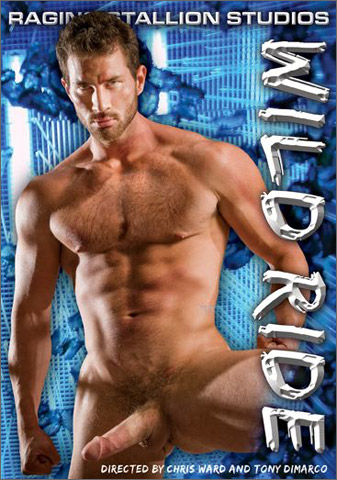 Studio: Raging Stallion
Directed by: Chris Ward, Tony DiMarco
Year of Production / Release: 2010
Country of Production: U.S.A.

CAST:
Trent Diesel
Antton Harri
Pistol Pete
Ricky Sinz
Sean Stavos
Rusty Stevens
Scott Tanner
Austin Wilde
SCENE 1: Rusty Stevens fucks Trent Diesel
SCENE 2: Ricky Sinz fucks Anton Harri
SCENE 3: Scott Tanner fucks Pistol Pete
SCENE 4: Austin Wilde and Sean Stavos flip-fuck
ADDITIONAL COMMENTS:
Members at RAGING STALLION'S REAR STABLE can watch these scenes and download Photo Content from this production.
INFORMATION FROM RAGING STALLION:
Strap In, Buckle Up, and Get Ready! Raging Stallion is pleased to bring you four heart-pounding, muscle-rippling sex adventures featuring eight of our hottest, sure cock models suckin' and fuckin' their way to mind-shattering climax. So grab hold and let's get this show on the road!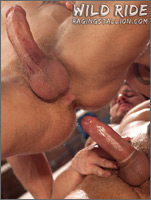 SCENE 1 – THE BOXING MATCH: Rusty Stevens and Trent Diesel
Production had wrapped on Brutal but that didn't mean Rusty and Trent didn't have something they wanted to work out on our regulation boxing ring. These boys duke it out pro style, showing off their sparing and fancy footwork. Trent gets plenty of hits into Rusty's rippin' abs before the allure of Rusty's musk draws his face down to crotch level to dine on Rusty's long hard, thick cock. Red silk boxing trunks drop to reveal Rusty's crotch canon and Trent devours it whole. Rusty then picks up Trent, throws him to the ropes and attacks Trent's own hard snake hiding behind blue silk trunks.
   The smooth, sweat stained canvas of the ring pulls these two champs down for the deed. Trent mounts Rusty's in reverse cowboy so we get a good long look at Trent's hole working it's magic. Trent rides Rusty real good, bouncin' up and down on his long,hard and throbbing cock meat. From the look on their faces there's no doubt Trent and Rusty are loving i! The action moves ring sid with. Trent on his knees held up by the ropes. Rusty slaps and fucks way up into Trent's hot butt. Rusty pours his load all over Trent'S beautiful ass. Trent blows a load over the edge of the ring, splattering the camera with his cum gusher.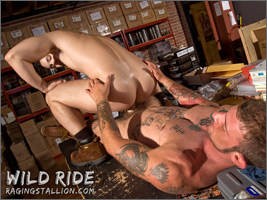 SCENE 2 – SHIPPING ROOM SHENANIGANS: Ricky Sinz and Anton Harri
Ricky and Anton were put to work in our shipping department. Suffice it to say we've decided to keep them out of that area. Why? As you'll see in this scene, nothing gets done! Nothing productive anyway. Ricky clearly has other plans and sets Anton's sweet mouth to work sucking the Sinz. Ricky's demanding poll works Anton's tongue into a Latin lather. Ricky turns Anton around, bends hi over the shipping table and slips his shipper into Anton's sweet, smooth ass. A good ass pounding is what Anton wants and that's exactly what he gets. Ricky then lies out on the table and Anton rides Ricky's pole, showing off his beautiful Latin body for us. Ricky then gets back on the floor, lays Anton on the table, and fuck their way to a splattering payload.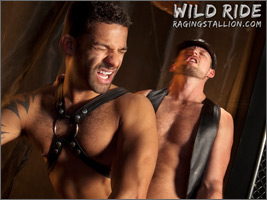 SCENE 3 – SEX MAN STYLE: Scott Tanner and Pistol Pete
Those hankering for a taste of leather will get their hunger satisfied with this next hot pairing. Scott is clad in skin tight black leather chaps, bar vest, wrist cuffs and biker's cap. Pete's tanned and tattooed hunk chest is harness bound and his ass beautifully framed in a white jock strap. Pete wastes no time swallowing Scott's juicy, suckable cock which grows fatter and longer in Pete's hot mouth. We get quite an oral oratory here as Pete works over Scott"S fat veiny bone. Scott then gets Pete over a barrel and slides his fat sausage into Pete's quivering hole. Scott pounds Pete real good.
   Eying the nearby sling, Scott knows how to get in deeper. Pete splays out on the suspended leather sling and Scott goes in for the kill, double time drilling Pete's insides harder and harder. You'll know Pete gave Scott a great ride by the size of the creamy load that blows from Pete's cock. Scott's own cum burst shoots all over Pete's muscled thighs.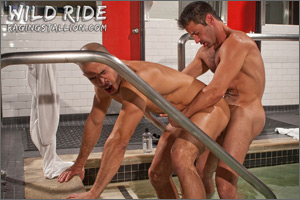 SCENE 4 – A WILD RIDE: Austin Wilde and Sean Stavos
While shooting our STEAMWORKS feature, Austin and Sean were resting in the club's spacious jacuzzi. To say things heated is an understatement. Sean slurps down on Austin's serpent while steam rises from the bubbling pool. Bending up to get a better bead on Austin's cock, Sean's hungry hole comes into view and Austin dives in, kneading Sean's ass cheeks and thinking about what's to come. Austin bends Sean over the edge of the pool and slides his long, thick cock home for a good, honest fucking. Austin's chest and stomach muscles ripple in rhythm to the pounding bathhouse music track. Watching Austin fuck is always hypnotic and it puts Sean's face into a pleasure filled trance. Not to be outdone, Sean takes over and fucks Austin's muscled ass good and hard. But to blow his load, Austin wants to do the fucking. So he puts Sean on his back and fucks him long and hard. Sean blows his load then Austin blows and there's cum all over the tiles. Watch your step!

WATCH THE SCENES AT:
RAGING STALLION'S MEMBERS SITE
Members at RAGING STALLION'S MEMBERS SITE can watch these scenes and download extensive Photo Content from this production and get discounted pricing on all DVD and Print purchases.

VIDEO ON-DEMAND: AEBN SMUTJUNKIES THEATER
DVDs & ON-DEMAND: TLA VIDEO