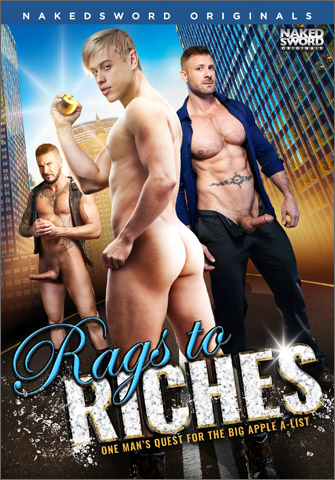 Studio: NakedSword Originals
Directed by: mr. Pam
Year of Production / Release: 2018
Country of Production: U.S.A.

CAST:
Dolf Dietrich
Ian Frost
Parker Payne
Drake Rogers
Alam Wernik
Austin Wolf
INFORMATION FROM NAKEDSWORD:
Brazilian Boy Toy, Alam Wernik, has moved to the Big Apple in search of the gay American dream but soon learns the concrete jungle is no joke. He finds himself broke, on the wrong side of the tracks, and dealing with some sketchy characters. Looking to make some quick money, he takes a catering gig at the home of New York A-Lister Austin Wolf where he discovers the lifestyle of his dreams. Determined to make it to the top, Alam will do whatever, or whoever, it takes to go from Rags to Riches.

RAGS TO RICHES – THE LOWER EAST SIDE: Dolf Dietrich fucks Drake Rogers
While cruising around Manhattan Alam Wernik stares longingly at the glamorous window displays of the high-end designer showrooms and chic boutiques, dreaming of the lavish lifestyle he knows to be his destiny. He returns to his shared tiny apartment on the lower East side and is jarred back into reality when walks in on Dolph Dietrich being serviced by Drake Rogers. Even an excellent blow job doesn't stop Dolph from complaining and demanding money. Alam dashes out and leaves the two naked studs alone so they can finish what they started. Drake rides Dolph's face, giving him a taste of his hole before bouncing back on Dolph's rock hard cock and riding it hard. Dolph flips Drake on his side and proceeds to grudge-fuck him like he's the one who owes him money. Just before he blows, Dolph pulls out and feeds his thick creamy load to Drake who hungrily slurps up every last drop.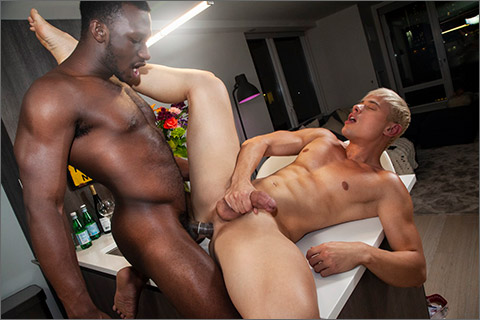 RAGS TO RICHES – UPPER WEST SIDE: Parker Payne fucks Alam Wernik
Desperate for money, Alam Wernik takes a job catering with his new friend Ian Frost. Much to Alam's joy the small casual affair takes place in a gorgeous Penthouse on the upper West Side. The host, Austin Wolf is obviously enamored by Alam's broken English and stunning good looks. As the evening progresses Austin makes his move on party guest Parker Payne. When Austin calls Ian downstairs Parker makes his move. Pointing to a camera on the wall Parker convinces Alam that if he really wants to get Austin's attention they should put on a show. They strip naked and Alam bends over the counter so Parker can tongue-worship his award-winning ass. They switch places and swap blow jobs until Parker can't wait any longer. He shoves his cock in Alam's tight hole, fucks a load out of him and licks it off his washboard abs. Parker shoots his load all over Alam's giant bubble-butt and the two give a devilish nod to the camera. In case the show didn't do the trick Alam "accidentally" drops his wallet on his way out the door…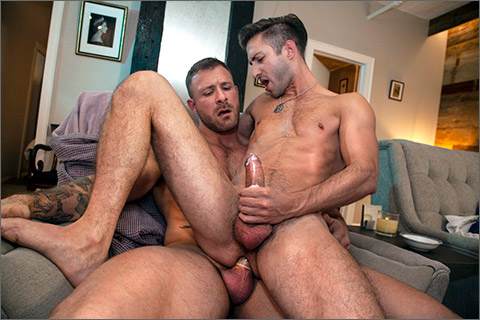 RAGS TO RICHES – TIME TO GET PAID: Austin Wolf fucks Ian Frost
While Alam Wernik and Parker Payne put on a show upstairs, cater-waiter lead Ian Frost goes downstairs into Austin Wolf's private quarters. Austin orders him to take off his shirt and begins to jerk off at the sight of Ian's tight swimmer's build and perfectly puckered hole. Ian gives Austin a passionate blow job but the muscular top has one hole on his mind, and it's not Ian's mouth. Austin flips Ian over to eats his ass and suck on Ian's hefty cock before shoving his rock hard meat deep in Ian's hole. They fuck in a dozen positions until Ian finally bounces up and down on Austin's dick until he explodes. But Ian isn't done, it's time to get paid with a hot juicy load straight from the boss's cock.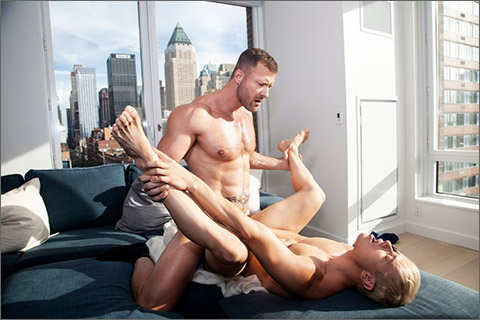 RAGS TO RICHES – THE A-LIST: Austin Wolf fucks Alam Wernik
Alam Wernik returns to his nightmarish living conditions to throw everything he owns into a duffle bag – he is out of there. Downstairs on the street he tosses the bag on the sidewalk to unlock his bike when someone runs by and grabs his bag. Alam hops on his bike in hot pursuit but soon realizes how futile it is. As the sun goes down Alam finds himself at the piers, alone, penniless, with nowhere to go – then he remembers the kind smile of one man, Austin Wolf. Back on the upper West side Austin has found Alam's wallet and made arrangements for Ian Frost to come pick it up. Waiting outside his apartment, Austin spots Alam shivering on the sidewalk. Austin invites him inside and undresses him lovingly so they can shower together before Austin leaves for a previous engagement. The next morning Austin finds Alam asleep in the guest room and dives in. They passionately kiss and aggressively fuck all morning long, Austin paying extra attention to Alam's huge round ass and perfect hole. Alam finally blows his load with Austin still inside him then Austin pulls out so Alam can suck a load out of his fat cock. Both recognize a deep connection as Austin suggests the have brunch on 5th Avenue – looks like Alam has finally realized his dream of life on the A-list!

WATCH THIS AND A HOST OF OTHER FILMS AT:
NAKEDSWORD
On-Line Presentation, exclusive to NAKEDSWORD
Members can watch this with a host of other films in the NakedSword Library.