Studio: Lucas Entertainment
Directed by: Jake Steel
Year of Production / Release: 2015
Country of Production: U.S.A.

CAST:
Letterio Amadeo
Tristan Archer
Drae Axtell
Tomas Brand
James Castle
Zander Craze
Damon Heart
Dmitry Osten
Logan Rogue
Viktor Rom
Ashton Summers


[jwplayer mediaid="79881″]

INFORMATION FROM LUCAS ENTERTAINMENT:
There's triple the fun in Lucas Entertainment's "Raw Threeway," where no one can get enough raw dick! Tomas Brand and Logan Rogue eagerly share Drae Axtell's huge Latin cock. Letterio Amadeo has fun with two boy toys: Dmitry Osten and Tristan Archer. Zander Craze shares his massive piece of meat with Damon Heart and Viktor Rom. And Letterio Amadeo returns to double-team Ashton Summers along with James Castle. Who needs to be in a couple when there's a "Raw Threeway" to play in?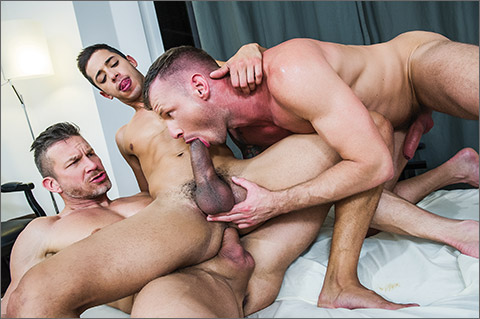 SCENE 1: Tomas Brand And Logan Rogue Share Drae Axtell's Huge Latin Cock
Who knows what was going through the minds of Tomas Brand and Logan Rogue when they saw Drae Axtell walking onto the set, other than the fact that they're going to pound a gorgeous Latin man. Judging by the smile on Drae's face, he's excited at the chance to switch back and forth between to daddies that are eager with their new paramour. This humble Lucas Entertainment writer has never seen Drae Axtell's monster cock in person, but judging from what's seen on camera it is ridiculously large. And when Tomas and Logan get a look at this kid's meat, both diligently take their time rotating turns servicing it. Check out 6:50 to see some awesome three-way oral sex action; Tomas is doing everything he can to swallow that cock up! Tomas soon after wants to induct Drae into the hall of men he's had take a ride on his cock, so the Latino hops on to stretch out his hole. But because Logan is a true sport, he happily jumps in the middle and takes Tomas and Drae at the same time!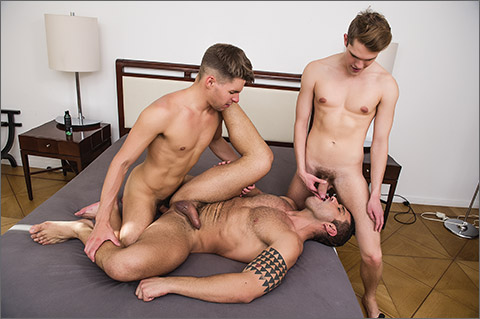 SCENE 2: Letterio Amadeo Takes Turns On Dmitry Osten And Tristan Archer
Here's hoping that Letterio Amadeo is hungry for twink meet, because he has double the fresh face to bang in his threesome encounter. Dmitry Osten is the first on the menu, and I think you remember him: He's the cutie with the adorable face and the big uncut cock (it's fun to watch it flop against his stomach while he's taking cock on his back). And then the youthful Tristan Archer is invited over by Dmitry. You better believe me when I say these three are capable of getting into trouble with one another. And while Letterio takes his turn on both of them orally and anally, we also get the boys work some magic on the muscular daddy top. Don't be deceived: these two know how to fuck out a load!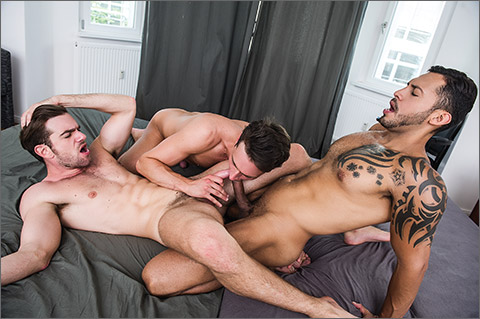 SCENE 3: Zander Craze Shares His Meat With Damon Heart And Viktor Rom
Craze is a great last name for Zander, because this guy is wild and crazy in the sack: he loves having sex, and he loves showing it off. He and the dominant stud Viktor Rom take turns passing around Damon Heart, a new Lucas Entertainment exclusive model. Damon is challenged from the onset, but it's one he excitedly accepts: Zander breaks in his ass with his uncut elephant trunk of a penis, and then passes his hole over to Viktor for some breeding. To give Damon a rest the truly versatile Zander Craze gives it up for both Damon Heart and Viktor Rom.

SCENE 4: Letterio Amadeo And James Castle Double-Team Ashton Summers
Another Lucas Entertainment exclusive model is having his debut scene in what will be collected into the future film "Raw Threeway" — Ashton Summers. Ashton is a professionally trained ballet dancer, which comes in handy for handling his body during sex. Letterio Amadeo makes a return to give Ashton a test drive alongside James Castle (who I've taken note of having a very handsome face). Everyone gets a turn bottoming, but Ashton is first up as Letterio and James pass him around. But even though he has a deliciously tempting ass, Ashton is more than capable of pounding his tops too!

SEE THIS NOW / MORE INFO:
LUCAS ENTERTAINMENT
Scenes Premier online prior to DVD release and are available to view anytime in the Members Area.
Members can watch scenes from all Lucas Entertainment releases anytime online.